Canon Officially Launches the New SELPHY CP1500 Compact Photo Printer
New QR Code Connection at Ease
Upgraded Photo Printing App to
Enjoy Personalized Photo Printing and Memories Sharing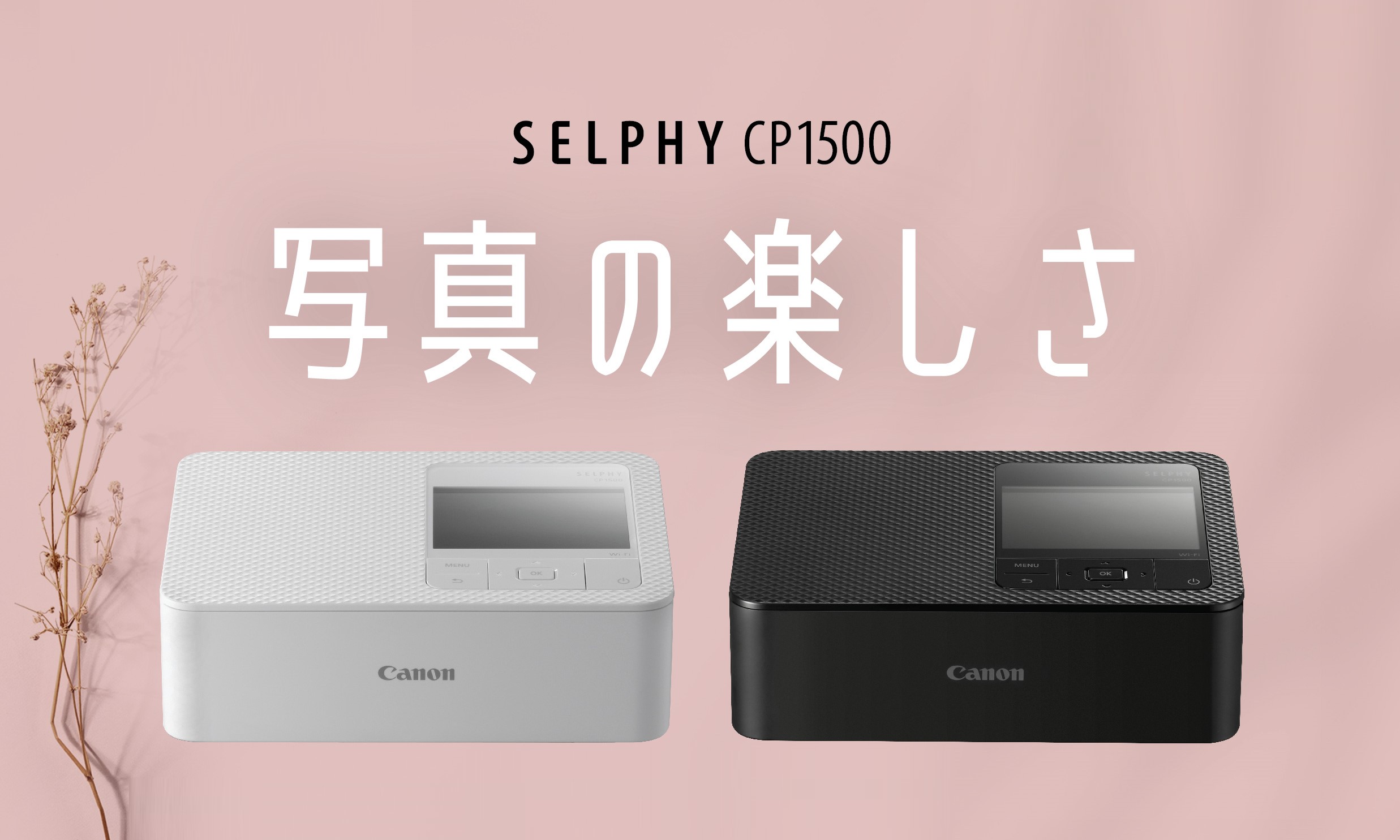 HONG KONG, 26 Setpember 2022 - Canon today announces the new SELPHY CP1500 Compact Photo Printer that with a minimalistic design and the new QR code connection for easy Wi-Fi setup is available for sale. The upgraded SELPHY photo printing app allows you for personalizing and adding uniqueness in the photos at ease for keeping and sharing the best memories with friends.
All-round Connection with New QR Code
Besides direct printing from camera, computer, SD memory card, USB-Type C flash drive, with the all-round mobile printing technologies, SELPHY CP1500 provides added convenience and flexibility for direct connection with a variety of frequently used devices to make everyday printing even easier, smoother and more enjoyable.Pairing is quick and easy by simply scanning the QR code on SELPHY CP1500 with the SELPHY Photo Layout app to connect.
SELPHY CP1500 also supports photo printing directly from iPhone, iPad and other iOS devices. Android users can print documents from their Mopria™-certified smartphones, tablets and other mobile devices by simply tap and print the images in the albums, sharing the joy and fun moments from everyday life in a hassle-free way!
Upgraded Mobile Photo Printing App
With the upgraded SELPHY Photo Layout 3.0 App, you could expand the possibilities by adding QR code to your prints. For example, you can now link the printed QR code to an online photo album, a Google location, an online video or a website for a more interactive experience and recall your best moments.
Features an automatic correction function in SELPHY Photo Layout, it can identify human faces in the picture and optimize the brightness and contrast of the detected subject and background. Coupled with Smooth Skin Effect, beautiful and natural skin tone can be achieved with ease. When using SELPHY Photo Layout, you can personalize every memory by adding built-in patterns and stickers as overcoats to decorate your photos, also type-in message on photos for an unique photo for printing.
SELPHY CP1500 supports 5 print types including Postcard size, Card size, Sticker (Full size label or 8 labels) and Square Sticker, offering greater printing flexibility well suited for different needs, from ID photo printing to creative photo printing for handmade gifts.
Speedy Borderless Photo Printing
It only takes approximately 41 seconds and 23 seconds to print a Postcard size and Card size borderless photo respectively, up to 15% faster than previous model SELPHY CP1300. From now on, you can print out high quality images in the privacy of your own space quickly and easily.
New 3.5-inch LCD with Battery Attach for Easy Printing Outdoor
SELPHY CP1500 keeps a compact, and minimal design with a wide view angle 3.5 inch LCD, and is available in black and white to match your style and interior decoration. It also supports direct attachment of the optional external battery pack NB-CP2LH/ NB-CP2LI, enabling up to 54/ 70 prints of Postcard size photos on a single charge. The mobile print capability makes it even more convenient to print and share photos on the go, as you can easily print from everywhere without worrying about locations, cables or power outlets!
Long-lasting pictures to keep wonders alive forever
The dye-sublimation printing process of SELPHY CP1500 puts a special protective film on each print, making it water, dust, light, fingerprint and oil-resistant. Long-lasting vivid colors and image details of every print can be well preserved.
The new SELPHY CP1500 compact photo printer is now available for sale with suggested retail price HK$1,380.
Accessories and consumables of SELPHY CP1500 and their suggested retail prices are as follows:
| | |
| --- | --- |
| Accessory | Suggested Retail Price |
| NB-CP2LI Battery Pack | HK$1,380 |
| NB-CP2LH Battery Pack | HK$600 |
| PCP-CP400 Postcard Size Paper Cassette | HK$88 |
| PCC-CP400 Card Size Paper Cassette | HK$88 |
| | | |
| --- | --- | --- |
| Consumable | Suggested Retail Price | Cost Per Photo |
| RP-54 Postcard size Color Ink / Paper Set (54 Sheets) | HK$130 | HK$2.4 |
| RP-108 Postcard size Color Ink / Paper Set (108 Sheets) | HK$230 | HK$2.1 |
| KP-36IP Postcard size Color Ink / Paper Set (36 Sheets) | HK$88 | HK$2.4 |
| KP-108IN Postcard size Color Ink / Paper Set (108 Sheets) | HK$240 | HK$2.2 |
| KC-36IP Card size Color Ink / Paper Set (36 Sheets) | HK$88 | HK$2.4 |
| KC-18IF Card size Color Ink / Label Set(Full Size Label) (18 Sheets) | HK$88 | HK$4.9 |
| KC-18IL Card size Color Ink / Label Set(8 Labels) (18 Sheets) | HK$88 | HK$4.9 |
| KC-18IS 50mm x 50mm Square Sticker | HK$88 | HK$4.9 |
About Canon Hongkong Company Limited
Canon Inc. (TSE:7751 / NYSE:CAJ) was founded in 1937 in Japan. Its predecessor, Precision Optical Instruments Laboratory, produced Japan's first 35 mm focal-plane-shutter camera "Kwanon" in 1934. From there, Canon Inc. expanded into the photocopying and printing industries, launching Japan's first plain-paper copier NP-1100 in 1970 and the world's first inkjet printer BJ-80 in 1985. Through the years, Canon Inc. has acquired in-depth experience in digital imaging product manufacturing, research and development. Pioneering in innovative products development, Canon Inc. hold the most technology patents in the imaging industry. Canon Inc. also makes significant contribution to promote photography. Today, Canon Inc. has a strong global presence, representing one of the most important market players in the imaging, office and industrial product categories. As of 31 December 2021, Canon's global revenue was US$30.55 billion.
In 1971, Canon Hongkong Co., Ltd. (Canon Hong Kong) was established as one of the first Canon offices in Asia. Canon Hong Kong is a Total Imaging Solution provider, providing professional pre-sales, marketing and after-sales services for all Canon products and solutions in Hong Kong and Macau. With the solely owned subsidiary Canon Business Solutions (Guangdong) Co., Ltd. established in 2018, the company continues to deliver intelligent total business solutions and professional services to Greater Bay Area. Canon Hong Kong adheres to Canon's corporate philosophy of "Kyosei", encouraging the company and staff to engage social, charitable and environmental activities for the community. Implementing internationally-recognized management system, Canon Hong Kong has achieved ISO 9001, ISO 14001, ISO 45001 and ISO 27001 (Canon Digital Production Center) certifications.
For more information about Canon Hong Kong, please visit our website: https://hk.canon.