Canon Officially Launches the New DP-V1830
18-inch Professional 4K HDR Reference Display
Designed for on-location use Compact and Lightweight body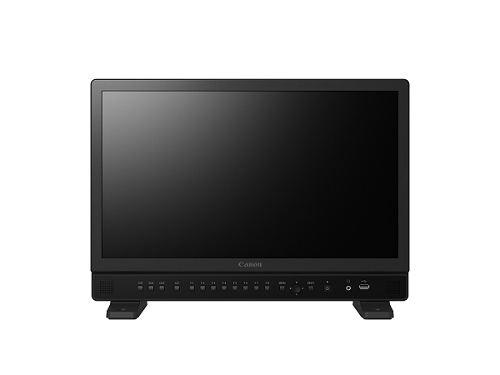 HONG KONG, 24th March 2023— Canon today announces the New 4K HDR Professional Reference Display DP-V1830 is available for sale. We extend its professional reference display line-up with the launch of the new model DP-V1830 — an 18", 4K HDR professional grade display. Inheriting the stunning performance of current models with high luminance, deep black levels, wide color gamut and viewing angle, this added HDR display with rack mount compatibility serves as an enhanced replacement of existing FHD/ 4K models. Compliant with HDR standards plus enhanced performance and extensive functionality and operability, DP-V1830 is Canon's proof of its ability to support efficient 4K production workflows for various market needs.
With a compact and lightweight design for either studio or on-set environments
Compact and lightweight 18-inch 4K Reference Display Response to diverse on-location shooting needs. The new DP-V1830 is a reference display that delivers high-quality 4K imaging performance in a compact and lightweight 18-inch and approximately 7.5 kg body designed for on-location use with high mobility. To accommodate use in a variety of shooting-location environments, the DP-V1830 is housed within a rugged metal body. Additionally, facilitating convenient on-site handling, installation and use, the display is equipped with a carrying handle, stand, front-panel operation buttons and built-in speakers. The device is also able to operate from a DC 24V power supply. It is also compatible with EIA 19-inch rack mount for different shooting occasions.
High-image-quality performance and reliability
The DP-V1830 compliant with Dolby Vision certification. and support variety of broadcast and film production standards, including ITU-R BT.709, ITU-R BT.2020, ACESproxy and DCI-P3.The HDR LCD panel 1,000 cd/m2 high luminance (Peak / Full white) and 1,000,000 : 1 high contrast ratio.The display provides a wide viewing angle of 89 degrees in each direction from the top, bottom, left and right (contrast ratio of 10:1 or greater). Because the DP-V1830 minimizes changes in color and contrast that can occur at different viewing angles, it allows multiple viewers to take part in such procedures as the confirmation of image quality.
Uncompromised Connectivity for Easy Integration
DP-V1830 is equipped with 12G-SDI (4x input and 4x output) . It supports 8K 60P signal with 4 x 12G-SDI, which is convenient for direct viewing of 4K / 8K 60P video or perform other post-production work to complement the professional-grade filming process. Moreover, DP-V1830 can obtain and display the metadata of the Camera, and automatically change the image quality setting of the display screen. This improves convenience of on-site image quality settings and setting confirmations. DP-V1830 supports Canon Log, Conon Log 2 and Conon Log 3 gamma settings currently used by Cinema EOS camcorders and supports LUTs of many other brands of camcorders for checking the quality of HDR or SDR video.
HDR (High Dynamic Range) display capabilities Contributing to greater workflow efficiency
The DP-V1830 includes an HDR display mode, it supports PQ and HLG (ITU-R BT.2100 / SMPTE ST 2084) standard which encompasses wide dynamic range. With the new display on-hand during shooting, professionals can compare shots with and without HDR early in the production process and confirm final image quality, contributing to greater workflow efficiency as well as improved color expression and image quality.
The 4K HDR Professional Reference Display DP-V1830 is now available for sale with suggested retail price of HKD$112,900.
About Canon Hongkong Company Limited
Canon Inc. (TSE:7751 / NYSE:CAJ) was founded in 1937 in Japan. Its predecessor, Precision Optical Instruments Laboratory, produced Japan's first 35 mm focal-plane-shutter camera "Kwanon" in 1934. From there, Canon Inc. expanded into the photocopying and printing industries, launching Japan's first plain-paper copier NP-1100 in 1970 and the world's first inkjet printer BJ-80 in 1985. Through the years, Canon Inc. has acquired in-depth experience in digital imaging product manufacturing, research and development. Pioneering in innovative products development, Canon Inc. holds the most technology patents in the imaging industry. Canon Inc. also makes significant contributions to promote photography. Today, Canon Inc. has a strong global presence, representing one of the most important market players in the imaging, office and industrial product categories. As of 31 December 2022, Canon's global revenue was US$30.31 billion.
In 1971, Canon Hongkong Co., Ltd. (Canon Hong Kong) was established as one of the first Canon offices in Asia. Canon Hong Kong is a Total Imaging Solution provider, providing professional pre-sales, marketing and after-sales services for all Canon products and solutions in Hong Kong and Macau. With the solely owned subsidiary Canon Business Solutions (Guangdong) Co., Ltd. established in 2018, the company continues to deliver intelligent total business solutions and professional services to Greater Bay Area. Canon Hong Kong adheres to Canon's corporate philosophy of "Kyosei", encouraging the company and staff to engage social, charitable and environmental activities for the community. Implementing internationally-recognized management system, Canon Hong Kong has achieved ISO 9001, ISO 14001, ISO 45001 and ISO 27001 (Canon Digital Production Center) certifications. For more information about Canon Hongkong, please visit our website: https://hk.canon/.