Canon Hong Kong collaborates with People Service Centre to prepare lunch boxes
to show the appreciation to food donors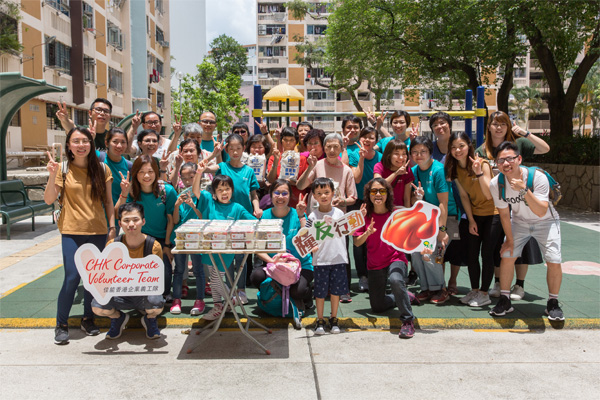 Canon Hong Kong Corporate Volunteer Team partnered with the beneficiary families to prepare 40 lunch boxes.
Canon Hong Kong Corporate Volunteer Team supports People Service Centre giving Regular Service on Surplus Market Food Collection since June 2016. Our volunteers formed small team to collect surplus food from fresh market and re-distributed to the needy in Kowloon City district. Until May 2019, the regular service achieved over 2000 service hours and rescued more than 80,000 kg leftovers and serve in a regular basis of four days per week (every Monday, Wednesday, Thursday and Friday).
On 18 May 2019, Canon HK organized an extension service called "Surplus Food for Love". Our team formed 10 groups together with Ma Tau Wai Estate beneficiary families, making lunch boxes with surplus food connected while enjoying cooking with them. Our volunteers can be able to understand beneficiary family's daily life and show our care to them. Our team then deliver warmhearted lunch boxes to food donors in the Kowloon City fresh market in order to show the appreciation to these food donors.

About People Service Centre - Food Friend Action
​​​​
​​​​​​​The Food Recycle Project started in Shum Shui Po district in 2011, extended the service to Wong Tai Sin, Kowloon City and Tuen Mun district in 2013 and to Yau Tsim Mong district in 2014. The purpose of the project is to collect surplus food, redistribute to the needy families and avoid food waste. The project also extended its scope to help the elderlies forming mutual aid network, keeping the elderlies to have connection with the society and receive the care from the community.
Activity Highlights