Canon Launches the New Compact 4K Professional Grade Camcorder XA75 and XA70
Combining Unrivalled 4K Quality, Compact and Flexible Control and stream HD footage via UVC to a computer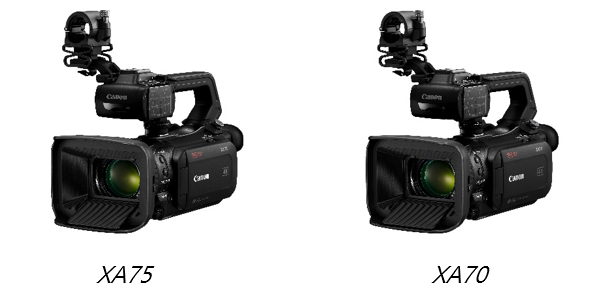 HONG KONG, 9th November 2022— Canon today announces the New Compact 4K Professional Grade Camcorder XA75 and XA70 are now available for sale. As the latest members of the XA series, XA75 and XA70 employ a 1-inch 4K UHD CMOS Image Sensor for exceptional high sensitivity and low noise performance. The camcorders are capable of recording 4K UHD (3840 x 2160) video at 25P, as well as 50P in Full HD (1920 x 1080). A 15x optical zoom lens incorporate with the Dual Pixel CMOS AF to facilitate fast and accurate autofocus. To facilitate file transfer and real-time broadcasting, both camcorders support the UVC standard, and users do not need to install additional adapters, greatly simplifying the live streaming process. The camcorders include two XLR terminals with independent audio level control. XA75 also includes a 3G-SDI output that supports camcorder integration into professional workflows. The compact and highly portable XA75 and XA70 offer the flexibility to use in versatile applications ranging from on-location news coverage, wedding to event shooting and documentary filming.
Support UVC[1] Livestreaming
XA75 and XA70 feature UVC compatibility which allows high-image-quality streaming with just a single USB (Type-C) cable. It provides convenience to users streaming 4K video or other post-production work in computer directly.
Support 4K UHD recording for superb image quality
The new XA75 and XA70 support 4K UHD (3840 x 2160) 25P recording in MP4 and XF-AVC format with up to 150Mbps & 160Mbps recording bit rate respectively. It retains the best possible image quality well suited for professional shooting of online videos and corporate videos and suitable for long-duration recording by using SD cards. The camcorders also support Full HD (1920 x 1080) recording at 50P to enable an additional shooting option.
1-inch 4K UHD Image Sensor for Higher Sensitivity and Lower Noise Level
XA75 and XA70 feature a 1-inch 4K UHD CMOS Image Sensor with 8.29-million effective pixels for 4K recording. The enhanced sensitivity and the high algorithm power of DIGIC DV 6 digital image processor, signal-to-noise ratio is improved when compared with its predecessor. Even when shooting with minimum brightness, the camcorders can still deliver highly detailed, sharp, and smooth nighttime videos with exceptionally low level of noise. The larger sensor also exhibits a shallower depth of field at large apertures, providing greater depth of field control and creative options.
Built-in Dual Pixel CMOS AF and advanced focusing functions for enhanced focusing performance
XA75 and XA70 feature a built-in Dual Pixel CMOS AF which makes use of a CMOS sensor with a new structure to perform the functions of both imaging and phase-difference detection autofocus ensuring sharp images even for 4K shooting which demands extreme focusing accuracy. Users can also choose the subject for focusing with tap of the touch screen and an expanded focusing area which covers 80% of image on screen can be selected, it helps to make focusing intuitive. The camcorders also support Face Detection AF function to ensure sharp capture of moving subject.
XA75 and XA70 are also equipped the upgraded built-in Dual Pixel Focus Guide to bring a more powerful manual focus function. The screen mark can directly indicate the front focus and back focus and allow accurate manual focus to be achieved.
Canon 15x Optical Zoom 4K UHD Video Lens for Expanded Shooting Range
Both camcorders incorporate Canon 25.5mm wide-angle 15x optical zoom 4K UHD video lens – a lens created with superior optical technologies from EF lens series with optimal placement of lens elements to achieve wide-angle and powerful zoom performance while maintaining a compact and lightweight design. The lens provides focal range of 25.5mm to 382.5mm (35mm format equivalent) for more versatile imaging expressions, allowing easy capture of breathtakingly wide open scenes or close-up shots of facial expressions.
The inclusion of Super UD lens, the same as found in Canon's top-of-the-line models, reduces chromatic aberration throughout the zoom range for high resolution and low chromatic aberration images. Utilizing the superior EF lens technology, the camcorders also feature a 9-bladed circular aperture for more natural and smoother out-of-focus effect. Points of light from night city skylines can be turned into beautiful, circular blur for easy creation of cinematic bokeh effect. The lens of XA75 and XA70 also features 3 built-in ND filters (1/4, 1/16, 1/64) for selection.
Excellent image stabilization performance
Both camcorders are equipped with a five-axis dynamic anti-vibration stabilization system, which corrects the 5 major movements of the camcorder, including rotation and tilt along the horizontal, vertical, and lateral axes, and translational offsets up and down or left and right, ensuring stable and clear high-quality images in all directions. This system can more effectively correct the image distortion, even when shooting with a handheld camcorder while walking, it can maintain a high-level recording effect.
DIGIC DV 6 Digital Image Processor with Enhanced 4K Arithmetic Processing Capacity
XA75 and XA70 incorporate the new DIGIC DV 6 digital image processor with enhanced 4K arithmetic processing capacity, capable of depicting fine details faithfully to realize sharp and true-to-life 4K videos in rich gradation. The ultra-fast algorithm power is instrumental in bringing the best out of the camcorder's functionalities and boost the expressive power of 4K videos. DIGIC DV 6 with drastic improvement in noise reduction realizes better performance when shooting with high sensitivity. Even in dark environment where it is hard for the human eye to verify the subject, bright, low-noise and detailed shots can still be taken by using only the faint ambient light, allowing for greater flexibility for night-time or low-light shooting.
Wide DR Gamma that Enhances Dynamic Range by 800%
Furthermore, drawing from technologies employed in Cinema EOS System, the camcorders feature the Wide DR Gamma setting that expands the dynamic range to 800%. It facilitates shooting in scenes with large lighting contrast, minimizing the occurrence of over-exposed areas to maintain seamless and rich gradations from highlights to shadows. Without the need for post-production, the setting helps achieve better dynamic range right from the camcorder and preserve original colors.
3.5" High Resolution LCD Touch Panel for Easy and Flexible Control
The 3.5-inch 2.76 million-dot high resolution LCD touch panel equipped in XA75 and XA70 utilize capacitive touch technology, offering easy and simplified control by allowing users to select focus point or adjust various functions settings simply with a touch on the screen. In addition, when shooting in outdoor with bright sunlight, you can clearly check the focus and image details through the 0.36-inch 1.77 million-point multi-angle viewfinder to ensure the image details. The viewfinder can be adjusted upwards by 45 degrees, which is convenient for recording in narrow places or from low angles and enhances the control flexibility. The viewfinder is also equipped with a large rubber eyecup, which fits the user's face and fits closely to the eyes to block light, making viewing clearer and more comfortable.
Detachable Handle with 2 XLR Inputs for Enhanced Shooting Flexibility and Professional Performance
XA75 and XA70 are equipped with detachable handle to meet different shooting needs. The handle helps to shoot tricky angles and capture clear and stable images in all directions; after removing the handle, the body volume can be reduced, the control flexibility can be enhanced, and it is easier to put the small camcorder in a bag and carry it out for use. for more mobility.
The handle is equipped with 2 sets of XLR input terminals and an external microphone stand, users can choose various professional radio equipment according to the shooting location and production needs. The XLR input supports a variety of audio types, including external audio, microphone, or microphone input powered by Phantom Power. It is convenient to use the external microphone and audio input for dual-channel recording at the same time, enhancing the sense of presence; it can also independently adjust the reception of the two groups of terminals. volume, create the best sound effect, and can also cooperate with the built-in stereo microphone for 4-channel radio to ensure more reliable radio performance.
Industry-Standard Input/ Output Connectivity – Fully Compatible with Broadcast Equipment
Apart from its high shooting specification XA75 and XA70 also feature HDMI output terminal. XA75 further provides the 3G-SDI (embedded audio and time code) output. It can transmit directly the YCC 422 10-bit 1920 x 1080/ 50P video to post-production tools used in broadcasting industry for further editing in great convenience.
Dual SD Card Slots for Versatile Recording Options
To offer higher recording capacity and provide more flexible recording options for various needs, XA75 and XA70 feature a built-in dual card slots using the popular and reliable SD / SDHC / SDXC memory cards as recording media. The dual card slots support two-way relay recording function which will automatically switch to the other memory card for continuous recording when one card is full. This flexibly expands the recording capacity and is ideal for long time outdoor shooting. In addition, simultaneous recording is also supported. This allows easy and instant video backup by recording to both cards in identical format to meet the demands for various applications while contributing to an effective workflow.
Infrared Mode with Enhanced Brightness Performance in Low-Light Environment
The XA75 and XA70 support the infrared shooting function (Infrared mode), which is convenient for users to shoot in extremely low-light environments and is suitable for shooting breaking news at night. The use of high-brightness infrared LED lights and a wide scattering angle make the infrared evenly cover the entire shooting range, bringing a more natural image effect.
Canon's new XA75 and XA70 compact professional 4K digital camcorders are now available for sale with suggested retail price of HKD$21,800 & HKD$17,700 respectively.
The suggested retail prices of XA75 and XA70 accessories are as follows:
| | |
| --- | --- |
| Model | Suggested Retail Price |
| BP-820 Battery Pack | HKD$ 880 |
| BP-828 Battery Pack | HKD$ 1,200 |
| PD-E1 Power Adaptor | HKD$ 1,580 |
| CG-800 Battery Charger | HKD$ 600 |
| 58mm Protect Filter | HKD$ 200 |
| RC-V100 Remote Controller | HKD$ 19,900 |
| GP-E2 GPS Receiver | HKD$ 2,180 |
| IFC-100U USB-C Cable (USB 3.1 Speed) | HKD$ 320 |
| IFC-400U USB-C Cable (USB 2.0 Speed) | HKD$ 420 |
[1] Audio is not supported.
About Canon Hongkong Company Limited
Canon Inc. (TSE:7751 / NYSE:CAJ) was founded in 1937 in Japan. Its predecessor, Precision Optical Instruments Laboratory, produced Japan's first 35 mm focal-plane-shutter camera "Kwanon" in 1934. From there, Canon Inc. expanded into the photocopying and printing industries, launching Japan's first plain-paper copier NP-1100 in 1970 and the world's first inkjet printer BJ-80 in 1985. Through the years, Canon Inc. has acquired in-depth experience in digital imaging product manufacturing, research and development. Pioneering in innovative products development, Canon Inc. hold the most technology patents in the imaging industry. Canon Inc. also makes significant contribution to promote photography. Today, Canon Inc. has a strong global presence, representing one of the most important market players in the imaging, office and industrial product categories. As of 31 December 2021, Canon's global revenue was US$30.55 billion.
In 1971, Canon Hongkong Co., Ltd. (Canon Hong Kong) was established as one of the first Canon offices in Asia. Canon Hong Kong is a Total Imaging Solution provider, providing professional pre-sales, marketing and after-sales services for all Canon products and solutions in Hong Kong and Macau. With the solely owned subsidiary Canon Business Solutions (Guangdong) Co., Ltd. established in 2018, the company continues to deliver intelligent total business solutions and professional services to Greater Bay Area. Canon Hong Kong adheres to Canon's corporate philosophy of "Kyosei", encouraging the company and staff to engage social, charitable and environmental activities for the community. Implementing internationally-recognized management system, Canon Hong Kong has achieved ISO 9001, ISO 14001, ISO 45001 and ISO 27001 (Canon Digital Production Center) certifications. For more information about Canon Hongkong, please visit our website: https://hk.canon/.