Canon Officially Launches the New Compact high-performance
non-cropped 4K APS-C EOS R Mirrorless camera EOS R10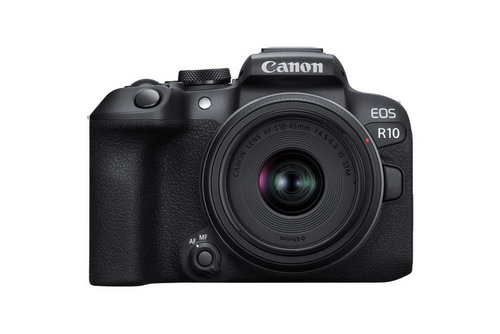 HONG KONG, 28th July 2022— Canon today announced the New compact, high-performance and non-cropped 4K APS-C EOS R mirrorless cameras EOS R10 is available for sale. Launched in 2018, the EOS R system has been well received by professional photographers and photography enthusiasts for the outstanding optical performance of RF Lenses and the high image quality, advanced functions and uncompromised reliability of EOS R Full Frame cameras. Canon now further expands the EOS R system's high image quality and advanced functions to APS-C cameras, and debut compact high performance EOS R-series APS-C cameras — EOS R10.
EOS R10, inheriting the advanced subject recognition and tracking auto focus system from the renowned EOS R3, features high speed continuous shooting up to 23FPS[1] and other advanced functions to expand the realm of photography for entry users. When paired with recently announced RF-S Lens Series - RF-S 18-45mm f/4.5-6.3 IS STM and RF-S 18-150mm f/3.5-6.3 IS STM, EOS R10 further highlight the benefits of RF-S lens' compact optical design. The RF Mount's high speed communication also improves image stabilization and the Digital Lens Optimizer (DLO) function to achieve outstanding image quality and functionality. More users can now enjoy the benefits of the EOS R system and expands the versatility of creations.
EOS R10 - Compact High-Performance non-cropped 4K APS-C EOS R Mirrorless camera with Advanced Auto Focus
Made for: Photo Amateurs
Best for: Travel, Landscape, Portrait, Pets and online content creation
High Speed and High Image Quality
EOS R10 is equipped with Canon's newly developed high-speed 24.2MP APS-C size Canon CMOS Sensor combined with high-speed DIGIC X digital image processor, making it capable of providing up to approximately 23FPS[2] high-speed continuous shooting with electronic shutter[3] (or up to 15FPS[4] with mechanical shutter) with Auto Focus/ Auto Exposure Tracking. The EOS R10 offers a maximum 1/16000 second for electronic shutter, effectively freezing images of fast-moving objects while in motion, and support shooting Long Exposure (Bulb). The newly added RAW burst mode[5] captures RAW images at approx. 30FPS with approx. 1.33x cropped (approx. 13.6MP), with Auto Focus and Auto Exposure Tracking. With "Pre-Shooting" enabled, it will record images up to 0.5 seconds before the shutter release is pressed, especially suitable for capturing unanticipated moments of subjects.
Benefited from the DIGIC X digital image processor, EOS R10 also realizes a wide standard ISO range of 100-32000, expandable to ISO 51200, to help deliver low-noise, high-quality images even in low-light situations. EOS R10 also supports HDR PQ high dynamic range shooting with 10-bit HEIF recording format to cater the popularity of HDR display. The built-in "Digital Lens Optimizer" (DLO) and "Clarity" setting also helps to output high quality and ready-to-use JPEG images. Moreover, Canon has developed a new "Cloud RAW Development"[6] service, which uses image processing algorithm developed through "deep learning" technology to process RAW images into JPEG/HEIF images with enhanced image quality.
EOS R10 incorporates new imaging function for or the first time in EOS camera to expand creative expression. The first one is the Panorama Shot (SCN mode), which capable of capturing up to 200 shots at a time and let the camera merge them to form a high-resolution, high-quality panorama shot automatically. The second new feature added is in-camera "Depth Composition" function which automatically merges focus bracketed images taken with focus bracketing into an image that is clearly in focus from front to back, allowing users to check the composition results on site.
Advanced subject recognition and tracking auto focus inherited from the renowned EOS R3
With Dual Pixel CMOS AF II, EOS R10 offers extensive autofocus coverage at up to 100% of the entire image area[7] and 651 AF zones, making precise focusing and tracking of subjects possible even when they move to the edge of the frame and allows for greater compositional freedom. EOS R10 features EOS iTR[8] AF X inherited from EOS R3, its AF algorithm developed using Deep Learning technology provides high performance Subject Recognition and AF tracking of people, animals[9] and vehicles[10]. In addition to enhanced eye detection which is now possible even when the subject is obscured by shadow, hair, make-up or a face mask, People detection features enhanced head detection for athleteswearing goggles or face masks during winter sports, a body detection algorithm has also been added for situations where large movements block or hide the face or the head of the subject. Animal detection now capable of steadily tracking the animal's body, face and eyes can help photographers capture the precious wildlife moment with ease. Vehicles detection is capable of "overall" detection of fast-moving motorsports (automobiles and motorcycles) or more specific focus of the driver's helmet using "spot" detection, which significantly reduce the opportunities of out-of-focus.
The EOS R10 also uses the same AF controls and settings as the EOS R3, allowing photographers to fully utilize the fast-paced shooting environment. The advanced tracking system allows simply "grabbing" the parts of a subject to be tracked using the 1-point AF or zone AF for the camera to determine the optimum tracking position and perform subject detection and tracking. Subject tracking is now possible from any one of the 8 AF Area modes, including 1-point AF or Flexible Zone AF. During AF or continuous shooting, AF frame or Tracking subject can be switched with Multi-controller, and Subject Tracking can be turned on or off (Required button customization) to meet the needs of shooting. The new Flexible Zone AF Area that allows customization of AF Area has also been added to bring even greater freedom in photography.
EOS Movie supports non-cropped 4K UHD 30p movie
EOS R10 equipped with professional EOS Movie capability is a perfect partner for online content creators. It supports high-quality non-cropped 4K UHD 30p (6K oversampling) movies and cropped 4K UHD 60p movies. Non-cropped Full HD 120p high frame rate movie can also be recorded for easy capture lifestyle movies. The 10-bit HDR PQ (Rec. ITU-R BT.2100(PQ))H.265 movie and uncompressed 4K YCbCr 4:2:2 10-bit UHD 60P HDR (Rec. ITU-R BT.2100(PQ)) HDMI output[11] are also supported.
EOS R10's Movie Servo AF and Subject Tracking AF are available in all video formats. Maximum continuous movie recording time is extended from 29min 59sec to 2 hours. The built-in internal Stereo Microphone is newly equipped with "Audio Noise Reduction" feature that reduce focus noise and white noise to provide a better sound recording quality. The camera also supports digital sound recording via the Multi-Function Shoe for high-quality sound provides a qualitative sound effect.
Improved Operability and Connectivity
EOS R10 features a Canon developed high precision 0.39-inch 2.36M-dot OLED electronic viewfinder with up to 120FPS display frame rate. With the "OVF simulation view assist" function originated from EOS R3, EOS R10 is able to reproduce the view of an SLR optical viewfinder by displaying more natural highlights and dark gradations with high brightness level of EVF and Canon HDR technology. EOS R10 also equipped with a high definition 3.0-inch 1.04M-dot side-opening Vari-angle Clear View II LCD Touch Monitor, offering greater flexibility and convenience for more challenging low or high angles. When LCD Monitor is opened, viewfinder sensor can be disabled to prevent inadvertent display switching between EVF and LCD Monitor during operation.
To enhance the operability of EOS R10, Canon specially includes Multi-controller and Quick control Dial as found on high-end EOS cameras. By mounting Quick Control Dial and Multi-controller in a position where the thumb reach naturally while holding the camera, users can swiftly handle various operations with small movement of their thumb. A new "Focus Mode Switch" is also added for quick switching of focus mode on RF/RF-S Lens[12] has been added to the front for easy access while looking through the viewfinder. Moreover, a new "Silent Shutter Function" which enables the user to collectively switch off various sound-related settings is also incorporated in EOS R10, makes switching to silent shooting a breeze.
Designed to be lightweight and compact, EOS R10 body only weighs 382g (429g with Battery pack LP-E17 and memory card). However, EOS R10 comes with a built-in retractable flash in this compact body. Its guide number is approx. 6 (m, ISO 100) and supports E-TTL II Flash Metering. This flash will come in handy in low-light situations or provide fill flash in backlit condition. The camera is also equipped with a UHS-II compatible SD/SDHC/SDXC memory card slot, supports battery charging and powered via USB-PD, making it hassle-free even when shooting outdoor as the camera can be recharged easily with portable charger via the USB port, which further extends shooting time.
With EOS R10, photographers can expect greater convenience and higher efficiency when transferring images and movies. The camera has built-in high-speed 802.11b/g/n (2.4GHz) Wi-Fi allows for fast wireless network transfer to Camera Connect App on smart device or to computer. WPA3-Personal is newly supported for added file security on wireless networks. Additionally, Built-in Bluetooth® low energy technology is available for easy smartphone connection and built-in USB Type-C (Hi-Speed USB 2.0) for new wired connection with smart devices[13] is also provided for fast file transfer.
The New EOS R10 Body, EOS R10 with RF-S 18-45mm f/4.5-6.3 IS STM Lens Kit and EOS R10 with RF-S 18-150mm f/3.5-6.3 IS STM Lens Kit are now available for sale.
Suggested Retail Price:
EOS R10 with RF-S 18-150mm f/3.5-6.3 IS STM Lens Kit: HK$10,580
EOS R10 with RF-S 18-45mm f/4.5-6.3 IS STM Lens Kit: HK$8,680
EOS R10 Body: HK$7,380
The accessories for EOS R10 and their suggested retail prices are as follows:
| | |
| --- | --- |
| Model | Suggested Retail Price |
| Speedlite Transmitter ST-E10 | $1,180 |
| Multi-Function Shoe Adapter AD-E1 | $380 |
| Multi-Function Shoe Directional Stereo Microphone DM-E1D | $2,980 |
| Multi-Function Shoe Adapter for Smartphone Link AD-P1 | $680 |
| Mount Adapter EF-EOS R | $880 |
| Control Ring Mount Adapter EF-EOS R | $1,680 |
| Drop-In Filter Mount Adapter EF-EOS R With C-PL Kit | $2,480 |
| Drop-In Filter Mount Adapter EF-EOS R With V-ND Kit | $3,280 |
| Remote Switch RS-60E3 | $140 |
| Wireless Remote Control BR-E1 | $310 |
| Interface Cable IFC-100U | $320 |
| Interface Cable IFC-400U | $420 |
| Battery Pack LP-E17 | $560 |
| DC Coupler DR-E18 | $360 |
| AC Adapter AC-E6N | $680 |
| Battery Charger LC-E17E | $490 |
| USB Power Adapter PD-E1 | $1,580 |
| Multi-Function Shoe Cover ER-SC2 | $90 |
| Camera Cover R-F-5 | $35 |
[1] With electronic shutter.
[2] Depending on the nature of subject or shooting conditions, rolling shutter image distortion may occur.
[3] During servo AF, only RF lenses and some EF lenses can be used for continuous shooting at the maximum speed in each drive setting. For details on supported lenses, refer to Canon's official website. The continuous shooting speed may be reduced by the lens, shutter speed, aperture control, subject conditions, and brightness (for example, when shooting in a dark place).
[4] During servo AF, only RF lenses and some EF lenses can be used for continuous shooting at the maximum speed in each drive setting. For details on supported lenses, refer to Canon's official website. The continuous shooting speed may be reduced by the lens, shutter speed, aperture setting, flash, flicker reduction processing, battery type and remaining power, temperature, subject conditions, and brightness (for example, when shooting in a dark place).
[5] When using Raw Burst Mode, images with a resolution of approx.. 13.6MP and a crop of approx.. 75% x 75% are captured in 14-bit RAW (Canon Original, 12-bit A/D conversion) using an electronic shutter.
[6] Paid subscription Services. Requires an Image.canon account. Processed images are saved on image.canon servers.
[7] Applicable when subject frame is shown while using Subject Tracking and compatible lens. Some scenes and subjects may not be applicable. For details on compatible lenses, please refer to Canon Website.
[8] Intelligent Tracking and Recognition.
[9] Effectiveness varies depending on the subject. In some cases, dogs, cats or birds may not be detected, while some animals other than dogs, cats or birds may be detected.
[10] The vehicle detection may not function for some subjects. Or, subjects, which are not automobile or motorcycle, may be detected as vehicles. Only overall detection can be used for a racing car with a roof.
[11] When the image is output to an external device via HDMI, recording to memory card function will be not available.
[12] For RF/RF-S lens without focus mode switch.
[13] Requires a third-party MFi-compatible cable for wired data transfer to iPhone.