Canon Unveils the Smallest and the Lightest EOS R Mirrorless Camera
EOS R100 and New Wide Angle Pancake RF Lens RF28mm F2.8 STM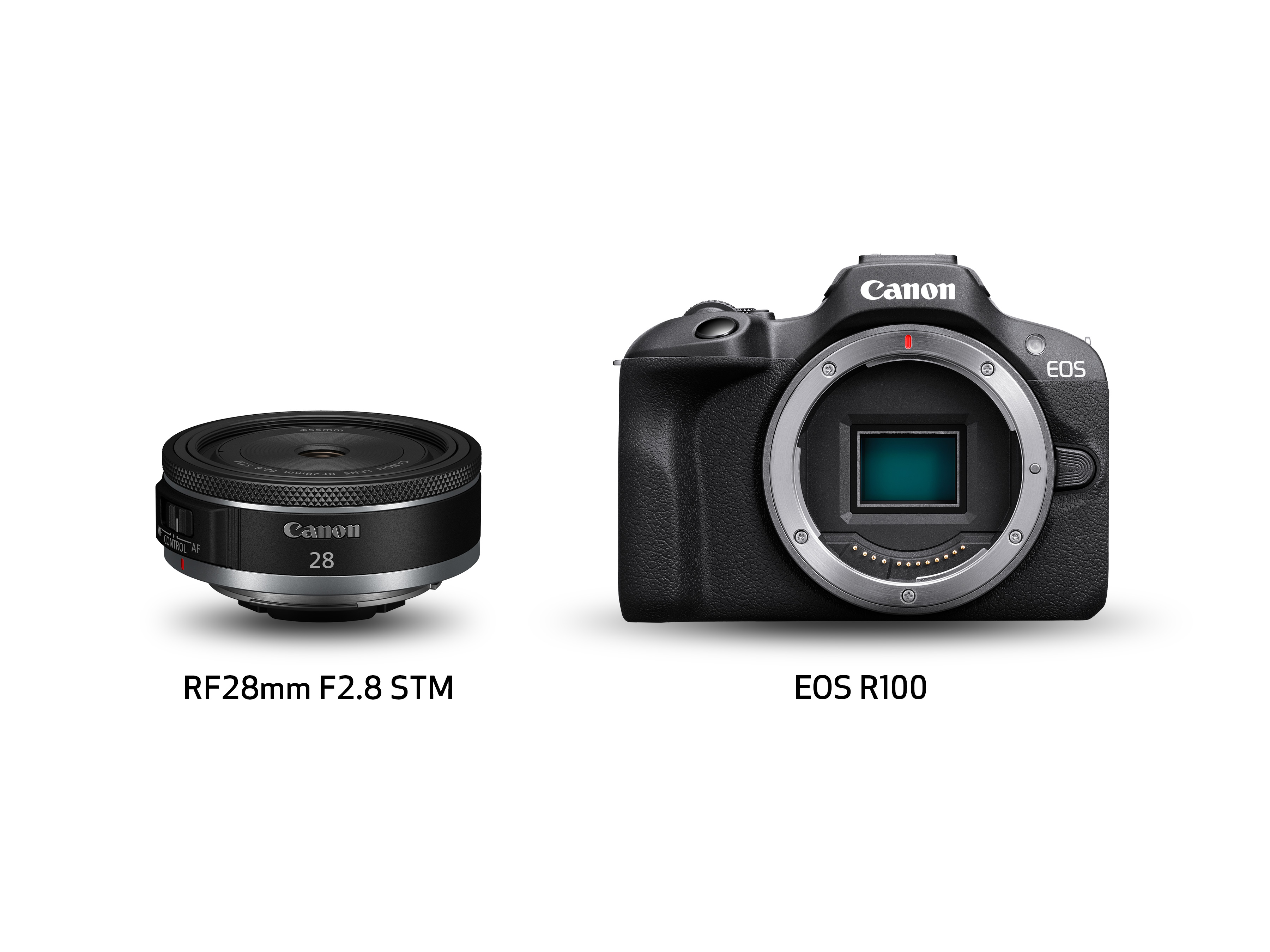 HONG KONG, 24th May 2023 — Canon today announces the launch of the new smallest and lightest EOS R mirrorless camera EOS R100 and the new RF28mm F2.8 STM lens, to meet the various needs of photo amateurs. EOS R100 is equipped with 24.1 megapixels APS-C size CMOS image sensor, together with operational ease and compact design, which suits entry photo amateurs.
In addition, the full frame wide angle pancake RF lens RF28mm F2.8 STM is the smallest, thinnest and lightest RF lens with a length of 24.7mm and weight of 120g only, making it an ideal choice for landscape, snapshots or other topics. These new products provide more compact, versatile and cost-effective options for photo amateurs to meet various shooting needs.



EOS R100 – Compact Entry APS-C EOS R Mirrorless Camera
Made for: Entry Photo Amateurs
Best for: Travel, Landscape, Portrait and Pets, etc.
Features:
The smallest and the lightest[1] EOS R Mirrorless Camera[2], body weights only 356g (with battery and memory card)
Approx. 24.1 megapixels APS-C size Canon CMOS image sensor and DIGIC 8 digital imaging processor
Standard ISO range 100-12800 (expandable to ISO 25600)
Max. 6.5 FPS high-speed continuous shooting[3] (Max. 3.5FPS during SERVO AF)
Dual Pixel CMOS AF technology with 143 AF zones and up to 100% (Vertical) x 88% (Horizontal) AF coverage area[4]
Equipped with Face and Eye detection AF, Eye Detection is effective even when the whole body is in the frame
4K UHD 25p/23.98p movie[5] and HD 100p/119.9p High Frame Rate movie[6] recording
4K and Full HD Timelapse movie provided
5-Axis Movie Digital IS brings more effective stabilization when using with IS-equipped RF/RF-S Lens through coordinated control
Features Movie Auto Level Function[7]
Hybrid Auto Mode automatically create movie form 2-4 sec clips recorded immediately before each photo is taken, movie can be created easily without movie editing skill
Vertical video recording function for vertical video playback on smartphones
0.39-inch 2.36M-dot OLED Electronic Viewfinder (EVF) and 3-inch 1.04M-dot LCD monitor
Built-in retractable flash with Guide Number of 6 (m, ISO 100) and supports E-TTL II Flash Metering
Supports Remote Switch RS-60E3 for more flexible shooting
Easy-to-use graphical user interface with on-screen tips to ensure users shooting with the desired effect
Built-in 802.11b/g/n (2.4GHz) Wi-Fi for wireless network transfer (e.g. Camera Connect App, EOS Utility)
Built-in Bluetooth® low energy technology for easy Smartphone connection, GPS information acquisition and remote control from smartphone
Supports auto transfer of photos and videos to image.canon cloud service for instant backup and sharing
Estimated Retail Price
EOS R100 with RF-S18-45mm F4.5-6.3 IS STM Lens Kit: HK$5,280
Estimated Sales Start Date: June 2023



RF28mm F2.8 STM – Full Frame Wide Angle Pancake RF Lens
Made for: Photo Amateurs
Best for: Landscape, cityscape and snapshots
Features:
The first pancake lens developed for RF Mount, offering outstanding mobility and portability
The smallest, thinnest and lightest RF lens[8] with a length of approx. 24.7mm and weight of approx. 120g
Can be used as a 45mm lens (equivalent to 35mm full-frame format) on an APS-C EOS R camera
Newly developed 8 elements in 6 groups optical design with 3 large diameter PMo Aspherical Lens elements to provide high image quality and compactness while keeping the number of elements to a minimum[9]
0.17x max. magnification at 0.23m min. focusing distance
"Focus mode / Control Selector" switch design enables swift switching of "Focus/Control Ring" for manual focusing or Control Ring operation such as aperture, shutter speed, ISO speed or exposure compensation adjustment
Equipped with Gear-type STM for high-speed AF and more compact design
Compatible with Focus Breathing Correction[10] during movie shooting
7-blade circular aperture delivers beautiful and soft background blur
Renowned Super Spectra Coating and optimized shapes of lens elements help to improve anti-ghosting and flare performance
Optional metal Lens Hood EW-55 further enhances flare resistance
Estimated Retail Price: HK$2,580
Estimated Sales Start Date: July 2023


Off Camera Shoe Cord OC-E4A
Features:
Off camera shoe cord for Multi-Function Shoe with 0.8m cord length
Supports Speedlite EL-5 and Speedlite Transmitter ST-E10
Compatible with Speedlite and accessories designed for traditional hot shoe via optional Multi-Function Shoe Adapter AD-E1
Supports Multi-Function Shoe Directional Stereo Microphone DM-E1D and other audio devices compatible with Multi-Function Shoe
Dust-and-water-resistant design[11]
Estimated Retail Price: HK$1,280
Estimated Sales Start Date: Aug 2023
[1] For EOS R Series cameras currently available as of 23 May 2023.
[2] The RF5.2mm F2.8 L DUAL FISHEYE, RF85mm F1.2 L USM DS, Extender RF1.4x and Extender RF2x are not supported. The control ring of the Control Ring Mount Adapter EF-EOS R does not work with this camera.
[3] Continuous shooting speed may be slower depending on subject/shooting conditions or the camera setup or the lens used, etc. Refer to Advanced User Guide for details. For information on lenses that support the maximum continuous shooting speed with servo AF, please refer to Canon Website.
[4] Depending on the lens used, for details on compatible lenses, please refer to Canon Website.
[5] Contrast detection AF will be used. 4K Video is recorded with the image cropped around the center of the image sensor.
[6] AF is fixed when recoding starts. Maximum recording time is 7 min 29 sec.
[7] Cannot be used with Movie Digital IS.
[8] For RF lenses currently available as of 23 May 2023.
[9] Multiple exposure shooting is not supported on EOS R5/R6/R/Ra/RP, it is also not possible to shoot multiple exposures with another lens using images shot with this lens. The lens distortion correction on the camera is set to [Enable] automatically when in use.
[10] Available on EOS R6 Mark II / EOS R8 / EOS R50. As of 23 May 2023.
[11] With dust-and-water-resistant EOS R-series camera and accessories; however, it is not recommended for use under rain.