Canon Hong Kong Corporate Volunteer Team Attained the Gold Award for Volunteer Service (Organization) for the 3rd consecutive year
Canon Hong Kong (Canon HK) believes that the interactions and caring supports to each other in the community are the key to social harmony.
Established since 2015, Canon HK Corporate Volunteer Team fully completed yearly service goals, colleagues to participate volunteer work and serve the community in their spare time, through collaborations during services, colleagues from different department and position can get together and can improve their communication. In 2018, 71 corporate volunteers had served in 9 programmes, contributed total 1,590 hours of service to the community. And these contribution is rewarded the Gold Award for Volunteer Service (Organization) 2018 issued by the Volunteer Movement of Social Welfare Department.
Throughout 2018, our team supported 9 services including environmental protection, support low-income families and children with special education needs as well as promote social inclusion. Cohering with Canon HK's service theme of "Empowering through Imaging", incorpororting company's imaging expertise into our service. For example, arranging class for SEN children, playing together with Canon Creatuve Park, paper art designed by Canon Inc., so as to spread the fun of imaging. Garthered SEN children to create EOS 650 paper camera in order to train children's concentration and social communication skill.
Another highlighted program fall into the co-operation with People Service Centre, giving regular service on Surplus Market Food Collection. This is the third consecutive year Canon HK supporting in regular pattern, four days in a week services (on every Monday, Wednesday, Thursday and Friday). Our volunteers formed small team to help collecting the surplus food from wet market and re-distributed to the needy in Kowloon City district. As annual summary, our team rescued total 22,351kg leftovers, saved in dairy average of 176kg surplus food which included fruits, vegetables, meat, bread, fish and even fresh seafood to be sent to landfill. To step further, home visit service is inserted into the program. A separate day for volunteers to visit beneficiaries living in subdivided unit at To Kwa Wan, and assist the survey about people's diet habits to evulate their dairy nutrient absorption. Through regular service, our team successfully help to promote food recycle and build friendship with the service audience. Our volunteer team members finds it true that "It's a happiness to help others".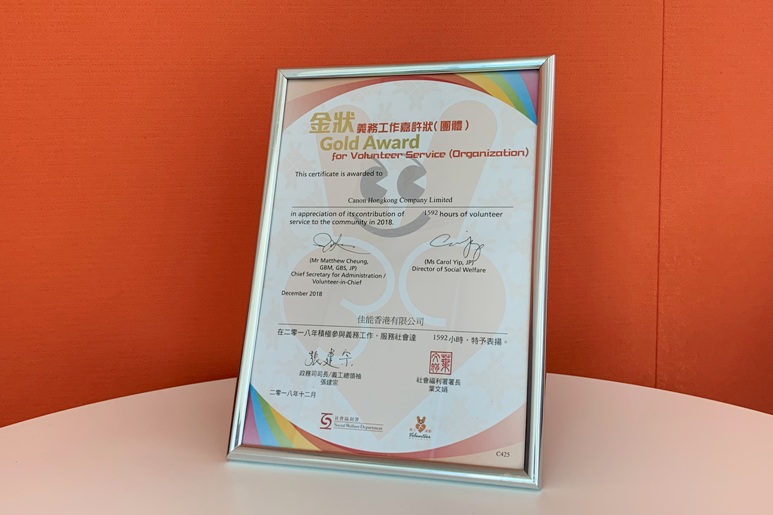 Review of volunteer service in 2018: