Canon Hong Kong Attained Two HKACE Customer Service Excellence Awards
Fulfill Caring Customer Services with "Delighting You Always" Philosophy
In pursuit of the company's mission of "Delighting You Always", Canon Hongkong Company Limited (Canon HK) is committed to delight every customer and staff by means of high-quality products and technical supports, as well as excellent customer services. In September 2016, the Hong Kong Association of Customer Service Excellence (HKACE) organized the HKACE Customer Service Excellence Award 2016, in which Canon HK proudly attained two awards in praise of the company's all-rounded effort in customer service excellence. On 24th January 2017, Canon HK's winning teams attended the HKACE 17th Anniversary Luncheon cum Customer Service Excellence Award Presentation Ceremony to share the glory and happiness.
The achievements of Canon HK in Customer Service Excellence Award 2016 include:
Program Awards
Service Appreciation Award – Silver Award:
Customer Delight through Service Appreciation
Based on the corporate philosophy 'Delighting You Always', Canon HK promotes the appreciation culture of customer and staff with different kinds of platform, including iThanks and iApprecaition system, 'Morning Tour' - greeting around office every day, service excellence sharing session by after-sales service team and 'The Best Smile' campaign at Canon Customer Centre, all these activities built a positive and two-way feedback culture, customers and staff are glad to share ideas through different channels. These programs drive positive morale among staff and thus enhance the service level to benefit the customers, which ultimately made a quality commitment to all.
Individual Awards
Bronze Award (Internal Support):
Mr. Frederick Chan, Senior Legal Counsel, Legal and Compliance Department
Frederick Chan manages a team of lawyers and legal professionals to provide legal, intellectual properties, compliance and risk-related advice to all company functions and units. Frederick had experience working as front line staff and understood their difficulties in explaining legal terms to customers. Therefore, after joining Canon HK in 2013, apart from providing professional legal support, Frederick has designed and provided a new training programme for the front line staff by using a relaxed way to explain the product warranty or service terms. He has also broken away from the traditional cold image of a lawyer but instead adopting a friendly interactive approach during the provision of his professional internal support.
"Management team supports our staffs for the award in every way and the awards are definitely huge encouragements to us. I would like to express my heartfelt thanks to our service teams, who have been making their greatest effort in satisfying our customers ranging from consumers to corporate clients. Looking forwards, we will continue to put customers at the centre of everything the company does, with our belief that the only way to delight our customers always is to grow from strength to strength with even better new services ahead." Mr. Shunichi Morinaga, President & CEO of Canon HK, shared his remarks.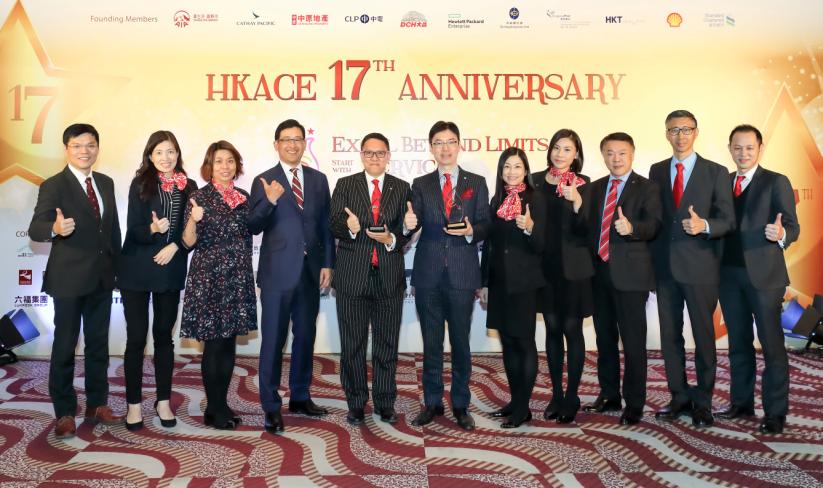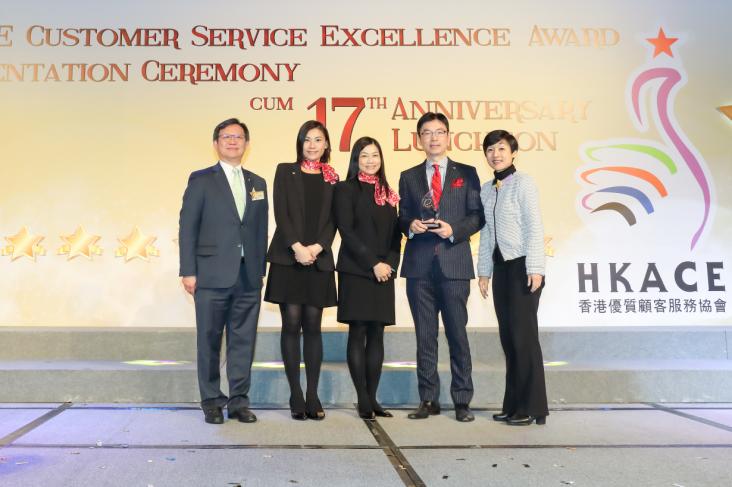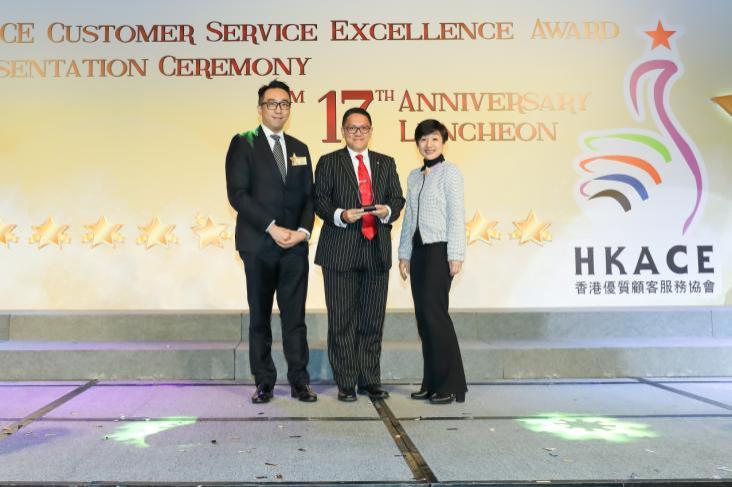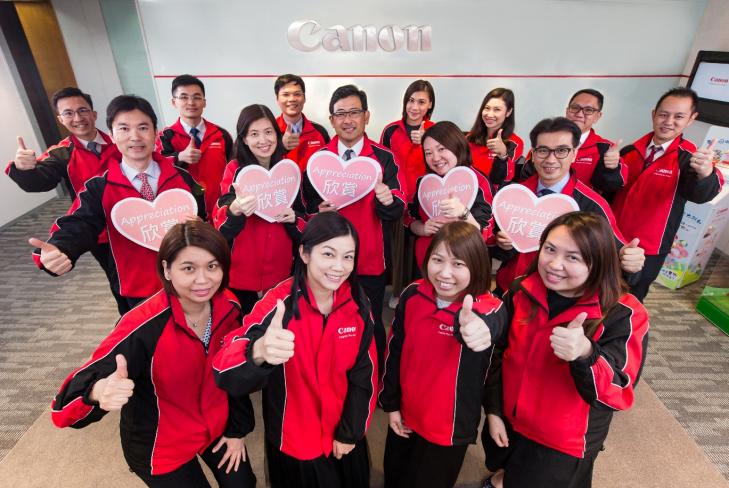 About Hong Kong Association of Customer Service Excellence
Established in February 2000, the Hong Kong Association for Customer Service Excellence (HKACE) is a non-profit professional organization led by customer service professionals, comprising 12 founding members and 42 corporate members from different industries, with the support of the Government, community and industry leaders. By means of activities, awards and education programmes, the HKACE is dedicated in fostering customer service excellence in Hong Kong.
About HKACE Customer Service Excellence Award
In line with the mission to promote customer service excellence among members, the HKACE introduced the Customer Service Excellence Award program in 2002. Nowadays, the Customer Service Excellence Award has become annual key event of the HKACE. By presenting the Grand Award, Outstanding Customer Service Program Award, Service Appreciation Award as well as Team Award and Individual Awards for different categories, the award motivates customer service staff, promotes a customer service culture and recognizes outstanding performers.
About Canon Hongkong Company Limited
Canon Inc. (TSE:7751 / NYSE:CAJ) was founded in 1937 in Japan. Its predecessor, Precision Optical Instruments Laboratory, produced Japan's first 35 mm focal-plane-shutter camera "Kwanon" in 1934. Canon Inc. eventually expanded into the photocopying and printing industries, launching Japan's first plain-paper copier NP-1100 in 1970 and the world's first inkjet printer BJ-80 in 1985. Through the years, Canon Inc. has acquired in-depth experience in digital imaging product manufacturing, and research and development. It is a leader in the development of innovative products and holds the most technology patents in the imaging industry. Canon Inc. also makes a significant contribution to the promotion of photography. Today, Canon Inc. has a strong global presence and is one of the most important market players in the imaging, office and industrial product categories. As of 31 December 2015, Canon's global revenue was US$31.4 billion.
One of the company's first offices in Asia, Canon HK was established in 1971. It is responsible for the sales, marketing and after-sales services for all Canon product lines in Hong Kong and Macau. Canon HK adheres to Canon's corporate philosophy of "kyosei", which encourages the company and its staff to participate in social, charitable and environmental activities in the community. Canon HK implements internationally-recognized management systems and has achieved ISO 9001:2008, ISO 14001:2004 and OHSAS 18001:2007 certification. For more information about Canon HK, please visit our website https://hk.canon
Download Images
Download PDF Version