Q&A on Inkjet Printer
Q1: What is the difference between Dye and Pigment ink?
Ink is made up of pigment, solvent, additives and water. Pigment is dissolved at the molecular level in dye ink. But in pigment ink, is only dispersed without being dissolved. Each ink type has its own strengths, with dye ink offering subtle colour expression well suited for use in photo prints and pigment ink delivering superior light fastness.
Q2: Aren't ink a liquid substance with colour added to it? How does it affect the printer performance?
A good printout is the product of individual inter-related parts:
Good Printout = Print Head x Canon Ink x Canon Paper Media.
To deliver improved colour reproduction and long lasting prints, all Canon ink cartridges go through a research and testing process to make sure the ink works well with both the Canon print head and the paper media. A slight change at any part will greatly impact the printout quality.
The use of non-genuine Canon ink tanks or cartridges (including supplementing or feeding a Canon ink tank or cartridge with non-genuine Canon ink) with your Canon inkjet printer may affect the performance of the printer or the print quality. There is also a possibility that the use of certain non-genuine Canon ink will cause the print head to over heat or emit smoke.
By getting third-party ink supplies for your printer, you are not only getting a low rate of return on your money invested with poor quality printouts, you risk incurring a substantial repair bill when the printer is damaged.
Q3: What are the printout quality / fade resistance difference between Canon and third-party inks?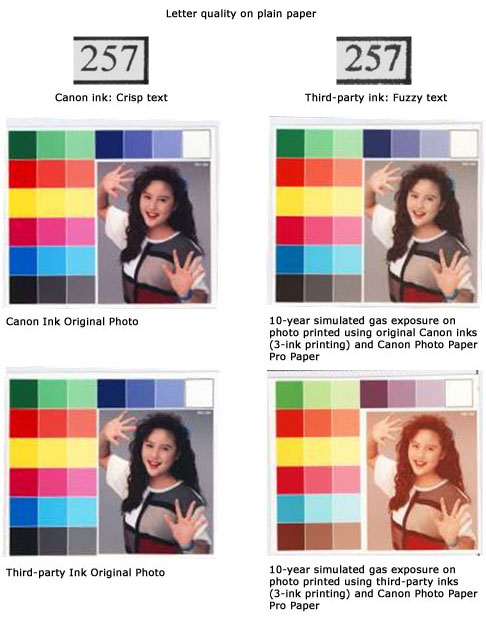 Q4: Are Canon inks toxic?
For the benefit of consumers, Canon provides the Material Safety Data Sheet (MSDS) to ensure safe usage of our products at the workplace and home.
The MSDS is a reference document that lists chemical ingredients found in our products which contains information on its chemical and physical properties. It also contains information on the handling of these ingredients, first aid or corrective measure to be taken in the event of accidents involving the chemical ingredients.
For details on MSDS, visit here.
Q5: How come the colour ink cartridges are depleted when I'm printing mono documents only?
Depending on the paper used or the print settings, colour ink may be used even when you print a mono document. When any ink colour runs out, you need to replace the ink cartridge to continue printer operations.
Q6: I encountered error and cannot proceed to print, scan or copy on my printer when my ink cartridges are empty or missing. How do I overcome it?
You need to install all black and colour ink tanks or ink cartridges regardless whether you perform mono or colour printing. If any ink tank or ink cartridge is not installed or is empty, an error may occur hence printing, scanning or copying cannot proceed until a new ink tank or ink cartridge is installed.
Q7: How come my ink cartridges get depleted when I do minimal printing only?
To optimise printer performance, Canon inkjet printers may undergo an automatic cleaning process during which the printer purges ink from the nozzles to prevent them from being clogged. During this process, a very small amount of ink will be used. In addition, when you use the printer for the first time, a small amount of ink will be used in the initialisation stage. In these instances, all ink cartridges may be utilized.
Q8: What is the duration on availability of spare parts for my inkjet printer?
Generally, parts required in the repair of a printer are available for two to five years after production of such model is discontinued. Depending on your printer model, we may recommend that you replace a printer requiring repair with a new printer of the same model or of another model with similar functions. In such case you may not be able to use the supplies or accessories previously used with your replaced printer. Your operating system may also need to be upgraded. Please consult your local authorised Canon support accordingly.
Q9: How long is the warranty for my inkjet printer?
Generally, the warranty for your printer will be for one year from the date of purchase subject to the actual terms of your local warranty. The warranty does not cover printer supplies such as paper and ink tanks / cartridges. For full and actual terms of your warranty, please refer to your warranty card or local authorised Canon support.
Q10: What is the duration on maintaining optimal print quality after an ink cartridge is installed in my inkjet printer?
For optimum print quality, it is recommended that an ink cartridge be fully utilised within six months from its installation in the printer.
Q11: Can I take/relocate my printer from one region to another region?
Ink cartridges/ink bottles sold are generally meant for use with printers sold in the same region. The ink cartridges may bear unique labels or configurations and may not be compatible for use with printers sold in another region. To ensure optimal performance of your printer, please check with your local Canon office or authorised Canon reseller before relocating your printer from the location of purchase.
Q12: What happens to my printer warranty if I use refilled or non-genuine Canon ink?
Costs of the rectification of problems with your printer caused or contributed by the use of non-genuine Canon ink tank or cartridges (including where a genuine Canon Ink tank or cartridge is supplemented or fed with non-genuine Canon ink) may not be covered under your printer warranty. Please keep this in mind when using non-genuine Canon ink.
Q13: Under what conditions will the faxes store in memory?
A printer with a fax function stores the content of the following faxes in its memory:
Faxes not printed out due to conditions such as insufficient ink or paper.
Faxes in the send queue.
If you disconnect the power cord, the date and time settings are reset and faxes stored in the printer's memory will be deleted. Before you disconnect the power cord, please confirm that faxes which you need to keep have already been printed or sent.

Q14: What is ISO / IEC 24734 & 24735?
To enable consumer to compare print and copy speeds fairly between different printers and manufacturers, common testing methodology is needed. Canon and other industry leading printer manufacturers have worked closely with the International Standards Organization (ISO) to establish these standards. They are called "ISO / IEC 24734 and ISO / IEC 24735". The ISO / IEC 24734 and 24735 standards were officially published as International Standards on 4 March 2009.
For details on ISO / IEC 24734 & 24735, click here.
Q15: How do I find the latest operating system support for my Canon printer?
From time-to-time, there will be release of new operating system by Microsoft and Apple. To find the latest operating system support for Canon printers or All-In-Ones (AIOs), click here.
Q16: What is single pass printing?
Single-pass inkjet printing is the means of achieving high-speed inkjet printing. It uses a stationary print head, with the paper substrate moving under the stationary print head once only.
Single-pass printing configurations impose rigorous demands on the ink because the system must deliver very high reliability over prolonged periods. In single-pass printing, print head maintenance occurs much less frequently, which means that the ink must deliver a substantially higher level of reliable jetting from the print head. This consideration has a significant impact on the choice of ink chemistry for single-pass printing.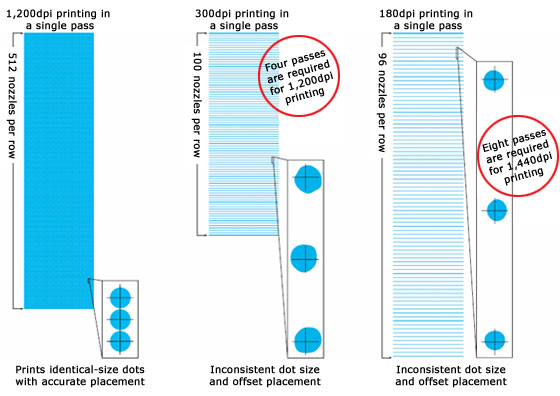 First Posted on 05 Jan 2011