Canon Officially Launches the RF 5.2mm f/2.8L Dual Fisheye with the New EOS VR System
Efficient and simplified workflow for making your VR journey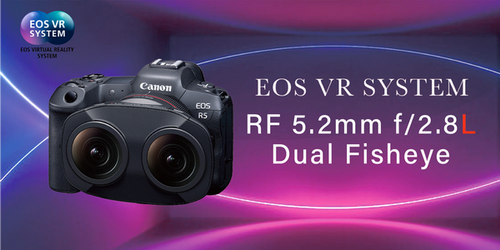 HONG KONG, 30th December 2021—Canon announces the new RF 5.2mm f/2.8L Dual Fisheye is now available for sale. It plays an important role in the EOS VR system, forming a triune virtual reality system for shooting and producing 180o VR images[1] with compatible EOS cameras[2] and remote shooting and format conversion applications. When the content creators install the RF 5.2mm f/2.8L Dual Fisheye lens on the EOS R5 mirrorless camera, the lens allows users to take full advantage of the camera's 8K[3] movie shooting function and generate 3D 180o VR video with ultra-high-definition immersive video through the parallax between the two lenses. By launching this system, Canon hopes to meet the needs of a wide range of users ranging from VR content creators, professional VR productions to new users who have just started their VR video production journey.
Excellent Optical Design offering outstanding performance
RF 5.2mm f/2.8L Dual Fisheye is equipped with 2 Fisheye Lenses (Left and Right). Each lens incorporates an innovative 12 elements in 10 groups folder optics design, which features 2 prisms that folds the optical path to provide images with natural parallax with a baseline length of 60 mm in a camera with a full-frame sensor (36mm x 24mm). This enables using this interchangeable lens with compatible camera for simple and straightforward 3D VR shooting without the need for any special purpose camera, significantly simplifying the 3D VR production workflow. The lens covers a 190o wide angle of view and adopts Equidistant projection design, which is ideally suitable for VR shooting. Benefited from the large-diameter RF Mount and short back focus, a lens construction optimized for a folded optical path and effective placement of 2 UD lenses in the final lens group, the lens aberrations have been effectively suppressed and achieved a high image quality from corner to corner.
High Efficient VR shooting
The RF 5.2mm f/2.8L Dual Fisheye can shoot 3D 180o VR images through the parallax between the left and right fisheye lens images. Using the lens with the EOS R5[1] enables the output of high definition 8K 180o VR footage[3]. It allows content creators to easily shoot high-quality 3D VR videos with strong immersive experience. Since the light that enters each "eye" of the lens can be recorded with just one CMOS image sensor. This removes the need to adjust multiple camera positions and synchronizing settings before the shoot, or to stitch images together in post-production, thereby streamlining the production workflow.
In terms of controllability, the RF 5.2mm f/2.8L Dual Fisheye uses manual focus operation. Its large manual focus ring operates smoothly with good damping. The manual focus ring is connected to the focus structure of both the left and right lenses, allowing the left and right images to focus simultaneously. The most suitable three-dimensional subject distance range for shooting 180o VR videos is between 0.5m and 2m. Shooting in this range can make the subject more prominent and bring a more intense and immersive experience. In addition, both the left and right lenses are equipped with an Electro-magnetic Diaphragm (EMD) to electronically control the aperture diameter simultaneously to ensure consistent exposure of the left and right images. The lens also equipped with a rear gelatin filter holder to facilitate the installation of the ND filter. This makes it possible to control exposure even during daytime outdoor shoots and other high-contrast situations where the shutter speed might unintentionally speed up and helps to ensure smooth video effect with proper shutter speed.
The first lens element of the RF 5.2mm f/2.8L Dual Fisheye features the revolutionary Canon "Sub-Wavelength structure Coating" (SWC) with excellent anti-glare capability, which can greatly eliminate the flare and ghosts often found in wide-angle lens shooting. The coating ensures VR imaging are not affected by flare and ghosting from light with a larger incident angle even in backlit conditions.
The f/2.8 large aperture of the lens allows VR images to be captured in low light environments with bright, high-quality images, combined with the high-sensitivity CMOS image sensor of the EOS R5 and the powerful noise cancellation capability of the DIGIC X image processor. Even shooting in a low-light environment or shooting scenes where the exposure is deliberately reduced to express creativity can provide high-quality images. The above designs make shooting VR video more easily for content creators, greatly improving shooting efficiency.
Due to the short focal length of the RF 5.2mm f/2.8L Dual Fisheye, the dust on the front and rear lenses may also be captured in the image. Therefore, a fluorine coating is specially added to the front lens element to make cleaning easier. The lens is also designed to be dust and water-resistant, improving the reliability and durability of use in different environments.
EOS VR system: streamlining the VR production process
The video captured by the camera needs to be converted to a VR file format before it can be displayed on a head-mounted display device (HMD) 3D VR video. Therefore, the traditional VR image production process includes 4 stages: shooting, checking, conversion and editing.Under Canon's VR imaging system, images are captured using just one camera with one CMOS image sensor, rendering the parts of the workflow that were necessary with a two-camera system—such as aligning the positions and synchronizing the settings of the left and right cameras before the shoot.
The EOS VR system uses 180o as the viewing angle of VR video, which is half of 360o VR video. Its advantage is that it can reduce the amount of data generated by the movie and provide high-resolution movies that are easier to process, so it is very suitable for producing highly realistic images. In addition, the photographer and area behind the camera will not be taken into the lens when shooting, making it more convenient for shooting and production.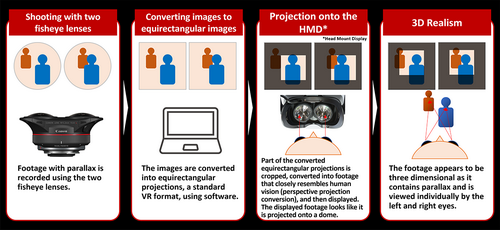 VR production often requires remote shooting. Users can use the EOS Utility[4] computer software to adjust camera settings and transfer images from the camera to the computer, or use the Camera Connect[5] smartphone app to adjust camera settings and check images from a smartphone.After shooting, users can choose EOS VR Utility computer software (paid subscription service) or EOS VR Plugin for Adobe Premiere Pro (paid subscription service) to simply convert the image into a 180o VR format Equirectangular Projection. They can also automatically correct the horizon and correct lens parallax during conversion to further improve work efficiency. Among them, EOS VR Utility supports image conversion and basic editing, and allows adjusting the image quality and file format according to post-processing and display environments. The EOS VR Plugin for Adobe Premiere Pro allows users to perform file conversion and post-editing within the Adobe Premiere Pro editing software.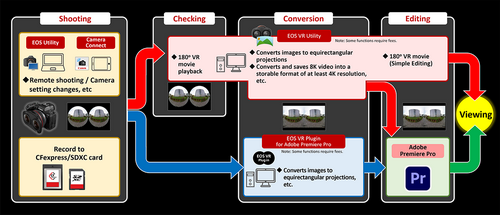 EOS VR Utility (Paid Subscription Service)
A computer software application that lets users convert images into equirectangular projections (180o VR format) and perform simple editing on them.
Supports switching images/footage shot by the left and right lenses. Also supports toggling between circular fisheye and equirectangular projection displays.
Supports horizontal correction and parallax correction for VR images Supports playback and basic cutting of 180-degree VR images on computer monitors.
Videos recorded in 8K can be converted and saved in a different size, file specification, or format.
LUTs (Lookup Tables) can be applied to videos recorded in Canon Log mode.
Supports output to DPX (Digital Picture Exchange) and Apple ProRes (MacOS Version) for NLE (non-linear editing) purposes.
EOS VR Plugin for Adobe Premiere Pro (Paid Subscription Service)
A computer software plugin for video creators who edit with Adobe Premiere Pro.
Supports switching images/footage shot by the left and right lenses and converting image into equirectangular projection. (180o VR format)
Supports horizontal correction and parallax correction for VR images
For more information about Subscription Service[6], please visit: https://sas.image.canon.
The launch of the EOS VR system has greatly reduced the time taken to shoot 3D VR images and streamlined the 3D VR image production process, allowing more content creators to use their extraordinary imagination to produce more 3D VR works to meet the growing market demand.
Suggested Retail Price
The new RF 5.2mm f/2.8L Dual Fisheye is now available for sale. The suggested retail price is $18,680.
Optional Accessories for RF 5.2mm f/2.8L Dual Fisheye and their suggested retail prices are as follows:
| | |
| --- | --- |
| Model | Suggested Retail Price |
| Lens Cap 5.2 | HKD$480 |
| Lens Dust Cap RF | HKD$80 |
| Lens Case LS1014 | HKD$420 |
* IOS is a trademark or registered trademark of Cisco Systems, Inc. in the United States and other countries and is used under license.
* MacOS and iPad OS are trademarks of Apple Inc., registered in the United States and other countries.
* Windows is a trademark or registered trademark of Microsoft Corporation in the United States and other countries.
* YouTube and Android are trademarks of Google LLC.
* Adobe is a trademark or registered trademark of Adobe (Adobe) in the United States and other countries.
* Other company names and product / service names mentioned are generally trademarks or registered trademarks of each company.
[1] VR videos that have a 180° field of view. A VR video format commonly used on video distribution platforms such as YouTube
[2] EOS R5 with firmware 1.5.0 or above
[3] 8K resolution fisheye video footage is recorded into the camera
[4] Compatible with Windows/macOS. Need to be updated to version 3.14.30.
[5] Compatible with iOS/iPad OS/Android. Need to be updated to version 2.8.20.
[6] Convert photos and videos under 2 minutes for free.
About Canon Hongkong Company Limited
Canon Inc. (TSE:7751 / NYSE:CAJ) was founded in 1937 in Japan. Its predecessor, Precision Optical Instruments Laboratory, produced Japan's first 35 mm focal-plane-shutter camera "Kwanon" in 1934. Canon Inc. eventually expanded into the photocopying and printing industries, launching Japan's first plain-paper copier NP-1100 in 1970 and the world's first inkjet printer BJ-80 in 1985. Through the years, Canon Inc. has acquired in-depth experience in digital imaging product manufacturing, and research and development. It is a leader in the development of innovative products and holds the most technology patents in the imaging industry. Canon Inc. also makes a significant contribution to the promotion of photography. Today, Canon Inc. has a strong global presence and is one of the most important market players in the imaging, office and industrial product categories. As of 31 December 2020, Canon's global revenue was US$30.38 billion.
One of the company's first offices in Asia, Canon Hongkong Co., Ltd. (Canon HK) was established in 1971. It is a Total Imaging Solution provider, to provide professional pre-sales, marketing and after-sales services for all Canon products and solutions in Hong Kong and Macau. With the solely owned subsidiary Canon Business Solutions (Guangdong) Co., Ltd. established in 2018, the company also provides intelligent total business solutions and professional services to companies in the Greater Bay Area. Canon HK adheres to Canon's corporate philosophy of "kyosei", which encourages the company and its staff to participate in social, charitable and environmental activities in the community. Canon HK implements internationally-recognized management systems and has achieved ISO 9001, ISO 14001, ISO 45001 and ISO 27001 (Canon Digital Production Center) certifications.
For more information about Canon Hongkong, please visit our website: https://hk.canon/.