Canon launches the New RF 85mm f/1.2L USM Lens
The Ultimate Portrait Lens that Continues the Legacy of Canon's 85mm f/1.2 Lens and Offers the Highest Optical Performance Ever[1]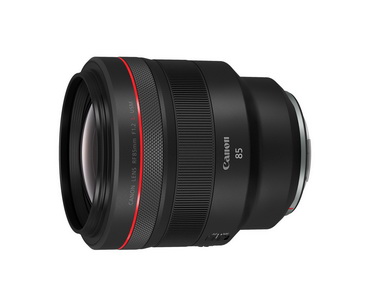 HONG KONG, 26 Jun 2019 — Canon Hongkong today announces the launch of the new RF 85mm f/1.2L USM ultra large aperture portrait lens. This new lens will continue the legacy of Canon's 85mm f/1.2 portrait lens and take it further to the next level on the new EOS R Mirrorless Camera System. Providing a natural perspective and separation of the subject relative to the background, 85mm is a golden focal length for shooting portraits. The new optical design of this lens which takes full advantages of short back focus distance and large diameter of the RF lens mount makes possible further leap in image quality, opening up more possibilities in image creation. Featuring Canon's leading optical technology including Canon's proprietary BR (Blue Spectrum Refractive) lens which reduces chromatic aberrations significantly, ground aspherical lens, UD lens and ASC (Air Sphere Coating), RF 85mm f/1.2L USM achieves the highest optical performance among Canon's 85mm autofocus interchangeable lenses[1] where superior image quality is realized even at maximum aperture of f/1.2. Together with outstanding AF speeds, high durability and dust-and-water resistant performance of L-series lenses that can conquer even the toughest shooting environment, this professional 85mm lens is the ultimate choice for professional portrait and wedding photographers and videographers alike.
​​​​​​​​​​​​​​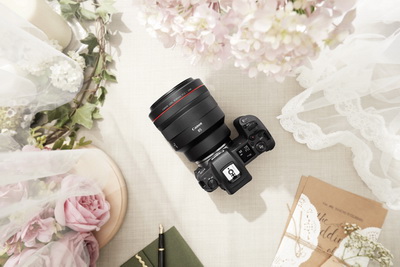 ​​​​​​​​​​​​​​
The Ultimate Canon f/1.2 Portrait Lens with Highest Optical Performance[1]
RF 85mm f/1.2L USM has everything that portrait photographers could have longed for. A golden focal length preferred by professional portrait photographers, 85mm provides a natural and appropriate depth of field and perspective of the subject relative to the background while maintaining optimum distance between the photographer and subject to support strong communication which is crucial to a successful shot. To deliver top-of-class image quality, RF 85mm f/1.2L USM is infused with a host of Canon's leading optical technologies. The lens adopts a newly developed 13 elements in 9 groups optical design with effectively placement of BR (Blue Spectrum Refractive) lens, ground aspherical lens and UD lens elements to achieve the highest optical performance among Canon's autofocus interchangeable lenses with 85mm focal length even at f/1.21.
RF 85mm f/1.2L USM is the second lens model to incorporate Canon's proprietary BR lens after the renowned EF 35mm f/1.4L II USM. BR lens consists of an optical material, namely Blue Spectrum Refractive Optics, developed for ideal chromatic aberration correction. Designed from its molecular structure, BR Optics possess anomalous dispersion characteristics that can greatly refract blue light (short wavelength spectrum). When combined with conventional convex and concave lenses, the BR optics helps converge all colors to a specific focal point and eliminate axial chromatic aberration and color blur thoroughly even at wide open aperture which are not correctable with conventional lens combinations. This makes possible a higher standard of color fringing correction to achieve superior imaging performance with exceptional contrast and details. These benefits are proven in EF 35mm f/1.4L II USM and this technology is highly praised by professional photographers due to its ability to control chromatic aberration at minimal.
| | |
| --- | --- |
| Normal Glass | BR Lens |
| ​​​​​​​​​​​​​​ | ​​​​​​​​​​​​​​ |
| Merely combining convex and concave lenses will not correct blue wavelengths refraction and the shifted focal point will appear as blue color fringing | The BR optics can greatly refract blue light (short wavelength spectrum), placing it between a concave and convex lens allows all visible light wavelengths to be focused onto a single point. |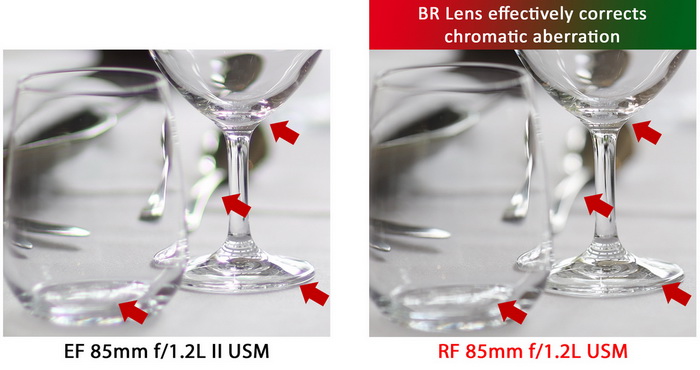 ​​​​​​​​​​​​​​​​​​​​​​​​​​​​
This lens also makes use of a high precision ground aspherical lens to reduce spherical aberration and comatic aberration to achieve superior image quality from center to periphery even at f/1.2. Ultra Low Dispersion (UD) lens element is also used to reduce axial chromatic aberration and chromatic aberration of magnification, resulting in high resolution and high contrast image quality. RF 85mm f/1.2L USM also features Canon's ASC (Air Sphere Coating) to reduce lens flare and ghosting caused by reflections and improve image clarity and contrast when shooting into backlight.
An Ultra Large Aperture of f/1.2 to Create One-of-a-Kind Bokeh Effect and Perfect for Low-light Shooting
The ultra large and bright aperture of f/1.2 with 9-blade circular aperture offers a shallow depth of field with amazingly dreamy and soft background blurring. This ultra large aperture also promises superior low light performance to capture sharp and crispy images with higher shutter speeds. What's more, when this lens is used with the EOS R series mirrorless cameras, it can unleash the full strength of low light autofocus capability of Dual Pixel CMOS AF on EOS R and EOS RP (able to focus at EV -6[2] and EV -52 respectively) to expand the shooting possibility in all challenging and lighting conditions. Moreover, photographers can focus precisely on subject's eye by making use of the Eye-detection AF on EOS R series camera.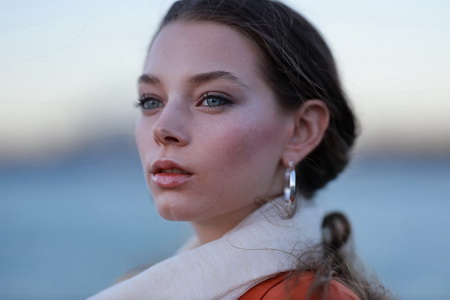 ​​​​​​​​​​​​​​
A shallow depth of field with amazingly dreamy and soft background blurring
​​​​​​​by the f/1.2 aperture
​​​​​​​​​​​​​​
​​​​​​​
Ring-type USM with Powerful Torque to Provide High-Speed AF to Capture Stunning Moments
To drive the large focusing lens group of a f/1.2 lens, RF 85mm f/1.2L USM uses the same ring-type USM (Ultrasonic Motor) as on super-telephoto lenses which has the highest torque among Canon's ultrasonic motors. The control method is also modified to raise the maximum motor torque for moving the large focusing unit with high precision. Photographers will find the lens offer high speed and precise focusing to capture fleeting expressions and moments during portrait shooting. The lens also supports full time manual focus that enables photographers to adjust the focus manually anytime as desired, useful when delicate focusing is required such as to focus on an expression in the eyes.
In addition, the lens features 0.85m minimum focusing distance with 0.12x maximum magnification, enabling photographers to get closer to the subject and create impressive close-up shots and stunning background blurred effects with its f/1.2 ultra large aperture.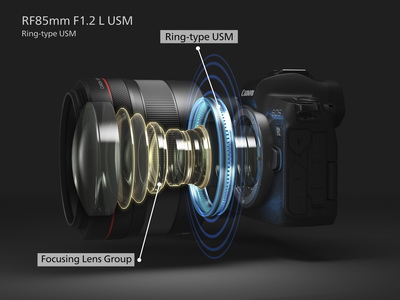 ​​​​​​​
A Control Ring That Makes Camera Operation Easy
RF 85mm f/1.2L USM also features a Control Ring as found in other RF lenses for users to directly adjust numerous assigned settings including aperture, shutter speed, ISO sensitivity and exposure compensation. When the control ring is operated alongside the main dial and quick control dial on the EOS R camera, users could have three individual dials to set the aperture, shutter speed and ISO sensitivity respectively in manual exposure mode.​​​​​​​
To facilitate the control during manual focusing, the torque on the electronic focusing ring for RF 85mm f/1.2L USM has been optimized to give a comfortable sensation and minimize unintentional operations. This adjusted torque sensation improves the operability for manual focusing with DAF Focus Guide and Focus Peaking during video recording and still image shooting. What's more, the electronic focus ring operation of all RF lenses are highly customizable to cope with various users' habits and applications for manual focusing.. When paired with EOS R or EOS RP, RF lenses allow users to change the focus direction (normal or reverse direction) of the focus ring to match their preferences. Besides, the focus ring rotational sensitivity during manual focusing can also be customized. By default, it is set to "Varies with rotation speed". Sensitivity of the focus ring will depend on the speed at which the ring is turned, the focus will change by a greater degree when the ring is turned faster; while slower rotation allows fine focus adjustments. Another "Linked to rotation degree" option is also available in which the focusing distance will be directly proportional to the rotation degree, regardless of the rotation speed. This option can provide the same control characteristic and sensation similar to cinema lenses. It is extremely convenient for videographers who want to manually and precisely control the focus position.​​​​​​​
Thanks to the high speed and high capacity communication system of the new RF mount, users can now check the focus distance directly in the EVF by utilizing the "Focus Distance Display" function (automatically enabled during Manual Focus by default).
​​​​​​​
Superior Durability and Reliability to Withstand Challenging Environment
Designed to perform even in harsh conditions, RF 85mm f/1.2L USM retains the same high durability and rugged construction as found in the EF lenses L series to cope with professional users' demands. Fluorine coating is also added to the foremost and rearmost lens surfaces to repel dust particles and water droplets. It also makes smears and fingerprints easy to remove without the use of lens cleaning fluid. The lens also features dust and water resistance design[3], providing the durability that satisfies the strict demand from professional users, making it ideal for professional photographers to rely on while working in vastly challenging outdoor environments.
The new RF 85mm f/1.2L USM (bundled with Lens Hood ET-89 and Lens Case LP1424) is now available for sale in Hong Kong and the suggested retail price is HK$21,380.
Accessories for RF 85mm f/1.2L USM and their suggested retail prices are as follows:
| | |
| --- | --- |
| Model | Suggested Retail Price |
| 82mm Protect Filter | HK$750 |
| 82mm Circular Polarizing Filter PL-C B | HK$1,780 |
| Lens Hood ET-89 | HK$380 |
| Lens Cap E-82 II | HK$75 |
| Lens Dust Cap RF | HK$80 |
| Lens Case LP1424 | HK$430 |
About Canon Hongkong Company Limited​​​​​​​
Canon Inc. (TSE:7751 / NYSE:CAJ) was founded in 1937 in Japan. Its predecessor, Precision Optical Instruments Laboratory, produced Japan's first 35 mm focal-plane-shutter camera "Kwanon" in 1934. Canon Inc. eventually expanded into the photocopying and printing industries, launching Japan's first plain-paper copier NP-1100 in 1970 and the world's first inkjet printer BJ-80 in 1985. Through the years, Canon Inc. has acquired in-depth experience in digital imaging product manufacturing, and research and development. It is a leader in the development of innovative products and holds the most technology patents in the imaging industry. Canon Inc. also makes a significant contribution to the promotion of photography. Today, Canon Inc. has a strong global presence and is one of the most important market players in the imaging, office and industrial product categories. As of 31 December 2018, Canon's global revenue was US$35.6 billion. ​​​​​​​
One of the company's first offices in Asia, Canon Hongkong Co., Ltd. (CHK) was established in 1971. It is responsible for the sales, marketing and after-sales services for all Canon product lines in Hong Kong and Macau. With the solely owned subsidiary Canon Business Solutions (Guangdong) Co., Ltd." established in 2018, the company can also provide intelligent total business solutions and professional services to companies in the Greater Bay Area. CHK adheres to Canon's corporate philosophy of "kyosei", which encourages the company and its staff to participate in social, charitable and environmental activities in the community. CHK implements internationally-recognized management systems and has achieved ISO 9001, ISO 14001, ISO 27001 (Canon Digital Production Center) and OHSAS 18001 certification. For more information about Canon Hongkong, please visit our website: https://hk.canon/.
---
[1] The RF 85mm f/1.2L USM achieves the highest optical performance (MTF) at maximum aperture among Canon's 85mm autofocus lenses for interchangeable cameras (DSLRs and mirrorless) available as of 8 May 2019. Based on Canon's research.
[2] During still photo shooting, f/1.2, Center AF point, One-Shot AF, at room temperature, ISO100.
[3] With EOS R Body, however it is not recommended for use under rain.