Canon Launches the New RF 24-240mm f/4-6.3 IS USM Lens
The All-Purpose Full-Frame Travel Lens with 10x High-Power Zoom to Capture Every Scene of Your Journey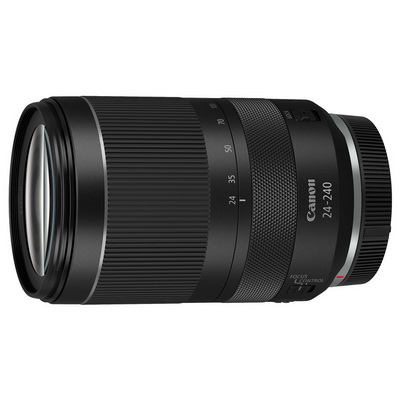 HONG KONG, 29 AUG 2019 — Canon Hongkong today announces the official launch of the new RF 24-240mm f/4-6.3 IS USM, a 10x high-power full-frame zoom lens for the EOS R Mirrorless System. Ideal for photo enthusiasts who enjoy travel photography, this 750g compact and lightweight lens offers a versatile 10x zoom range that cover virtually every focal length travel photography needs from wide landscapes to powerful portraits. Taking full advantages of short back focus distance and large diameter of the new RF lens mount, its new optical design delivers high resolution from the screen center to the periphery throughout the entire zoom range by using 1 aspherical lens and 2 UD lens elements. The RF 24-240mm f/4-6.3 IS USM together with the high-speed Nano USM and powerful image stabilizer, the RF 24-240mm f/4-6.3 IS USM makes a perfect light travel combo when paired with the EOS RP for photo enthusiasts to enjoy high-quality shooting with high flexibility and portability.
10x High-Power Zoom to Capture Every Scene for Travel Photography
Perfect for travel lovers to capture extraordinary shots during the trip, the versatile RF 24-240mm f/4-6.3 IS USM's 10x high-power zoom is the one lens they need for a vast variety of topics. Its 24mm wide-angle focal length is ideal for scenic landscapes and cityscapes; while its 240mm telephoto length is ideal for capturing portraits, close-up scenes and events.
In addition, the lens features 0.5m (wide-end)/0.78x (tele-end) minimum focusing distance with 0.26x maximum magnification (at 240mm), enabling users to get closer to small subject during the trip and create impressive close-up shots with soft background blurring effect thanks to its 7-blade circular aperture.
​​​​​​​​​​​​​​​​​​​​​​​​​​​​
​​​​​​​​​​​​​​​​​​​​​

​​​​​​​​​​​​​​​​​​​​​

Exceptional Image Quality from a 10x high-power Zoom Lens with Compact Size
Conventional high-power-zoom lenses offer the convenience of a wide range of focal lengths in a single lens but often with a trade-off in image quality. Thanks to the advantageous of large-diameter and short back focus distance provided by RF mount which makes locating a large-diameter lens close to the imaging plane possible, RF 24-240mm f/4-6.3 IS USM achieves both high image quality and a more compact optical system. Its newly developed 21 elements in 15 groups optical design, with the use of 1 PMo aspherical lens element to correct spherical aberration and curvature of field as well as 2 UD lens elements to reduce axial chromatic aberration and chromatic aberration of magnification, makes delivering edge-to-edge sharpness throughout its 24-240mm 10x zoom range possible. Despite its 10x zoom design, the RF 24-240mm f/4-6.3 IS USM weighs only 750g, allowing those who love to travel light to take full advantage of a full-frame camera, particularly when paired with the lightweight EOS RP.
High-Speed Nano USM and Powerful Image Stabilization for Stills and Movies
To grasp those spontaneous photo and video opportunities while on the move, superior focusing and image stabilization performance are important. RF 24-240mm f/4-6.3 IS USM is equipped with Nano USM and a rear focus system, providing users with high-speed, high accuracy and nearly silent autofocus when taking still images and videos. The lens also offers full time manual focusing that allows photographers to make fine focus adjustment anytime as desired while in AF mode.
The lens's powerful optical image stabilizer (IS) with 5-stop[1] shake compensation gives incredible stability to facilitate handheld shooting with minimal shake, capable of capturing crystal-clear shots even during nighttime sightseeing or in dimly lit indoor events without the need of a tripod. RF 24-240mm f/4-6.3 IS USM is also the first Canon full-frame lens that supports Dynamic IS – a feature made specially for EOS Movie shooting. Dynamic IS enables a wider image stabilization range to ensure smooth, stable movies in different scenarios, such as shooting handheld while walking or from a moving vehicle. Moreover, when teamed with Combination IS on EOS R or EOS RP, the lens' stabilization effect is further enhanced by leveraging both the lens' optical IS and the in-camera digital IS, resulting in high-quality movies with minimal shake.
New "Focus/ Control Ring" for Easy Switching between Focus and Control Ring Operation
To offer high levels of convenience and operability in a compact form factor, RF 24-240mm f/4-6.3 IS USM incorporates a new "Focus/Control Ring" with a "Focus/Control Selector Switch" for easy switching between "Focus ring" (for manual focusing) and "Control Ring". When Control Ring operation is selected, it serves as the third individual dial to adjust the aperture, shutter speed, ISO sensitivity or exposure compensation in addition to the main dial and quick control dial on the EOS R camera. The "Focus/Control Ring" has no clicking sensation and sound when rotating, so videographers can control focus and exposure smoothly during video recording without unnecessary sound.
Furthermore, the electronic focus ring operation of all RF lenses are highly customizable to cope with various users' habits and applications for manual focusing. When paired with the EOS R or EOS RP, users can change the focus direction (normal or reverse direction) of the focus ring to match their preferences. In addition, the focus ring rotational sensitivity during manual focusing can also be customized to "Varies with rotation speed" for fine focus adjustment or "Lined to rotation degree" for focus control similar to cinema lenses.
EOS RP with RF 24-240mm f/4- 6.3 IS USM Kit - The Perfect Full Frame Light Travel Companion
RF 24-240mm f/4-6.3 IS USM is also available as a new kit lens for the EOS RP – Canon's latest and lightest full-frame mirrorless camera featuring a 26.2-megapixel image sensor and Dual Pixel CMOS AF in a 440g body. With a total weight of merely 1,235g, the EOS RP with RF 24-240mm f/4-6.3 IS USM kit set are the perfect combination for travel and everyday photography, allowing full enjoyment of both travel and photography.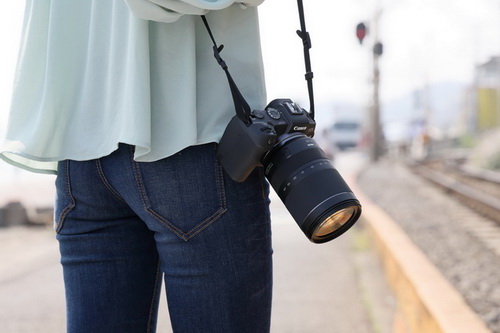 ​​​​​​​​​​​​​​
The new RF 24-240mm f/4-6.3 IS USM and EOS RP with RF 24-240mm f/4-6.3 IS USM kit set are now available for sale in Hong Kong and the suggested retail prices are HK$7,480 and HK$17,380 respectively.​​​​​​​
Accessories for RF 24-240mm f/4-6.3 IS USM and their suggested retail prices are as follows:
| | |
| --- | --- |
| Model | Suggested Retail Price |
| 72mm Protect Filter | HK$330 |
| 72mm Circular Polarizing Filter PL-C B | HK$1,350 |
| Lens Hood EW-78F | HK$320 |
| Lens Cap E-72 II | HK$65 |
| Lens Dust Cap RF | HK$80 |
| Lens Case LP1219 | HK$190 |
Product Notes
To use this lens on EOS R or EOS RP, download a compatible version of camera firmware from

Canon website

and install on your camera.

To display or edit images shot with this lens, it requires compatible camera applications. Please download the latest Digital Photo Professional and Picture Style Editor from

Canon website

, Please download Digital Photo Professional Express from App Store.

"Multiple exposure" shooting function is not supported. Also, it is not possible to shoot multiple exposures with another lens using images shot with this lens.

The lens distortion correction on the camera is set to [Enable] automatically when in use.
About Canon Hongkong Company Limited
Canon Inc. (TSE:7751 / NYSE:CAJ) was founded in 1937 in Japan. Its predecessor, Precision Optical Instruments Laboratory, produced Japan's first 35 mm focal-plane-shutter camera "Kwanon" in 1934. Canon Inc. eventually expanded into the photocopying and printing industries, launching Japan's first plain-paper copier NP-1100 in 1970 and the world's first inkjet printer BJ-80 in 1985. Through the years, Canon Inc. has acquired in-depth experience in digital imaging product manufacturing, and research and development. It is a leader in the development of innovative products and holds the most technology patents in the imaging industry. Canon Inc. also makes a significant contribution to the promotion of photography. Today, Canon Inc. has a strong global presence and is one of the most important market players in the imaging, office and industrial product categories. As of 31 December 2018, Canon's global revenue was US$35.6 billion. ​​​​​​​​​​​​​​
One of the company's first offices in Asia, Canon Hongkong Co., Ltd. (CHK) was established in 1971. It is responsible for the sales, marketing and after-sales services for all Canon product lines in Hong Kong and Macau. With the solely owned subsidiary Canon Business Solutions (Guangdong) Co., Ltd." established in 2018, the company can also provide intelligent total business solutions and professional services to companies in the Greater Bay Area. CHK adheres to Canon's corporate philosophy of "kyosei", which encourages the company and its staff to participate in social, charitable and environmental activities in the community. CHK implements internationally-recognized management systems and has achieved ISO 9001, ISO 14001, ISO 27001 (Canon Digital Production Center) and OHSAS 18001 certification. For more information about Canon Hongkong, please visit our website: https://hk.canon/.
---
[1] CIPA Standard, Focal Length: 240mm, EOS R is used.
Title