​
The Launch of Canon's Lightest Full-frame Mirrorless Camera EOS RP
An Everyday Full-Frame Camera Embracing the "Light & Light" Concept with Ultimate Compactness
​​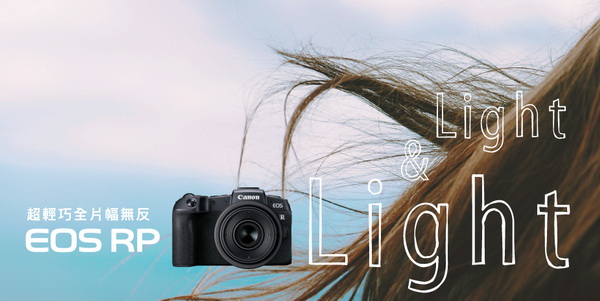 ​​
HONG KONG, 27 Feb 2019
— Canon Hongkong today announces the official launch of EOS RP, the lightest and most compact EOS Full-frame digital camera. The EOS RP body weights only 440g, similar to that of a cup of coffee
[1]
and is designed for first-time full-frame users in the quest of ultimate compactness. EOS RP adopts the concept of "Light & Light" making the perfect option for an affordable and portable Full-Frame camera to capture everyday stories with exceptional image quality, and ideal for travel, snapshot and portrait photography.
EOS RP is the second Full-Frame interchangeable-lens mirrorless camera in the new EOS R system. It employs the newly-developed RF Mount, a fully electronic controlled lens mount with a large 54mm internal diameter, a short flange distance of 20mm and a high capacity, high speed data communication system between camera and lens. This allows for a greater degree of freedom in lens design. Through this advancement in RF Mount, Canon will be able to expand the possibilities of high image quality, advanced specifications and compact design to deliver attractive lenses options previously thought unachievable.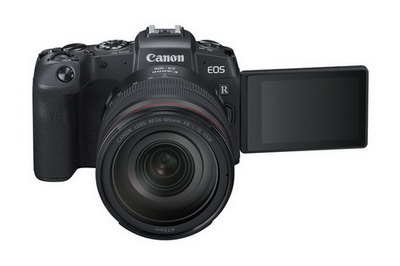 ​
With the newly developed 26.2-megapixels Canon Full-frame CMOS image sensor and the latest DIGIC 8 digital image processor, the EOS RP achieves a standard ISO sensitivity range of 100–40000 and makes high-image-quality shooting possible. With the advanced Dual Pixel CMOS AF, the EOS RP achieves the world's fastest autofocus speed of 0.05 second
[2]
and offers minimum EV for autofocus at EV-5
[3]
, making possible highly precise focusing even in super low-light scenarios. The camera also achieves a wide focus area of approximately 100% (vertically) x 88% (horizontally) of the image area
[4]
with maximum 4,779 selectable AF point positions
[5]
to enable greater composition freedom when shooting. The Eye Detection AF is now available for AF Tracking in both still photos and movie shooting. EOS RP users can take full use of complete line up of RF lenses and access to the collection of over 60 EF and EF-S lenses with the use of Mount Adapter EF-EOS R. The EOS RP also features a 3.0-inch side-opening Vari-angle LCD monitor and supports 4K UHD movie recording with the option to output uncompressed 4K 8-bit 4:2:2 to external devices through a HDMI terminal. A high quality 0.39-inch 2.36M-dot OLED color electronic viewfinder (EVF), when used in conjunction with the camera's newly employed control methods such as RF lens control ring and Flexible-priority (Fv) exposure mode, users can concentrate on shooting without having to look away from their subject.
The Lightest and Smallest EOS Full-Frame Camera for the Masses
Driven by Canon's advanced technologies and latest DIGIC 8 image processor, EOS RP is able to deliver high image quality in a compact body of just 440g weight, similar to that of a cup of 16oz coffee. The EOS RP employs the next-generation RF Mount, taking full advantage of this fully electronic controlled lens mount with a large 54mm internal diameter, a short flange distance of 20mm with short back focus distance and a high capacity, high speed data communication system between camera and lens. With the newly designed 26.2-megapixel Full-Frame CMOS sensor, EOS RP is able to capture high-image-quality images with superb details. Achieving a standard ISO sensitivity range of 100–40000 and expandable to ISO 50-102400, when used in combination with a large aperture lens, the EOS RP makes high-image-quality shooting possible even in low-light scenes such as indoors and night time. While the build-in Auto Lighting Optimizer can balance the brightest and darkest point to accentuate the details of the images to deliver a well exposed image, the Digital Lens Optimizer (DLO) corrects for such factors as diffraction and lens aberrations to deliver even higher image quality. First time full-frame users can experience Full-frame world with Canon's renowned faithful color reproduction and high image quality delivered by EOS RP.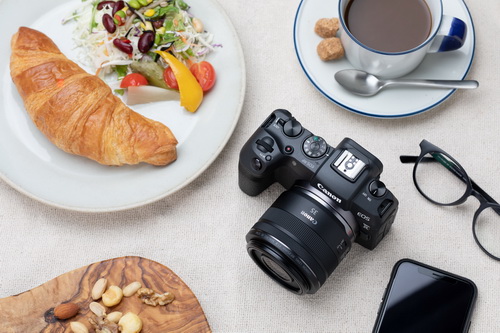 ​​
When using One-shot AF, the camera achieves continuous shooting speeds of approximately 5 fps, and achieves approximately 4 fps with Servo AF. It also adopts the CR3 RAW format and supports the C-RAW (compact RAW) format with file size approx. 40% smaller than standard RAW file. What's more, it supports 1.6x cropped shooting
[6]
for both still photo and movie shooting when RF or EF lenses are attached (when EF-S lenses are used, 1.6x cropped shooting will be enabled automatically). Interval Timer and Bulb Timer are also included to enable interval shooting and long exposure shooting respectively.
The EOS RP employs Dual Sensing IS
[7]
, which detects camera shake with high accuracy to effectively stabilize images. Attaining image information from the image sensor and information from the lens's gyro sensor, the camera can accurately detect low-frequency vibrations that cannot be detected by the gyro sensor alone to make optimal correction possible. Thus, the EOS RP achieves image stabilization equivalent to a maximum of 5-stop shutter speed for stills shooting (CIPA standard).
Designed for first time full-frame camera users, "Feature Assistant" function allows new users to navigate the system without hassle while experienced users can make full use of each feature to produce better images. For users who are looking to expand their creations and creativities, the "Creative Assist" mode allows photographers to use unique visual effects and adjustments during shooting, such as brightness, contrast, saturation, color tone, monochrome and background blur.
State-of-the-Art Autofocus Technology - Dual Pixel CMOS AF, Engineered for Sharp Images
With the evolution in Dual Pixel CMOS AF (DAF), an autofocus technology in which each effective pixel on the CMOS sensor is able to perform both phase-difference autofocusing and imaging functions, the EOS RP achieves the world's fastest focusing speed of 0.05 seconds2, users can capture images of fleeting moments such as their child's first step. EOS RP offers minimum EV for autofocus at EV-53, making highly precise autofocusing possible in low-light scenarios where distinguishing subjects would be difficult for the human eye, for instance taking photos during an anniversary candle light dinner in a jazz lounge.
Create unique compositions without worrying about the focus. When used in combination with compatible lenses, EOS RP achieves a wide focus area of approximately 100% (vertically) x 88%4 (horizontally). When selecting AF point positions using the directional keypad, users can choose from as many as 4,779 selectable point positions5, enabling greater composition freedom when shooting. When shooting with the electronic viewfinder with "Touch and Drag AF" function enabled, you can enjoy an easier and more intuitive focusing experience by dragging the focusing position with your finger on the LCD monitor while confirming the focusing position in the viewfinder in real time.
The "Eye Detection AF" function is enhanced to work in AF Tracking mode which can detect and ensure subject's eye is always in focus even using a large aperture lens in still photos and video shooting, especially useful when the subject is moving. Moreover, the camera supports "Silent Mode
[8]
" to bring completely silent and mechanical shake-free shooting, perfect for shooting in concerts or museums.
For users looking to create images with a wide depth of field where everything in the image is in focus, the new "Focus Bracketing"
[9]
feature will be extremely helpful, especially for Macro, Product and Landscape photography. With "Focus Bracketing" function, the camera can automatically shoot a series of photos with different focus positions based on predetermined settings such as number of shots, focus increment and first focus point. The series of photos could be stacked together to create an image with focus over a wide range of depth using the Digital Photo Professional software or other imaging software supporting focus stacking function.
Built-in with Wi-Fi and Bluetooth Connectivity for Convenient Remote Shooting and Instant Sharing
EOS RP offers multiple wireless connection options and image backup solutions for easy shooting, image sharing and management. The camera features built-in Wi-Fi for wireless remote image and movie shooting as well as image browsing and transfer on smartphones via "Camera Connect" app, facilitating easy image sharing to social networking sites such as Facebook, Instagram or YouTube. The "Transfer images to smartphones after shot" is also added. With this, the camera will automatically send JPEG images to a smartphone via Wi-Fi in parallel when shooting, facilitating easy image browsing or sharing with friends during the course of shooting or after that. When users completed their shooting and returned home, new images can be backed up to the computer automatically and wirelessly when through the "Automatic sending images to computer
[10]
" function with "Image Transfer Utility 2" computer software.
In addition, EOS RP supports Bluetooth® low energy technology for more convenient and continuous connection between the camera and compatible smartphones
[11]
at low power consumption. As long as the Bluetooth connection is enabled, users can wake up the camera anytime from their smartphones to browse and transfer images (via Wi-Fi) even the camera turns off automatically. The Bluetooth® function also supports wireless remote shooting with Smartphone or Wireless Remote Controller BR-E1
[12]
from any direction within 5m from the camera. Furthermore, shooting location can also be appended to images by acquiring GPS information
[13]
from smartphone via Bluetooth connection. This makes it easy to geotag images, create travel blog, as well as checking in to a location when uploading images to social platforms.
High Quality Movie Shooting with Ease
EOS RP is capable to record 4K UHD video in 25p/23.98p format
[14]
and Full HD video in 59.94p/50p/29.97p/25p format
[15]
, and with Dual Pixel CMOS AF, users can focus accurately and shoot smoothly. Dual Pixel CMOS AF also provides "Custom Movie Servo AF" function to create cinematic focusing effect easily by customizing the Movie Servo AF characteristics. Uncompressed 4K 8-bit 4:2:2 video output to external monitor or recorder
[16]
is provided to create high quality 4K UHD footage. EOS RP is also integrated with 4K time-lapse and HDR movie shooting. With "Touch& Drag AF" function, users can create pull-focus effects and also enable focus transition simply by moving their finger from one to another part of the frame on the LCD screen. When recording video with RF lenses, users can adjust the aperture value by 1/8-stop to allow more precise control over exposure to match the lighting conditions of the shoot. When shooting using manual focus, the Peaking function ensures accurate focusing.
The EOS RP realizes in-body 5-axis electronic image stabilization to enable "Movie Digital IS" for steady handheld movie shooting. What's more, when used in combination with compatible lenses
[17]
, the camera can make use of Combination IS, which combines electronic stabilization from the camera and optical stabilization from the lens to deliver video with minimal hand shake even when shooting in an unstable position or while walking.
​
Lightweight and Rigid Body with Built-in Vari-angle LCD Monitor and Electronic Viewfinder
​​​​With Canon's advanced engineering, the internal chassis of EOS RP is made of magnesium alloy with high precision outer body parts, making EOS RP incredibly reliable even it is extremely lightweight. The body of EOS RP has sealing materials to provide dust and water resistant[18] and high reliability even shooting under various weather conditions. Apart from the already comfortable firm camera grip on EOS RP, users with larger hands can extend the height of the camera grip with the optional Extension Grip EG-E1 to make it easier to hold firmly especially when using with a telephoto lens.
​​EOS RP's 3.0-inch 1.04M-dot side-opening Vari-angle Clear View II LCD monitor offers users to shoot at different angles in both vertical and horizontal camera orientations with touch operation. The built-in high quality color electronic viewfinder (EVF) with approximately 100% coverage and 0.70x magnification that employs a 0.39-inch and approximately 2.36M-dot OLED panel features a glass-molded aspherical lens to deliver vivid and clear image with minimal aberrations. In addition, the camera supports SD/SDHC/SDXC Card (compatible with UHS-II standard) for high speed image recording. Apart from charging the batteries with the included external charger, EOS RP can be quickly charged directly with using the optional USB Power Adapter PD-E1[19], through its USB Type-C (USB 2.0) Interface.​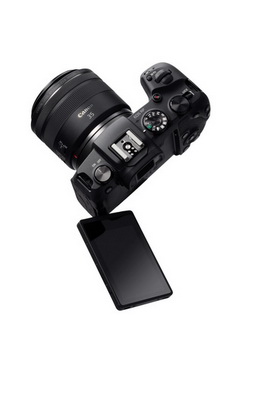 ​
​​
The new Canon EOS RP Full-frame mirrorless digital interchangeable lens camera and standard zoom lens kit set are now available for sale and the suggested retail prices are as follows:
Model

Suggested Retail Price

EOS RP Body

HK$10,880

(Free Mount Adapter EF-EOS R*)

EOS RP with RF 24-105mm f/4L IS USM Kit Set

HK$18,980

Limited-time Special Offer HK$18,080

(Free Mount Adapter EF-EOS R*)

Extension Grip EG-E1

(Available in March 2019)

HK$720

Camera Cover R-F-5

HK$35

Mount Adapter EF-EOS R

HK$880

Control Ring Mount Adapter EF-EOS R

HK$1,680

Drop-in Filter Mount Adapter EF-EOS R

(with Drop-in Variable ND Filter A)

HK$3,280

Drop-in Filter Mount Adapter EF-EOS R

(with Drop-in Circular Polarizing Filter A)

HK$2,480

GPS Receiver GP-E2

HK$2,180

Directional Stereo Microphone DM-E1

HK$2,400

Remote Switch RS-60E3

HK$140

Remote Switch RA-E3

HK$310

Wireless Remote Control BR-E1

HK$310

Battery Pack LP-E17

HK$560

Battery Charger LC-E17E

HK$490

USB Power Adapter PD-E1

HK$1,580

AC Power Adapter AC-E6N

HK$680

DC Coupler DR-E18

HK$360

Interface Cable IFC-100U

HK$320

Interface Cable IFC-400U

HK$420
*Early Bird Promotion. While Stock Last.
Accessories for RF 24-105mm f/4L IS USM and respective suggested retail prices are as follows:
| | |
| --- | --- |
| Model | Suggested Retail Price |
| 77mm Protect Filter | HK$380 |
| 77mm Circular Polarizing Filter PL-C B | HK$1,500 |
| Lens Hood EW-83N | HK$380 |
| Lens Cap E-77 II | HK$70 |
| Lens Dust Cap RF | HK$80 |
| Lens Case LP1319 | HK$210 |
About Canon Hongkong Company Limited

Canon Inc. (TSE:7751 / NYSE:CAJ) was founded in 1937 in Japan. Its predecessor, Precision Optical Instruments Laboratory, produced Japan's first 35 mm focal-plane-shutter camera "Kwanon" in 1934. Canon Inc. eventually expanded into the photocopying and printing industries, launching Japan's first plain-paper copier NP-1100 in 1970 and the world's first inkjet printer BJ-80 in 1985. Through the years, Canon Inc. has acquired in-depth experience in digital imaging product manufacturing, and research and development. It is a leader in the development of innovative products and holds the most technology patents in the imaging industry. Canon Inc. also makes a significant contribution to the promotion of photography. Today, Canon Inc. has a strong global presence and is one of the most important market players in the imaging, office and industrial product categories. As of 31 December 2018, Canon's global revenue was US$35.6 billion.
One of the company's first offices in Asia, Canon Hongkong Co., Ltd. (CHK) was established in 1971. It is responsible for the sales, marketing and after-sales services for all Canon product lines in Hong Kong and Macau. With the solely owned subsidiary Canon Business Solutions (Guangdong) Co., Ltd." established in 2018, the company can also provide intelligent total business solutions and professional services to companies in the Greater Bay Area. CHK adheres to Canon's corporate philosophy of "kyosei", which encourages the company and its staff to participate in social, charitable and environmental activities in the community. CHK implements internationally-recognized management systems and has achieved ISO 9001, ISO 14001, ISO 27001 (Canon Digital Production Center) and OHSAS 18001 certification. For more information about Canon Hongkong, please visit our website:
https://hk.canon/
.
---