The Launch of EOS 200D II - the World's Lightest DSLR Camera with Vari-angle Monitor
Capture Every Moment Effortlessly with High Quality Photo and 4K video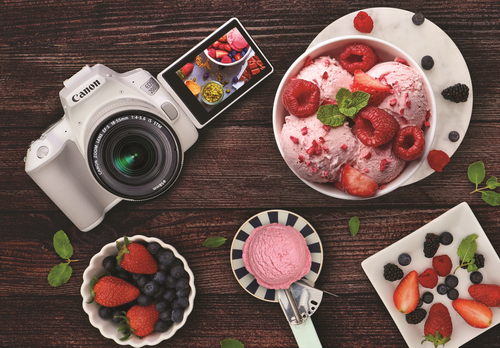 ​​​​​​​
HONG KONG, 25 Apr 2019 – Canon Hongkong today announces the official launch of the brand-new EOS 200D II, the world's lightest DSLR camera with vari-angle monitor[1]. For a beginner or family looking for a step up from smartphone photography or upgrade from their existing cameras, the EOS 200D II is a fun and easy-to-use DSLR camera, packed with the latest technology from EOS mirrorless camera like enhanced Dual Pixel CMOS AF technology with expanded AF area and better low light AF ability, Eye Detection AF, 4K UHD video recording and 4K Time-lapse video function. It is a perfect camera for entry-level users who love the responsive control as well as the comfortable grip of EOS DSLR camera and for taking family photos and videos, and even VLOG shooting. The new EOS 200D II is available in black, white and silver color and comes with a compact standard zoom lens of EF-S 18-55mm f/4-5.6 IS STM for users to capture everyday life with high quality images. ​​​​​​​​​​​​​​
Lighter In Weight, Smaller In Size, Yet Bigger In Features
Being the successor of the popular lightweight EOS 200D, the new EOS 200D II comes with an even lighter weight – a net weight of 402g (Black and Silver) which is the world's lightest DSLR camera with vari-angle monitor1. The compact camera body is equipped with an approx. 24.1-megapixel APS-C size CMOS image sensor and the latest DIGIC 8 digital imaging processor for improved image quality and a host of new features. With a standard ISO range of 100–25600 and expandable to ISO 51200, EOS 200D II makes high-image-quality shooting possible even in low-light scenes.​​​​​​​
EOS 200D II retains the side-opening design for its 3-inch 1.04M-dot vari-angle LCD monitor, making it easy to shoot from high or low angles and even taking self-portraits. The monitor also supports Touch Shutter function that enables easy autofocus and shooting simply with a touch on the monitor. Its side-opening design allows the installation of external microphone on camera top during vlogging. ​​​​​​​
The EOS 200D II also offers the advantage of low power consumption of DSLR cameras - it can shoot up to 1,630 shots[2] during viewfinder shooting which is 790 shots more than its predecessor EOS 200D. This extended battery life makes photo shooting more enjoyable with the prolonged shooting time. A comfortable camera grip also allows users to hold the camera firmly and use pleasantly even after a long shooting. With the high portability, intuitive control and compatibility to Canon's full line up of EF and EF-S lenses, the compact EOS 200D II is a perfect choice for first-time DSLR users to capture everyday life through images or VLOG shooting.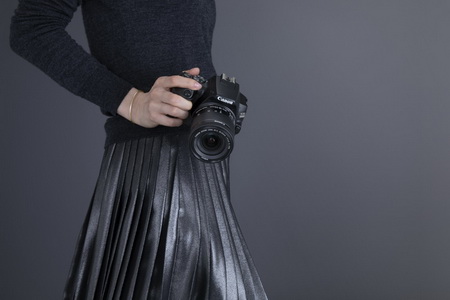 ​​​​​​​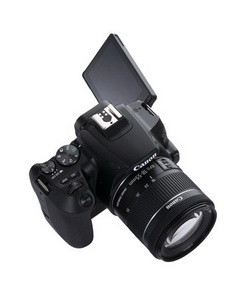 ​​​​​​​
Enhanced Dual Pixel CMOS AF and New Eye Detection AF in Live View Shooting
In EOS 200D II, users can enjoy the benefits of both EOS DSLR and mirrorless cameras through the use of Optical Viewfinder and Live View Shooting respectively. With the 'no time-lag' characteristic of optical viewfinder and 9-point high-precision (center cross-type) AF system, users can shoot fast-pacing subjects responsively with a continuous shooting speeds of approximately 5 FPS. ​​​​​​​
By incorporating Canon's latest DIGIC 8 digital imaging processor, "Dual Pixel CMOS AF" (DAF) technology in Live View shooting has been enhanced vastly. DAF achieves an ultra-fast AF speed of 0.03 sec[3], enabling users to capture fleeting moments easily with fast and accurate AF. With DAF coverage expanded from 80% x 80% to 100% x 88%[4] of the image area and the 3,975 AF point positions[5], subjects at any position in the frame can be captured as desired. DAF's minimum EV for autofocus has also improved from EV-2 to EV-4[6] to allow shooting in low-light scenarios easier (such as taking photos in a restaurant with dim light). The newly-added "Eye Detection AF" with tracking capability can ensure subject's eye is always in focus even using a large aperture lens in still photos and video shooting, especially useful when the subject is moving. In addition, "Spot AF" is also added to Live View shooting that allows users to focus on a precise position.
New 4K UHD Movie Shooting for High Quality Daily Life Video
Coupled with the smooth and precise Movie Servo AF powered by "Dual Pixel CMOS AF" (DAF) technology, beautiful movies with clear and detailed images can be achieved effortlessly by EOS 200D II. The camera is now capable to record 4K UHD video in 25p/23.98p format[7] and Full HD video in 59.94p/50p format for easy creation of high quality daily life video. With the support of "4K Frame Grab" function which extracts a selected frame as a 8.3-megapixel JPEG image[8] from recorded 4K footage. 4K Time-lapse movie function[9] is also added, enabling easy capture of stunning day-to-night cityscape time-lapse movies in ultra-high 4K resolution through selection of pre-set scenes or simple manual settings. For the first time of entry-level EOS DSLR camera, 4K HDMI output without information display is featured for image streaming device, external monitor or recorder[10]. EOS 200D II also newly incorporates in-body electronic image stabilization to enable "Movie Digital IS" for steady VLOG or handheld movie.
Rich Selections of Beginner-Friendly Assist Features and New "Smooth Skin" Mode
Having the easy operation, the EOS 200D II enables entry-level users to capture the moment with high quality image. The camera retains the "Feature Assistant" graphical user interface with simple and easy-to-understand user guide to help even first time DSLR users to master the shooting operation as well as get familiar with different shooting modes and effects. There are 12 built-in special scene modes to cope with the needs of shooting in different occasions including the "Smooth Skin" mode, the first for EOS DSLR camera, for easy shooting of high-quality portrait with appealing and healthy skin tone. When combining this beauty function with Canon's Color Science on processing human skin color, female users can take high quality portrait photos with appealing and healthy skin tone of themselves or kids. A one-touch activated "Self Portrait" mode is also retained for easy shooting of high-quality selfies when turning the LCD monitor facing forward. "Creative Assist" is also added to the "Scene Intelligent Auto Mode" with a user interface similar to smartphone app for easier access and creation of artistic images. There are 10 Creative Filters including Fish-eye effect, water painting and various HDR filters. The effect of selected filter can be instantly previewed on the camera, making it easier to create fun and unique photos.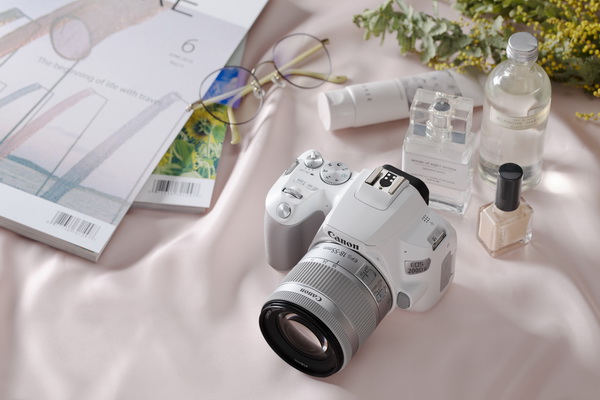 ​​​​​​​
Built-in with Wi-Fi and Bluetooth Connectivity for Convenient Image Sharing and Remote Shooting
EOS 200D II offers multiple wireless connection options for easy remote shooting, image sharing and image backup. The camera features built-in Wi-Fi for wireless remote image and movie shooting as well as image browsing and transfer on smartphones via "Camera Connect" app, making image sharing to social networking sites such as Facebook, Instagram or YouTube convenient. EOS 200D II adopts the CR3 RAW format and supports C-RAW (compact RAW), user can also transfer the RAW files to iPad for post-editing through the DPP Express app. The "Transfer images to smartphones after shot" function is also added. With this, the camera will automatically send JPEG images to a smartphone via Wi-Fi in parallel when shooting, facilitating easy image browsing or sharing with friends during the course of shooting or after that. What's more, when users completed their shooting and returned home, new images can be backed up to the computer automatically and wirelessly when through the "Automatic sending images to computer" function[11] with "Image Transfer Utility 2" computer software.​​​​​​​
Furthermore, EOS 200D II supports Bluetooth® low energy technology for more convenient and continuous connection between the camera and compatible smartphones[12] at low power consumption. As long as the Bluetooth connection is enabled, users can wake up the camera anytime from their smartphones to browse and transfer images (via Wi-Fi) even the camera switched off automatically. The Bluetooth® function also supports wireless remote shooting with smartphone or Wireless Remote Controller BR-E1[13] from any direction within 5m from the camera. In addition, shooting location can also be appended to images by acquiring GPS information[14] from smartphone via Bluetooth connection. This makes it easy to geotag images, create travel blog, as well as check-in to a location when uploading images to social platforms.
EOS 200D II – The World's Lightest 4K DSLR Camera1 with Vari-angle Monitor for Creative Photos and VLOG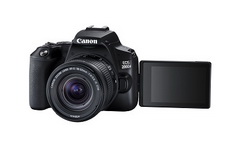 ​​​​​​​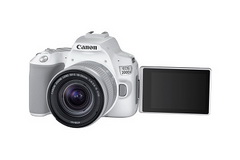 ​​​​​​​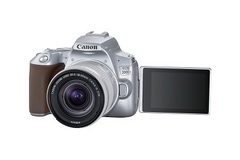 ​​​​​​​
Target

Users

: Entry-level users pursuing a high quality compact camera with DSLR responsive control

Applications

: Family photo & video, VLOG
Key Features
The World's lightest DSLR camera1 which weighs only 402g (Black/ Silver Body)

Low power consumption with battery life up to 1,630 shots during viewfinder shooting

Newly-added:

4K UHD movie and 4K Time-lapse movie shooting

3.0-inch 1.04M-dot Vari-angle LCD monitor with touch operation

Enjoy benefits of both EOS DSLR and mirrorless cameras through the use of viewfinder and Live View shooting

24.1-megapixel APS-C sensor

Standard ISO range of ISO 100-25600

Powerful DIGIC 8 digital imaging processor

Enhanced Dual Pixel CMOS AF (DAF) technology for Live View shooting

A bright optical viewfinder with 95% coverage and 0.87x magnification without any time-delay

Reliable 9-point AF system (center cross-type)

Supports up to 5FPS continuous shooting

Built-in with Wi-Fi and Bluetooth
The new Canon EOS 200D II entry-level DSLR camera with EF-S 18-55mm f/4-5.6 IS STM kit sets are now available for sale and the suggested retail prices are as follows:
| | |
| --- | --- |
| Model | Suggested Retail Price |
| EOS 200D II (Black) with EF-S 18-55mm f/4-5.6 IS STM Lens (Black) Kit Set | HKD 5,680 |
| EOS 200D II (White) with EF-S 18-55mm f/4-5.6 IS STM Lens (Silver) Kit Set | HKD 5,680 |
| EOS 200D II (Silver) with EF-S 18-55mm f/4-5.6 IS STM Lens (Silver) Kit Set | HKD 5,680 |
The accessories for EOS 200D II and their suggested retail prices are as follows:
| | |
| --- | --- |
| Model | Suggested Retail Price |
| Camera Cover R-F-3 | HKD 25 |
| GPS Receiver GP-E2 | HKD 2,180 |
| Directional Stereo Microphone DM-E1 | HKD 2,400 |
| Remote Switch RS-60E3 | HKD 140 |
| Wireless Remote Control BR-E1 | HKD 310 |
| Battery Pack LP-E17 | HKD 560 |
| Battery Charger LC-E17E | HKD 490 |
| AC Adapter AC-E6N | HKD 680 |
| DC Coupler DR-E18 | HKD 360 |
| Interface Cable IFC-600PCU | HKD 140 |
| HDMI Cable HTC-100 | HKD 510 |
| Hand Strap E2 | HKD 290 |
| Protecting Cloth PC-E1 | HKD 200 |
| Protecting Cloth PC-E2 | HKD 220 |
About Canon Hongkong Company Limited​​​​​​​
Canon Inc. (TSE:7751 / NYSE:CAJ) was founded in 1937 in Japan. Its predecessor, Precision Optical Instruments Laboratory, produced Japan's first 35 mm focal-plane-shutter camera "Kwanon" in 1934. Canon Inc. eventually expanded into the photocopying and printing industries, launching Japan's first plain-paper copier NP-1100 in 1970 and the world's first inkjet printer BJ-80 in 1985. Through the years, Canon Inc. has acquired in-depth experience in digital imaging product manufacturing, and research and development. It is a leader in the development of innovative products and holds the most technology patents in the imaging industry. Canon Inc. also makes a significant contribution to the promotion of photography. Today, Canon Inc. has a strong global presence and is one of the most important market players in the imaging, office and industrial product categories. As of 31 December 2018, Canon's global revenue was US$35.6 billion. ​​​​​​​
One of the company's first offices in Asia, Canon Hongkong Co., Ltd. (CHK) was established in 1971. It is responsible for the sales, marketing and after-sales services for all Canon product lines in Hong Kong and Macau. With the solely owned subsidiary Canon Business Solutions (Guangdong) Co., Ltd." established in 2018, the company can also provide intelligent total business solutions and professional services to companies in the Greater Bay Area. CHK adheres to Canon's corporate philosophy of "kyosei", which encourages the company and its staff to participate in social, charitable and environmental activities in the community. CHK implements internationally-recognized management systems and has achieved ISO 9001, ISO 14001, ISO 27001 (Canon Digital Production Center) and OHSAS 18001 certification. For more information about Canon Hongkong, please visit our website: https://hk.canon/.
---