The Canon PhotoMarathon 2018 opens for first phase enrollment
The once a year festival combines physical and intellects
Stepping in for its 10th year
Snapping the birth of different stories and showcasing the unique sides of Hong Kong
#Canonhk @canonphotomarathon #shootforhongkong #攝獵香港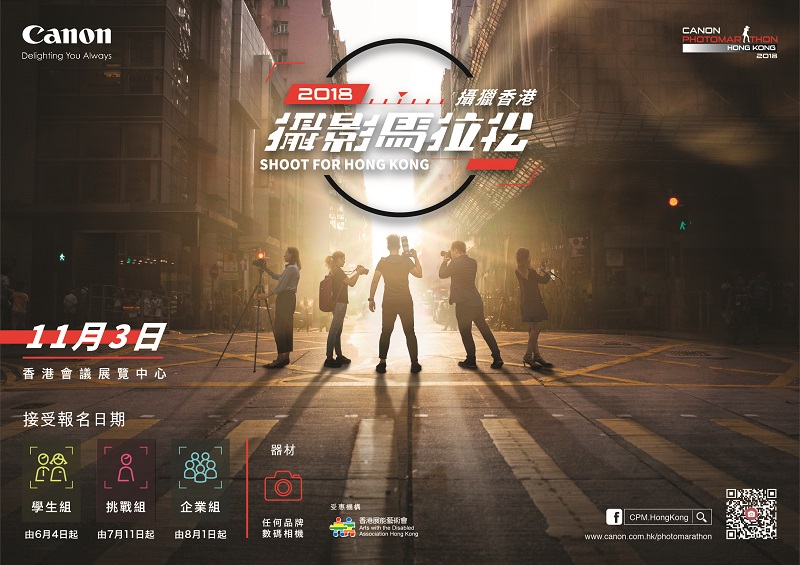 The annual Canon PhotoMarathon 2018 is returning this year on 3rd of November (Saturday) at the Hong Kong Convention and Exhibition Center. Entering its 10th year, this remarkable photography event is an unmissable event for photography enthusiasts, attracting more than 10,000 participants in the past. Apart from getting their gears ready for shooting the unique side of Hong Kong, photography enthusiasts also tell their own stories through the lens, sharing their own vision!
The Canon PhotoMarathon–Hong Kong begins since 2009, and has attracted 300 participants in the first year. With the growing photography culture in Hong Kong, it attracts more and more participants each year. With the chance of demonstrating their skills, it has attracted up to 3000 participants to join this remarkable event last year! A competition unlike any other, themes will only be announced on the same day as handing in the photos, making the competition more thrilling. Participants will set off in Wanchai and photograph different scenery and things in every corner of Hong Kong during a limited time.
Each year, the participants will take photo according to different themes, letting participants to capture the city in different angles.
This year, Canon especially invited three photograph enthusiasts who had joined the Canon PhotoMarathon to share their own photography journey to the public.
9-year participant Tommy: recording the stories of growing up & the change in the city
Previous winner William: photographer is diary for the everyday life between people
Tommy, who had participated in this competition for nine years, says he has started photo-shooting to capture his two daughter's growth through the lens and record every moment with his daughters through photography. Shooting a picture which can touch the soul of the people does not require any glamourous or luxurious gears; instead, a good photographer should feel one's passion and surrounding in order to capture the most touching moment. While with William, the winner in 2014, a passionate for capturing the scenery of old estates in Hong Kong, believes "photography represents an interaction between the object and the photographer as well as the diary for the everyday life between people." Through his work, even the smallest changes in the city can be seen.
2 themes winner, Alick says, meticulous observation is the key
Alick, who participated in this photomarathon for seven times and had won in 2 different themes, shares his experiences, during the thrilling competition with limited time, participants would need to observe the neighbourhoods meticulously and be able to use their imagination to capture the best shots. When you are prepared, you would know your direction once you receive the themes and bring out the best of you.
Canon PhotoMarathon 2018 is now open for enrollments
This year, Canon will be welcoming photograph enthusiasts to compete in three categories, namely, "Challenge" , "Student" , and a newly added category, "Corporate" which they will be competing in teams. Each group will be competing according to the theme announced on the day of the competition and will be visiting designated checkpoints within a fixed period of time.
Student Category

Challenge Category

Corporate Category

Enrollment fee

HKD$150

HKD$250

HKD$3,000
/team of 6 people

Enrollment period

4th June– 25th July

11th July– 25th July

1st Aug – 17th Aug

Age limit

Aged 15-22

Aged 18 or above

Camera requirement

Interchangeable-lens type digital camera /digital compact camera (Any brands)
About Canon Hongkong Company Limited
Canon Inc. (TSE:7751 / NYSE:CAJ) was founded in 1937 in Japan. Its predecessor, Precision Optical Instruments Laboratory, produced Japan's first 35 mm focal-plane-shutter camera "Kwanon" in 1934. Canon Inc. eventually expanded into the photocopying and printing industries, launching Japan's first plain-paper copier NP-1100 in 1970 and the world's first inkjet printer BJ-80 in 1985. Through the years, Canon Inc. has acquired in-depth experience in digital imaging product manufacturing, and research and development. It is a leader in the development of innovative products and holds the most technology patents in the imaging industry. Canon Inc. also makes a significant contribution to the promotion of photography. Today, Canon Inc. has a strong global presence and is one of the most important market players in the imaging, office and industrial product categories. As of 31 December 2017, Canon's global revenue was US$36.1 billion.
One of the company's first offices in Asia, Canon Hongkong Co., Ltd. (CHK) was established in 1971. It is responsible for the sales, marketing and after-sales services for all Canon product lines in Hong Kong and Macau. CHK adheres to Canon's corporate philosophy of "kyosei" , which encourages the company and its staff to participate in social, charitable and environmental activities in the community. CHK implements internationally-recognized management systems and has achieved ISO 9001, ISO 14001, ISO 27001 (Canon Digital Production Center) and OHSAS 18001 certification. For more information about Canon Hongkong, please visit our website: www.canon.com.hk
[Appendix: some of the themes & winning pieces in the past nine years]
[Appendix]
Some of the themes & winning pieces in the past nine years
Year
Theme 1
Theme 2
Theme 3
2017
(Challenge Group)
Tone on Tone:
To Chi Fung

Intersection:
Chow Ho Man

Radiance. Resplendent:
Chan Man Fung

2016
(Challenge Group)
Affection for Evolving:
Tam Pik Han

View of the Back:
Lee Man Hin

Leisure City:
Wang Sing

2015
(Challenge Group)
Decisive Moment:
Keung Chi Kin

Perspective/ Transparent:
Spencer Goh

City:
Lam Oi Kei Candy

2014
(Challenge Group)
To treasure:
Fan Wing

Stay & Move:
Yiu Adit Shu Ching

Window:
Leung Wai Yum

2013
(Challenge Group)
Light, Shadow, Motion:
Luk Ming Ngai

Dot, Line, Surface:
Yip Lampson Karmin

Mountain, Sea, Sky:
Lam Kam Tong

2012
(Challenge Group)
Being:
Lo Kwok Kit

Pure:
Yiu Wing Man

Shape:
Ko Yat Wah Kenneth

2011
(Challenge Group)
Green Hong Kong‧Low Carbon Living:
Chan Pui Ho

Preserving Hong Kong Cultural Heritage:
Hong Sze Man Iris

Eat with Colours:
Leung Wai Yin


2010
(Challenge Group)
Urbanized Pollution Problem:
Hong Hin Wa


Smiling Hong Kong – Happy Sunda:
Leung Sing Lam


School:
Chung Tat Wai


2009
(Challenge Group)
Environmental Protection:
Tse Ki Piu


Technology:
Hai Yip Kuen, Eddie


[ends]