Canon Releases New Firmware for EOS R5, EOS R6 and EOS-1D X Mark III
to Bring Enhanced autofocus performance originated from EOS R3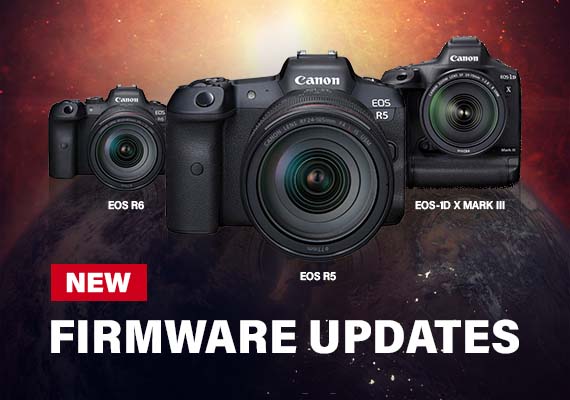 HONG KONG, 2nd December 2021 — Canon today announces a new firmware upgrade for EOS-1D X Mark III, EOS R5 and EOS R6. Incorporating the subject detection algorithm developed for EOS R3 with the "Deep Learning" technology, the new firmware upgrade brings enhanced subject detection to their AF system, as well as a host of improvements to product operability.
Enhanced People Detection
The Firmware Version 1.6.0 for EOS-1D X Mark III brings improvement to head detection performance for winter sports (skiing and snowboarding) where the face is not visible due to helmets or goggles. For Firmware version 1.5.0 for EOS R5 and EOS R6, in addition to the enhancement to head detection mentioned above, eye detection performance is also improved when there are shadows on the face or hair is hanging over the eyes; eyes can now be detected even when people are wearing mask. Body detection is also supported in EOS R5 and EOS R6, a body detection algorithm developed by the "Deep learning" technology has been added to enhance tracking performance in situations where large movements block or hide the face or the head.
New Vehicle Detection for EOS R5 and EOS R6
The new firmware of EOS R5 and EOS R6 also features "Vehicle Detection" [1]originated from EOS R3, which brings new capability of "overall" detection of fast-moving automobiles and motorcycles and specializes in motorsports, such as formula cars, GT cars, rally cars, on-road and off-road motorcycles. With "Spot Detection" setting, the driver's helmet of motorcycle or formula car can be detected and focus on.
Other New Functions for EOS R5 and EOS R6
In both EOS R5 & EOS R6, the ability to set custom white balance from the Quick Control screen with "Shoot to Set White Balance" has been added for simpler operation. In addition, a [Suppress lower frame rate] option has been added to [Smooth] in [Disp. Performance] to improve display frame rates in low-light scenarios. For EOS R5, it now supports the RF 5.2mm f/2.8L Dual Fisheye lens, making virtual reality video shooting with Canon EOS VR SYSTEM possible.
Firmware update links:
The new firmware versions are now available for free download at Canon Hongkong website. Canon will continue to listen to customers' feedback so as to develop more comprehensive imaging systems with higher efficiency to meet the diverse creativity needs of content creators.
Firmware Version 1.5.0 for EOS R5 – Download
Firmware Version 1.5.0 for EOS R6 – Download
Firmware Version 1.6.0 for EOS-1D X Mark III – Download
[1] The vehicle detection may not function for some subjects. Or, subjects, which are not automobile or motorcycle, may be detected as vehicles. Only overall detection can be used for a racing car with a roof.
About Canon Hongkong Company Limited
Canon Inc. (TSE:7751 / NYSE:CAJ) was founded in 1937 in Japan. Its predecessor, Precision Optical Instruments Laboratory, produced Japan's first 35 mm focal-plane-shutter camera "Kwanon" in 1934. Canon Inc. eventually expanded into the photocopying and printing industries, launching Japan's first plain-paper copier NP-1100 in 1970 and the world's first inkjet printer BJ-80 in 1985. Through the years, Canon Inc. has acquired in-depth experience in digital imaging product manufacturing, and research and development. It is a leader in the development of innovative products and holds the most technology patents in the imaging industry. Canon Inc. also makes a significant contribution to the promotion of photography. Today, Canon Inc. has a strong global presence and is one of the most important market players in the imaging, office and industrial product categories. As of 31 December 2020, Canon's global revenue was US$30.38 billion.
One of the company's first offices in Asia, Canon Hongkong Co., Ltd. (Canon HK) was established in 1971. It is a Total Imaging Solution provider, to provide professional pre-sales, marketing and after-sales services for all Canon products and solutions in Hong Kong and Macau. With the solely owned subsidiary Canon Business Solutions (Guangdong) Co., Ltd. established in 2018, the company also provide intelligent total business solutions and professional services to companies in the Greater Bay Area. Canon HK adheres to Canon's corporate philosophy of "kyosei", which encourages the company and its staff to participate in social, charitable and environmental activities in the community. Canon HK implements internationally-recognized management systems and has achieved ISO 9001, ISO 14001, ISO 45001 and ISO 27001 (Canon Digital Production Center) certifications.
For more information about Canon Hongkong, please visit our website: https://hk.canon/.
---
For more information about Canon Hongkong, please visit our website: https://hk.canon/.