New Canon A3+ Professional Photo Printers To Produce Photographic Images with Stunning Quality
The imagePROGRAF PRO-300 and PIXMA PRO-200 allow users to create unprecedented colour and mono prints
HONG KONG, 2 February 2021 – Canon introduces the imagePROGRAF PRO-300 and PIXMA PRO-200 professional A3+ photo printers for professional photographers and photo enthusiasts to produce high-quality prints. Supporting a wide variety of media types and sizes, the new printers also support the new Canon Premium Fine Art Rough media for exhibition-ready prints to achieve heightened levels of depth and colour expression that are beyond the limits of ordinary home printers.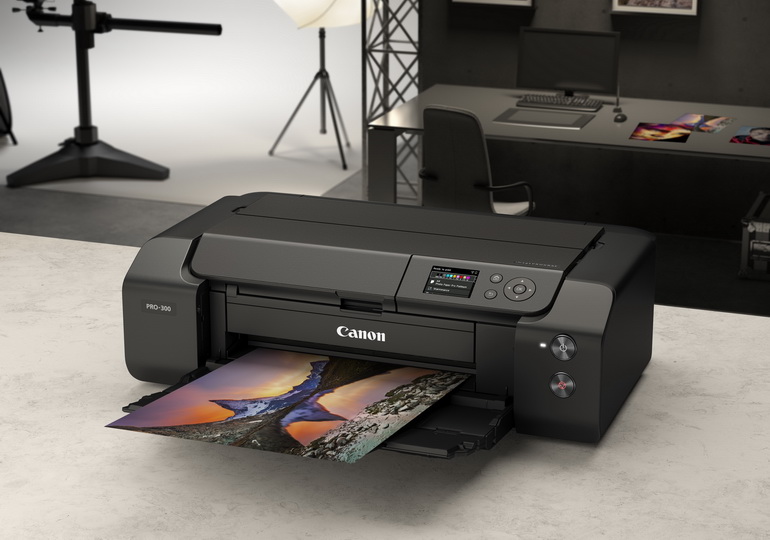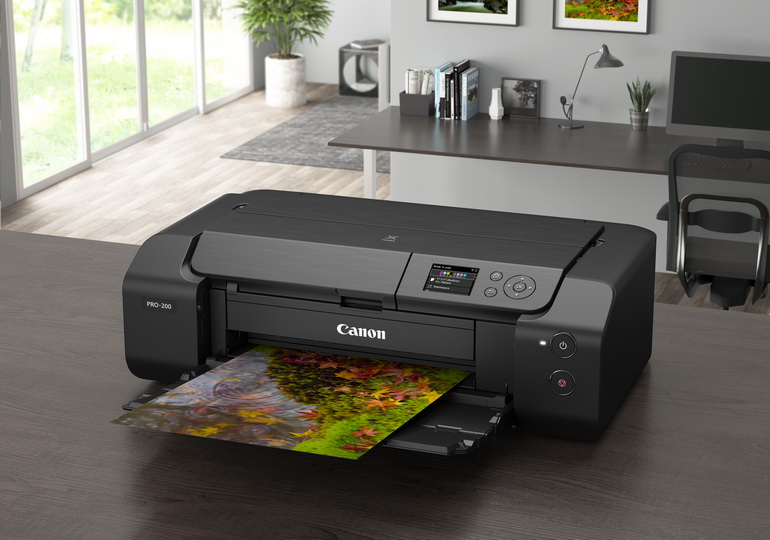 Advanced Processor and Ink Systems for Improved Photo Expression
The imagePROGRAF PRO-300 is powered by the Canon L-COA PRO processor, designed to process large volumes of image data and print at high speeds.
Paired with a new LUCIA PRO 10-ink system within the imagePROGRAF PRO-300, the printer gains the ability to achieve an expanded colour gamut on a variety of glossy and matte media. The matte black ink specifically increases black density for non-glossy media, and enables a wider monochromatic range in dark zones.
With dedicated ink nozzles for Matte Black and Photo Black, the PRO-300 allows users to switch from matte to glossy media easily across multiple print jobs, with no swapping of black inks nozzles required. It can reduce the initial time for printing in different media dramatically.
The PIXMA PRO-200 uses an 8-ink configuration that is designed to deliver an expanded colour reproduction, with improved black density over previous generations.
Class-leading Printing Innovations and Enhancements
The imagePROGRAF PRO-300 and PIXMA PRO-200 features a footprint 15% smaller than previous incarnations in the Canon PIXMA PRO-10 and PRO-100. The addition of the 3-inch colour LCD screen also enhances usability, making it easy to perform setup and manage settings, replace ink cartridges, as well as monitor remaining ink levels.
To ensure accurate feeding, especially for large and thick papers, a new Auto Skew Correction feature on both printers detects alignment and adjusts feeding during printing without manual intervention.
The PRO-300 is also equipped with an automatic nozzle compensation feature. By detecting non-firing of ink nozzles in-printing and redeploying surrounding nozzles, the printer is able to eliminate streaks and banding in photos.
Compatibility with New Canon Premium Fine Art Rough and Other Media
Canon has also released a new Premium Fine Art Rough (FA-RG1) media, designed to push the limits of photographic and artistic expression on the PRO-300 and PRO-200. This heavy, high quality cotton paper with rough surface finishing allows expressing the depth of image effectively. It is particularly suited for printing artistic themed image and fine art reproduction.
Seamless Workflow with Bundled Software Applications
To assure a seamless integration with professional print workflows, and in particular Canon EOS system cameras, the PRO-300 and PRO-200 are bundled with the Canon Professional Print & Layout (PPL) software. This powerful program provides an intuitive interface, making it easy for users to optimize layout and colour settings for single or multiple print jobs, ensuring a superior user experience beginning from image capture, to post-editing, and eventually the print result.
Together with Canon's Media Configuration Tool, imaging professionals can also manage colour profiles for Canon and third party media with ease, ensuring the re-use of custom settings for similar print jobs quickly.
The Canon's new Professional A3+ Photo Printer are now available in Hong Kong with suggested retail price as below:
| | |
| --- | --- |
| imagePROGRAF PRO-300 | HK$5,688 |
| PIXMA PRO-200 | HK$3,688 |
Suggested retail prices for New Canon FA-RG1 Premium Fine Art Rough Photo Papers are as follow:
| | |
| --- | --- |
| | Suggested Retail Price |
| FA-RG1 (A2) (25 sheets) | HK$1,380 |
| FA-RG1 (A3+) (25 sheets) | HK$980 |
| FA-RG1 (A3) (25 sheets) | HK$780 |
Product Specifications
imagePROGRAF PRO-300
PIXMA PRO-200
Print head / Ink
Max. Print Resolution1
4,800 x 2,400dpi1
Compatible Ink mode
PFI-300C/ PFI-300M/ PFI-300Y/ PFI-300PC/ PFI-300PM/ PFI-300R/ PFI-300MBK/ PFI-300PBK/ PFI-300GY/ PFI-300CO
CLI-65BK/ CLI-65LGY/ CLI-65GY/ CLI-65C/ CLI-65M/ CLI-65Y/ CLI-65PC/ CLI-65PM
Ink Capacity Standard (approx figure):

Photo (4"x6")2:PFI-300MBK:1750/ PFI-300PBK:303/ PFI-300GY:236/ PFI-300C:735/ PFI-300M:785/ PFI-300Y:530/ PFI-300PC:625/ PFI-300PM:530/ PFI-300R:920/ PFI-300CO:272

A3+ Photo (11" x 14")3:PFI-300MBK:258 sheets / PFI-300PBK:33 sheets / PFI-300GY:45 sheets / PFI-300C:83 sheets / PFI-300M:100 sheets / PFI-300Y:100 sheets / PFI-300PC:111 sheets / PFI-300PM:86 sheets / PFI-300R:162 sheets / PFI-300CO:100 sheets

Photo (4"x6")2:CLI-65BK:860 sheets/ CLI-65GY:595 sheets/ CLI-65LGY:965 sheets/ CLI-65C:482 sheets/ CLI-65M:610 sheets/ CLI-65Y:295 sheets/ CLI-65PC:275 sheets/ CLI-65PM:320 sheets

A3+ Photo (11" x 14")3:CLI-65BK:69 sheets / CLI-65GY:96 sheets / CLI-65LGY:139 sheets/ CLI-65C:51 sheets/ CLI-65M:77 sheets / CLI-42Y:55 sheets / CLI-65PC:59 sheets / CLI-65PM:54 sheets

Photo Print Speed4

4"x6" Photo (Borderless) : approx.80 sec.

A4 Photo (Border/8"x10"): approx.105 sec.

A3+ Photo (Border/11"x14"):: approx.170 sec.

4"x6" Photo (Borderless): approx.35 sec.

A4 Photo (Border/8"x10"): approx.53 sec.

A3+ Photo (Border/11"x14"):: approx.85 sec.

Printable Area
Borderless Printing Size
A3+/ A3/ A4/ LTR/ Ledger/ Hagaki/ 7"×10"/ 12"×12"/ 5"×7"/ L(3.5"×5")/ KG (4"x6")/ 2L(5"×7")/ 8"×10"/ 10"×12"/ Square(127 mm)/ 210 ×594 mm 5
Paper Size (cut paper)
A3+/ A3/ A4/ A5/ B4/ B5/ LTR/ LGL/ Ledger/ Hagaki/ 7"×10"/ 12"×12"L(3.5"×5")/ KG(4"x6")/ 2L(5"×7")/ 8"×10"/ 10"×12"/Square(127 mm)/ 210 ×594 mm/ Custom size(width 89 mm - 329 mm length 127 mm - 990.6 mm)
Paper Handling

Rear tray: 100 sheets

Manual tray: 1 sheet

Manual Disc Tray
1 piece
Wireless Printing6
Canon PRINT Inkjet/SELPHY and Easy Photo Print Editor Mobile App
Support
AirPrint
Support
Mopria and Canon Print Service Wireless
Support
General
Interface
USB2.0 Hi-Speed, Wi-Fi 802.11b/g/n & Ethernet
Compatible OS
Windows 10, Windows 8.1, Windows 7 SP1, OS X 10.11.6, macOS 10.12-macOS 10.15
Operation Panel
3" LCD
Dimensions (W x D x H)
639×379×200 mm
Weight
14.4kg
14.1kg
Power Source
AC100-240V 50/60Hz
Warranty
One year on-site warranty (Hardware)
Remarks

1Ink droplets can be placed with a pitch of 1/4,800 inch at minimum.

2Declared yield value in accordance with ISO/IEC 29102. Values obtained by continuous printing. Right-click the image on Windows 10 and select "Print" from the menu to print.

3When printing ISO/JIS-SCID N2 test file at 11" x 14"continuously on A3+ <paper size type>, with the default settings of testing paper using Windows 10 printer driver and Photoshop CC.

4Photo print speed is based on the default setting using ISO/JIS-SCID N2 and does not take into account data processing time on host computer. Print speed may vary depending on system configuration, interface, software, document complexity, print mode, page coverage, type of paper used etc.

5Supported paper types for borderless printing:Photo Paper Pro Platinum PT-101, Photo Paper Pro Luster LU-101, Photo Paper Plus Semi-gloss SG-201, Photo Paper Plus Glossy II PP-201, Matte Photo Paper MP-101.

6For more information, please visit hk.canon /mobileprinting

All data is based on Canon's standard testing methods. Product images may differ from the actual product. Specifications are subject to change without notice.
About Canon Hongkong Company Limited
Canon Inc. (TSE:7751 / NYSE:CAJ) was founded in 1937 in Japan. Its predecessor, Precision Optical Instruments Laboratory, produced Japan's first 35 mm focal-plane-shutter camera "Kwanon" in 1934. Canon Inc. eventually expanded into the photocopying and printing industries, launching Japan's first plain-paper copier NP-1100 in 1970 and the world's first inkjet printer BJ-80 in 1985. Through the years, Canon Inc. has acquired in-depth experience in digital imaging product manufacturing, and research and development. It is a leader in the development of innovative products and holds the most technology patents in the imaging industry. Canon Inc. also makes a significant contribution to the promotion of photography. Today, Canon Inc. has a strong global presence and is one of the most important market players in the imaging, office and industrial product categories. As of 31 December 2019, Canon's global revenue was US$32.7 billion.
One of the company's first offices in Asia, Canon Hongkong Co., Ltd. (Canon HK) was established in 1971. It is responsible for the sales, marketing and after-sales services for all Canon product lines in Hong Kong and Macau. With the solely owned subsidiary Canon Business Solutions (Guangdong) Co., Ltd." established in 2018, the company can also provide intelligent total business solutions and professional services to companies in the Greater Bay Area. Canon HK adheres to Canon's corporate philosophy of "kyosei", which encourages the company and its staff to participate in social, charitable and environmental activities in the community. Canon HK implements internationally-recognized management systems and has achieved ISO 9001, ISO 14001, ISO 27001 (Canon Digital Production Center) and OHSAS 18001 certification.
For more information about Canon Hongkong, please visit our website: https://hk.canon/.