​
Canon launches the New RF 35mm f/1.8 Macro IS STM
A Compact Wide-angle Lens with Large Aperture and Macro Function for
EOS R Full-Frame Mirrorless System
HONG KONG, 22 November 2018 - Canon today announces the new RF 35mm f/1.8 Macro IS STM large aperture wide-angle macro lens is now available for sale. This compact and wide-angle macro lens is ideal for snapshots, close-up, food and portrait photography that expands the possibilities in image creation for both photographers and videographers. Designed for use with the EOS R camera, the RF 35mm f/1.8 Macro IS STM utilizes the large diameter and short back focus distance benefited from the RF mount to achieve a large aperture of f/1.8 with superior image quality while reducing the size of the overall optical system. A 0.5x maximum magnification with a working distance of 7cm enables flexible close-up photography facilitated by Canon's Hybrid IS technology. The RF 35mm f/1.8 Macro IS STM is an ideal and lightweight companion capable of high-quality, creative photos and video anywhere, anytime for EOS R.
​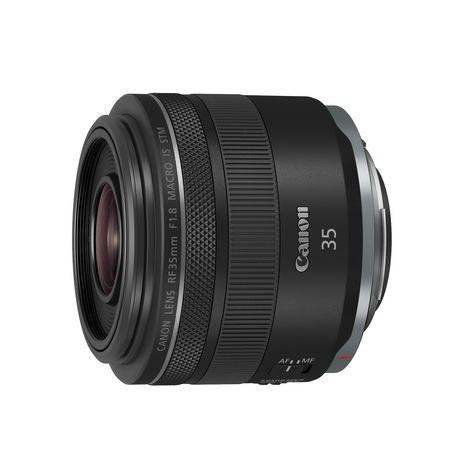 ​
A Compact and Lightweight Snapshot Lens with f/1.8 Large Aperture and 5-Stop Image Stabilization function
With a weight of merely 305g and length of 62.8mm, the RF 35mm f/1.8 Macro IS STM is the most compact and portable lens in the current RF lens lineup. When used with the EOS R, it is an ideal combination for users who are seeking a compact system or a lightweight walkaround camera for everyday snapshots. The 35mm focal length, which is popular for snapshots, delivers a natural perspective and wide field of view similar to the human eye. It can create a natural sense of spaciousness and perspective which is especially suitable for shooting causal snapshots.
The RF 35mm f/1.8 Macro IS STM adopts a newly developed 11 elements in 9 groups optical design with 1 Glass-molded (GMo) aspherical lens element in the focus group to correct spherical aberration and achieve superior image quality from infinity to close-up. This lens also possesses a large-diameter lens element in the position closest to the focal plane by taking the advantage of the new RF mount. As a result, it achieves corner-to-corner sharpness even at aperture fully open and reduces the size of the overall optical system. Moreover, by placing a fixed lens group behind the focus lens group, aberrations caused by focal operation are suppressed, allowing users to shoot high quality image even at the maximum magnification.
The f/1.8 large aperture, with a 9-blade circular aperture, allows users to create stunning portraits and close-up photos with shallow depth of field and beautiful background blur easily. The high brightness of the large aperture also allows a faster shutter speed for easy capture of fast-moving subjects even in low-light environment. It makes this lens ideal for shooting portraits, snapshots and cityscape at night time with beautiful out-of-focus background.
In terms of image stabilization (IS), this lens offers up to 5-stop
[1]
shake compensation during normal shooting which helps photographers to achieve crispy and clear images without camera shake. This remarkable image stabilization performance is made possible thanks to the "Dual Sensing IS" technology on the EOS R camera and the use of a minimum-friction structure in the sliding parts of the compensation optics barrel with rolling balls to improve performance in camera shake compensation. The "Dual Sensing IS" technology allows the lens instantly attains and analyzes shake information from both the image sensor and the lens' gyro sensor through the high-speed communication system of the RF mount and applies a more effective stabilization to correct large and low-frequency vibration caused by body movement when shooting still photos.
0.5x Maximum Magnification and Hybrid IS Technology for High Quality Close-up Photos
The RF 35mm f/1.8 Macro IS STM is capable of shooting at 0.5x maximum magnification with a minimum focusing distance is 17cm. Its relatively long working distance of 7cm (distance from the 1st lens element to the subject) allows users to reveal the tiny and intricate details of small subjects such as jewellery, crafts, flowers or food from a distance without blocking the ambient light since the closeness of the lens may cast a shadow over the subject.
​​

​​

0.5x maximum magnification

(shot on RF 35mm f/1.8 Macro IS STM)

0.23x maximum magnification

(shot on EF 35mm f/2 IS USM)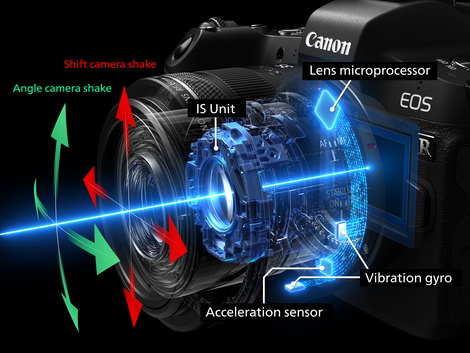 ​​
To ensure high quality macro photography, RF 35mm f/1.8 Macro IS STM features Canon's Hybrid IS technology to facilitate handheld macro shooting and ensures exceptional image sharpness and clarity. It corrects both angle-based and shift-based camera shakes where the latter one has an apparent effect on macro photography. While the conventional IS lenses only feature vibration gyros (angular velocity sensors) to detect sudden changes in camera angle and apply compensation, Hybrid IS includes an additional acceleration sensor to detect and make correction to shift-based camera shake, which occurs when a camera moves parallel to the imaging scene. As a result, the hybrid IS provides up to 3-stop
[2]
shake compensation when shooting at 0.5x magnification which ensures the clarity and sharpness of handheld shooting of macro photography.
The RF 35mm f/1.8 Macro IS STM is built-in with MacroLite mount and is compatible with Canon's Macro range of Speedlite flashes including Macro Twin Lite MT-26EX-RT and Macro Ring Lite MR-14EX II to provide high quality close-up lighting in various situations. For users who are passionate about close up and macro photography, extraordinary flashing effects can be created easily.
| | |
| --- | --- |
| ​​ | ​ |
| RF 35mm f/1.8 Macro IS STM is compatible with the Macro Twin Lite MT-26EX-RT and Macro Ring Lite MR-14EX II (sold separately) | Photo captured by the RF 35mm f/1.8 Macro IS STM with Macro Ring Lite MR-14EX II |
A Brand New Shooting Experience Brought by the Control Ring and RF Mount
RF 35mm f/1.8 Macro IS STM also incorporates a "control ring" on the lens barrel as found in RF lens series to which users can directly adjust numerous settings including aperture value, shutter speed, ISO sensitivity and exposure compensation. Located towards the front of the lens and effectively adding a third dial to the EOS R camera's main dial and quick control dial, users now have three individual dials to set the aperture, shutter speed and ISO sensitivity respectively. The control ring also has a tactile, easily distinguished surface and features a clicking mechanism
[3]
that provides tangible feedback for confident use while looking through the electronic viewfinder, it reduces the difficulty of operations that formerly required several steps. It is useful when shooting through the electronic viewfinder (EVF) because user can set the desired exposure quickly before pressing the shutter button while keeping an eye on EVF, maximizing the benefits of EVF and operation efficiency.

​
The gear-type STM (stepping motor) in RF 35mm f/1.8 Macro IS STM is in the largest class in terms of focus unit weight and focus stroke. This STM with the high performance CPU provides fast and accurate autofocus. The gear-type STM also supports Full-time Manual Focus and the smooth "Movie Servo AF" when recording movie with EOS R's Dual Pixel CMOS AF technology. To cope with various user applications on focus operation, all RF lenses adopt the electronic ring design to drive the motions of the focus ring and control ring, making customization possible. RF lenses allow users to change the rotation direction (clockwise or anti-clockwise) of the focus ring and control ring to match their preferences. Besides, the focus ring rotational sensitivity during manual focusing can also be customized. By default, it is set to "Varies with rotation speed". Sensitivity of the focus ring will depend on the speed at which the ring is turned, the focus will change by a greater degree when the ring is turned faster; while slower rotation allows fine focus adjustments. Another option "Linked to rotation degree" is also available in which the focusing distance will be directly proportional to the rotation degree, regardless of the rotation speed. This option can provide the same control characteristic and sensation similar to cinema lenses. It is extremely convenient for videographers who want to manually and precisely control the focus position.
Thanks to the high speed and high capacity communication system of the new RF mount, users can now check the focus distance directly in the EVF by utilizing the "Focus Distance Display" function (automatically enabled during Manual Focus by default). In addition, the aperture blades of the lens will close automatically when the camera is switched off to prevent the light from getting inside and protect the camera.
The new Canon RF 35mm f/1.8 Macro IS STM is now available for sale and the suggested retail price is HK$4,280.
Accessories for RF 35mm f/1.8 Macro IS STM and suggested retail prices are as follows:
| | |
| --- | --- |
| Model | Suggested Retail Price |
| Macro Twin Lite MT-26EX-RT | HK$7,480 |
| Macro Ring Lite MR-14EX II | HK$4,880 |
| 52mm Protect Filter | HK$170 |
| 52mm Circular Polarizing Filter PL-C B | HK$800 |
| 52mm Close-up Lens 250D | HK$590 |
| 52mm Close-up Lens 500D | HK$590 |
| Lens Hood EW-52 | HK$380 |
| Lens Cap E-52 II | HK$40 |
| Lens Dust Cap RF | HK$80 |
| Lens Case LP1016 | HK$170 |
About Canon Hongkong Company Limited
Canon Inc. (TSE:7751 / NYSE:CAJ) was founded in 1937 in Japan. Its predecessor, Precision Optical Instruments Laboratory, produced Japan's first 35 mm focal-plane-shutter camera "Kwanon" in 1934. Canon Inc. eventually expanded into the photocopying and printing industries, launching Japan's first plain-paper copier NP-1100 in 1970 and the world's first inkjet printer BJ-80 in 1985. Through the years, Canon Inc. has acquired in-depth experience in digital imaging product manufacturing, and research and development. It is a leader in the development of innovative products and holds the most technology patents in the imaging industry. Canon Inc. also makes a significant contribution to the promotion of photography. Today, Canon Inc. has a strong global presence and is one of the most important market players in the imaging, office and industrial product categories. As of 31 December 2017, Canon's global revenue was US$36.1 billion.
One of the company's first offices in Asia, Canon Hongkong Co., Ltd. (CHK) was established in 1971. It is responsible for the sales, marketing and after-sales services for all Canon product lines in Hong Kong and Macau. With the solely owned subsidiary Canon Business Solutions (Guangdong) Co., Ltd." established in 2018, the company can also provide intelligent total business solutions and professional services to companies in the Greater Bay Area. CHK adheres to Canon's corporate philosophy of "kyosei", which encourages the company and its staff to participate in social, charitable and environmental activities in the community. CHK implements internationally-recognized management systems and has achieved ISO 9001, ISO 14001, ISO 27001 (Canon Digital Production Center) and OHSAS 18001 certification. For more information about Canon Hongkong, please visit our website:
https://hk.canon/
.
---
[1]
CIPA Standard, Focal Length: 35mm, EOS R is used.
[2]
Canon Standard. Based on a shutter speed of [1/focal length] seconds, said to be the limit for hand-held photography without image stabilization.
[3]
The clicking sensation and sound of the control ring can be removed for silent control during photo shooting or video recording. This service is available at Canon Care Center from October 2018 onwards (chargeable service).