Canon Launches Compact Image Stabilized Binoculars 8x20 IS and 10x20 IS
Ideal Partner for Concerts, Stage Performance, Spectator Sports and Bird Watching
HONG KONG, 22 JAN 2020 — Canon Hongkong today announces the new binoculars 8x20 IS and 10x20 IS are available for sale. Offering magnification of 8x and 10x respectively, the new entry-level 8x20 IS and 10x20 IS binoculars are highly portable and incorporate the lens shift-type Image Stabilization (IS) system as found in EF Lenses to provide a stable and pro-longed high-magnification viewing and sharper images. The new binoculars also utilize Canon's Super Spectra Coating to realize clear and bright images with high resolution, excellent color and contrast. Along with a shortened minimum focusing distance to 2m, a long eye relief of 13.5mm and a comfortable grip with new ergonomic design, these new and versatile binoculars are ideal choices for concerts or sports enthusiasts, travelers and nature observers.
Compact and Lightweight Design
The new 8x10 IS and 10x20 IS only weights 420g and 430g respectively. Designed for comfort, portability and easy handling, these lightweight models are compact enough to fit within a small bag yet give a comfortable grip and balance with a large, tactile focusing wheel and a conveniently placed IS button. The modest size of these models makes them an ideal choice for travel or wildlife enthusiasts looking for a convenient pair of binoculars with which to spot their subject. They also feature 13.5mm eye relief and rubber eye-pieces for easy adjustment when wearing glasses and a diopter to suit individual eyesight requirements.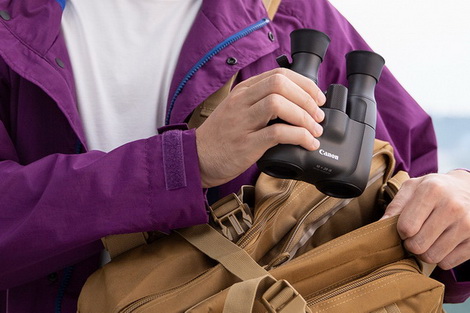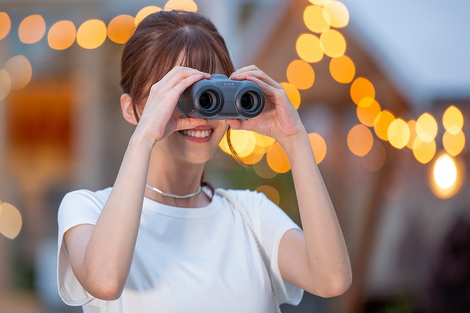 Advanced Image Stabilization Technology from EF Lenses
The 8x20 IS and 10x20 IS feature the same world-famous optics as Canon's EF camera lens range, drawing upon unique technology that has been developed and refined over decades. The binoculars use a lens-shift optical IS technique that instantly corrects image shake through the movement of the third element in the optical assembly to provide comfortable observation at high magnification. This increases the effective resolution of the binoculars and prevents eye fatigue as the binoculars compensate for natural shake, body movement and external movement, such as the motion of a bumpy safari ride, allowing clear observations to be made whilst handholding the binoculars.
Excellent Canon Optics for an Exceptional View of the World
The steady view and magnification provided by the 8x20 IS and 10x20 IS also makes identifying small subjects easy, perfect for spotting birds, smaller wildlife or distant planes and trains, even when they are moving. With a minimum focusing distance of 2m, both models allow detailed observation of a subject even when it moves significantly closer such as in a wildlife park or enclosed area. Both models deliver exceptional sharpness and low distortion, extending to the edge of the image, thanks to Canon's porro prism optics. The binoculars also feature Super Spectra lens coating which reduces subject ghosting, minimizes lens flare and maintains high contrast and natural colours. A field-flattener lens is also used to remove the curvature of the field of view, so observers can be sure they are getting a true and natural view of their subject.
Improved Power Efficiency and New Ergonomic Design for Steady, Lengthy Viewing out in the Field
Powered by a single CR123A lithium battery located at the rear of the binoculars, both the 8x20 IS and 10x20 IS provide a 5-minute continuous IS with a single press of the IS button and up to 12 hours of operation. New ergonomic design such as improved hold and knurled grip also allows less fatigue when held in one hand, making them the perfect choice for those embarking on lengthy outdoor treks or patiently observing wildlife.
​​​​​​​The new Canon Binoculars 8x20 IS and 10x20 IS are now available for sale and the suggested retail prices are HK$3,880 and HK$4,280 respectively.
​​​​​​​​​​​​​​​​​​​​​​​​​​​​
​​​​​​​​​​​​​​​​​​​​​​​​​​​​About Canon Hongkong Company Limited
Canon Inc. (TSE:7751 / NYSE:CAJ) was founded in 1937 in Japan. Its predecessor, Precision Optical Instruments Laboratory, produced Japan's first 35 mm focal-plane-shutter camera "Kwanon" in 1934. Canon Inc. eventually expanded into the photocopying and printing industries, launching Japan's first plain-paper copier NP-1100 in 1970 and the world's first inkjet printer BJ-80 in 1985. Through the years, Canon Inc. has acquired in-depth experience in digital imaging product manufacturing, and research and development. It is a leader in the development of innovative products and holds the most technology patents in the imaging industry. Canon Inc. also makes a significant contribution to the promotion of photography. Today, Canon Inc. has a strong global presence and is one of the most important market players in the imaging, office and industrial product categories. As of 31 December 2018, Canon's global revenue was US$35.6 billion.One of the company's first offices in Asia, Canon Hongkong Co., Ltd. (CHK) was established in 1971. It is responsible for the sales, marketing and after-sales services for all Canon product lines in Hong Kong and Macau. With the solely owned subsidiary Canon Business Solutions (Guangdong) Co., Ltd." established in 2018, the company can also provide intelligent total business solutions and professional services to companies in the Greater Bay Area. CHK adheres to Canon's corporate philosophy of "kyosei", which encourages the company and its staff to participate in social, charitable and environmental activities in the community. CHK implements internationally-recognized management systems and has achieved ISO 9001, ISO 14001, ISO 27001 (Canon Digital Production Center) and OHSAS 18001 certification. For more information about Canon Hongkong, please visit our website: https://hk.canon/.