Canon Launches the New imageCLASS MF445dw
High Efficient Full Duplex High Speed B&W All-in-One Laser Printer
Enhanced Secure Printing Function with Single-Pass Dual Scan
Best Choice For Office Printing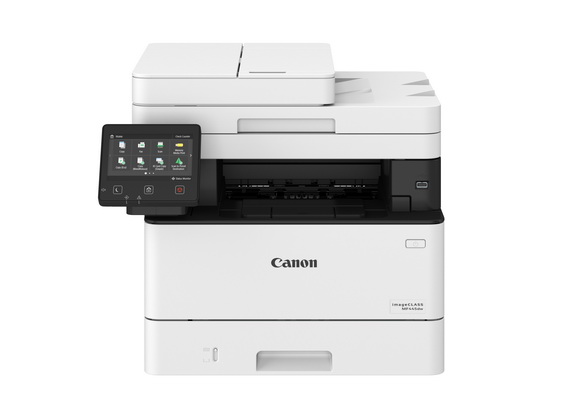 Canon Hongkong today announces the new imageCLASS MF445dw full duplex high speed B&W all-in-one laser printer, offering high efficient and flexible document handling solutions for meeting the requirements of office environments. Featuring all-in-one functions including print, copy, scan and fax which can facilitate usual business needs, while the new printer also support all-rounded mobile printing technologies including "Canon Print Business" Mobile Application, Cloud Print, AirPrint, Canon Print Service, Mopria™ and Window® 10 Mobile for added convenience and efficiency to the workplace. imageCLASS MF445dw also features a built-in Wi-Fi wireless network and up to 1GB memory for flexible handling of a wide range of documents.

Duplex Auto Document Feeder to Save Resources and Enhance Productivity
The new imageCLASS MF445dw is equipped with duplex auto document feeder to facilitate single pass and double-sided scanning in seconds and the auto duplex function further simplifies the process by eliminating the need to flip over the originals. The printer also supports duplex function for printing, scanning, copying, sending and receiving fax to save paper resources and printing cost, as well as to enhance office efficiency by making multiple-page documents and reports neat and easy to read. Coupled with the capability to print double or even quadruple on a single sheet of paper, paper usage can be further reduced.

Catering to the high volume printing needs in a busy office, the new imageCLASS MF445dw features a 250-sheet paper cassette and 100-sheet multipurpose tray. Users can also add optional paper cassette AH1 of 550 sheets to bring the total capacity to a maximum 900 sheets, it offers high capacity paper supply to eliminate the hassle of refilling paper frequently and high compatibility with different paper sizes to meet the needs of different types of printing.

5-inch Color Touchscreen LCD for Intuitive Operation
The new printer is equipped with a 5-inch Color Touchscreen LCD supporting both Traditional Chinese and English display and easy-to-understand graphical instruction, keeping users well informed of the printers' operation and status. The simple touch operation and user-friendly interface make operation a lot easier.

Application Library with Customizable Shortcuts for Simple Operation
The Application Library Function supports personalization of advanced workflows with simple one-touch operability. Equipping users with the ability to store and run regular jobs in one touch.
Easy and Direct Print / Scan / Fax Workflow for Convenient Sharing
With the network connectivity, users can save scanned documents and received faxes directly to emails, shared folder (SMB server), iFax or USB drive, on the intranet to facilitate easy information sharing among different departments. In addition, the printer supports Internet Fax function which allows users to send and receive faxes over the internet, saving costs even for sending faxes to oversea locations by iFax. The direct print function allows printing of JPEG/TIFF/PDF files from USB drive without the need of a computer for enhanced work efficiency. Plus the 'Passport Copy' feature, user can make copies easily with a touch of a button.
​​​​​​​
​​​​​​​Secure Print Function and Department ID Function for Security Control and Easy Usage
​​​​​​​When handling confidential documents, simply turn on the Built-in secure print function and a valid password is required before processing to printing, ensuring all confidential documents are properly secured. In addition, the printer offers 300 sets of user accounts for easy control of function authority, monitoring and even customizing the print capacity and function authority for each user. This provides greater convenience to better manage printer usage and eventually operating cost.
​​​​​​​
​​​​​​​All-Round and Flexible Mobile Print Solutions for Enhanced Work Efficiency
​​​​​​​Incorporated with mobile printing technologies including "Canon PRINT Business" mobile application, Canon Print Service, AirPrint, Mopria™ and "Google Cloud Print™", the printer offers added convenience to users to make high quality printing directly from mobile devices, providing a competitive edge in today's fast-paced business world.
​​​​​​​
​​​​​​​"Canon PRINT Business" Mobile Application
​​​​​​​The new imageCLASS MF445dw supports the free "Canon PRINT Business" mobile application which is designed to meet various office printing needs. It allows users to print directly from iOS and Android™ devices via network[1] and supports a vast variety of commonly used file types, including image files in JPEG / GIF / BMP / PNG / TIFF formats, Microsoft Office files, iWork files[2] and PDF files. Direct printing of online articles and web pages is also possible for easy and quick backup of useful information. Setup and connection are simple, easy and fast. Comprehensive print settings are also available to meet various needs.
​​​​​​​
​​​​​​​The capture function of the "Canon PRINT Business" mobile application can help users to convert images to PDF format and send to other devices. The application can automatically detects and corrects the distortion of image taken by mobile device camera. Moreover, the 'Whiteboard Mode' can remove shadows and unevenness, deletes reflections and enhance marker colors after capture the image. Users can use the 'QR Code Scan" feature to ensure they are connected to the correct printer.
​​​​​​​
​​​​​​​AirPrint, Canon Print Service, Mopria™ and Windows® 10 Mobile Wireless Printing
​​​​​​​iOS, Android™ and Windows® 10 Mobile users can make direct wireless printing of documents, photos, emails or web pages from their mobile devices anytime, without the need to connect to a computer nor installation of any printer driver. The Canon Print Service, AirPrint, Mopria™ and Windows® 10 Mobile standard further enhances connection and operation between iOS, Android™ and Windows® Mobile devices and the printer, bringing the best out of the devices' printing functions.
​​​​​​​
​​​​​​​"Google Cloud Print™"
​​​​​​​After registering for Cloud Print service from the printer's network interface (Remote UI), users can send out print orders through any mobile gadget with the support of "Google Cloud Print™". Even when you are out for meeting, photos, documents or emails from your Google account can be sent to the printer remotely, helping you work with higher efficiency and flexibility.
​​​​​​​
​​​​​​​Direct Connection Mode and Network Print Function for Efficient Document ​​​​​​​Handling
​​​​​​​The Direct Connection Mode allows you to connect up to 5 units of mobile devices directly to the printers and print wirelessly without router. In addition, the printers also feature a built-in Wi-Fi 802.11b/g/n wireless network and ethernet for network print function. Both Windows and Mac operating systems are supported for easy network setup and the printer offers Direct Connection Access point to enhance work efficiency.
​​​​​​​
​​​​​​​High Mono Print Speed for Quick Handling of Massive Printing
​​​​​​​imageCLASS MF445dw supports up to 38ppm A4 document printing and smaller paper sizes including A5 and A6. This can have a wide range of applications from printing invoices to flyers. A print resolution of up to 1,200 x 1,200dpi can deliver crisp text and attractive graphics, ensuring professional quality while saving precious time and energy for high volume printing.
​​​​​​​
​​​​​​​The printer also features Canon's proprietary On-Demand Fixing technology which uses a ceramic heater to speed up heat transfer and reduce warm up time, allowing quick printing while achieving energy efficiency with a significant reduction in power consumption. As a result, imageCLASS MF445dw offers a quick first print out time in just 5.5s.
​​​​​​​
​​​​​​​UFR II Technology and Multiple Printer Languages for Fast and Efficient Printing
​​​​​​​The printer incorporates Canon's proprietary Ultra Fast Rendering Technology (UFR II) for efficient printing by offloading some of the data processing tasks, such as the processing of images and half-tone graphics to the computer, taking full advantage of the computer's constantly evolving processing speed and operating system performance. The processed data will then be highly compressed, resulting in a much smaller graphical file that dramatically reduces the printer's processing time. Coupled with up to 1GB built-in memory, the printer can handle highly complex prints in a short time without the need for expensive memory upgrades. In addition, the printer comes with PCL and Post Script printer languages to support printing of a wider range of documents.
​​​​​​​
​​​​​​​Auto-removal of Toner Cartridge Seal Design for Easy Maintenance
​​​​​​​With the new auto-removal of toner seal, users just need to "plug & play". When the toner installed to the printer, the seal will be removed automatically. It greatly simplifies the toner cartridge replacement. The printers utilize an integrated 2-in-1 Toner Cartridge which combines drum and toner cartridge in one easy-to-replace unit. This significantly saves the environment by reducing the number of consumables to make maintenance easier, save time and lower long-term operating costs.
​​​​​​​
​​​​​​​Convenient and Comprehensive Services that Meet Your Needs
​​​​​​​The printer includes a Toner Status feature to remind users of the remaining toner so that a replacement can be made in due course. In addition, customer can simply check out and enjoy same day delivery[3] when ordering toner cartridges over HK$200 and placed before 11am in Canon Online Store, please visit http://store.canon.com.hk for more details. Concerning the importance of recycling, Canon also provides free pick-up services for 2 pieces or more used toner cartridges with the "Toner Cartridge Recycling Program", joining hands with customers to save the environment. For every recycled toner cartridge, customer will be rewarded a 10% off discount coupon for the next purchase at Canon Online Store. Please visit https://hk.canon/zh_HK/consumer/web/toner-cartridges for details.
​​​​​​​​​​​​​​​​​​​​​​​​​​​​
Canon provides comprehensive 1-year free on-site warranty service to customer of the new imageCLASS MF445dw. With prompt and professional services addressing maintenance and repair issues, users can be assured of high printing performance at all times. On the other hand, users can purchase extended warranty service for the printer.​​​​​​​​​​​​​​​​​​​​​
​​​​​​​​​​​​​​​​​​​​​​​​​​​​
​​​​​​​​​​​​​​​​​​​​​Canon's new imageCLASS MF445dw full duplex high speed B&W all-in-one laser printer is now available for sale in Hong Kong with suggested retail price of HK$5,588.​​​​​​​
​​​​​​​​​​​​​​​​​​​​​​​​​​​​
​​​​​​​​​​​​​​​​​​​​​The suggested retail prices of imageCLASS MF445dw consumables are as follows:​​​​​​​​​​​​​​
| | |
| --- | --- |
| Cartridge 057 Black Cartridge (Approx. 3,100 pages)* | HK$1,100 |
| Cartridge 057H Black Cartridge (Approx. 10,000 pages)* | HK$2,100 |
| Cassette Unit AH1 | HK$1,080 |
| Handset | HK$280 |
* Based on ISO / IEC 19752 testing standard​​​​​​​
​​​​​​​
​​​​​​​[1] Mobile devices and the printer must be connected to the same network
​​​​​​​[2] Microsoft Office files include doc / docx / xls / xlsx / ppt / pptx;iWork files include Pages / Numbers / Keynote. Depending on content residing within the file, the layout may appear inconsistent with original document formatting during in-app preview, or when printed
​​​​​​​[3] Except for outlying Islands and restricted areas. Online orders must be placed before 11am. Same day delivery service not applicable on Sat, Sun and Public Holidays
​​​​​​​
​​​​​​​AirPrint and the AirPrint logo are trademarks of Apple Inc.
​​​​​​​Google Cloud Print and Android™​​​​​​​​​​​​​​ are trademarks of Google Inc.
Specification

imageCLASS MF445dw
Print
Printer Speed (A4)
38ppm
Print Resolution
1,200 x 1,200 dpi equivalent
Warm-up Time
14 sec
First Printout Time
Approx. 5.5 sec
Print Language
UFR II/ PCL6/ Adobe PostScript 3
Print Memory
1GB
Duplex Print
Support
USB Direct Print
JPEG, TIFF, PDF
Copy
Copy Speed (A4)
38ppm
Copy Resolution
600 x 600 dpi
First Copy Time
Approx. 6.4 sec
Zoom
25% - 400%
Copy Features
Frame Erase, Collate, 2 on 1, 4 on 1, ID Card Copy
Duplex Copy
Support
Scan
Scanning Element
Color CIS
Scan Resolution
600 x 600 dpi (optical)
Color Depth
24-bit
Document Size
Up to A4 (platen)
105 x 128mm to 215.9 x 355.6mm (ADF)
Compatibility
TWAIN, WIA
Pull Scan
Yes, USB and Network
Scan to PC
Yes, USB and Network
Scan to Cloud
Yes, MF Scan Utility
One Pass Dual Scan
Yes
Scan to Media
Scanning method
SMB / Email / FTP / iFax
File Format
JPEG, TIFF, PDF, Compact PDF
Fax
Modem Speed
33.6 kbps
Memory Capacity
512 pages*1
Speed Dial
One Touch Dials: 19 destinations; Coded Dials: 281 destinations; Group Dials: 299 destinations; Broadcast : 310 destinations
Receive Mode
Fax, Manual, Answer Mode, Fax/Tel Auto SW
Fax function
Fax Forward, Dual Access, Remote Receive, PC Fax Tx
Auto Duplex Fax
Yes
Interface & Software
Standard Interface(s)
USB 2.0 Hi-Speed, Wi-Fi 802.11b/g/n, 10/100/ 1000BASE-T Ethernet, Direct Connection
Mobile Printing
Canon PRINT Business, Canon Print Service, Google Cloud PrintTM, AirPrint,MopriaTM,Windows®10 Mobile
Operating System
Windows®10, Windows®8.1, Windows® 7, Windows Server® 2019, Server® 2016, Server® 2012 R2, Server® 2012, Server® 2008 R2, Server® 2008, Mac OS X 10.9.5 or above
General Specifications
LCD Display
5 inch Color Touchscreen LCD
Paper Handling
Paper Cassette: 250-Sheet
Multi-Purpose Tray: 100-SheetOptional : Paper Cassette AH1 550-Sheets
Power Source
AC 220-240V, 50-60Hz
Power Consumption
Standby: Approx. 9.4W
Operation: Approx. 500W
Noise Level
Standby: Background sound
Operation: 53dB
Consumables
Cartridge
Cartridge 057/ H
Yield
3,100 / 10,000 pages*2 (BK / H BK)
General
Dimensions (W x D x H)
453 x 464 x 392 mm
Weight (with cartridge)
Approx. 16.2kg
*1 Based on ITU-T #1 Chart (standard mode).
*2 Based on ISO / IEC 19752 testing standard

All data is based on Canon's standard testing methods. Subject to change without notice.

About Canon Hongkong Company Limited
Canon Inc. (TSE:7751 / NYSE:CAJ) was founded in 1937 in Japan. Its predecessor, Precision Optical Instruments Laboratory, produced Japan's first 35 mm focal-plane-shutter camera "Kwanon" in 1934. Canon Inc. eventually expanded into the photocopying and printing industries, launching Japan's first plain-paper copier NP-1100 in 1970 and the world's first inkjet printer BJ-80 in 1985. Through the years, Canon Inc. has acquired in-depth experience in digital imaging product manufacturing, and research and development. It is a leader in the development of innovative products and holds the most technology patents in the imaging industry. Canon Inc. also makes a significant contribution to the promotion of photography. Today, Canon Inc. has a strong global presence and is one of the most important market players in the imaging, office and industrial product categories. As of 31 December 2019, Canon's global revenue was US$32.7 billion.

One of the company's first offices in Asia, Canon Hongkong Co., Ltd. (Canon HK) was established in 1971. It is responsible for the sales, marketing and after-sales services for all Canon product lines in Hong Kong and Macau. With the solely owned subsidiary Canon Business Solutions (Guangdong) Co., Ltd." established in 2018, the company can also provide intelligent total business solutions and professional services to companies in the Greater Bay Area. Canon HK adheres to Canon's corporate philosophy of "kyosei", which encourages the company and its staff to participate in social, charitable and environmental activities in the community. Canon HK implements internationally-recognized management systems and has achieved ISO 9001, ISO 14001, ISO 27001 (Canon Digital Production Center) and OHSAS 18001 certification. For more information about Canon Hongkong, please visit our website: https://hk.canon/.