Canon Image Square Opens with a Brand New Look
LIVE CORNER Newly-made to Meet Live-Streaming Demand under the New Normal
All-Round Experience of Imaging Solutions and O2O Service

Canon Hongkong today proudly announces the opening of Canon Image Square with a brand new look. Opening on 5 February 2021 at Grand Century Place in Mongkok, the new Canon Image Square is an innovative hub designed to make creativity bloom and encourage inspiration as well as ideas exchange. It welcomes public to experience and enjoy the brand's one-stop imaging solutions and services in a cozy and engaging environment.
3 Featured Zones: Imaging Solution Hub for Creation X Ideas Exchange
THE LIVE HOUSE is a vibrant zone where creative ideas can be realized with Canon's products and technologies. It houses a fully-equipped and dedicated LIVE CORNER to offer full support for rising live-streaming needs under the new normal. On the other side, the full range of Canon's latest photography and videography systems together with high-quality printers and printing service are offered to make your creations come alive.
THE SQUARE is a multifunctional zone for creativity and inspirations. It is a venue for multimedia exhibitions, sharing workshops and live-streaming seminars collaborated by different creators and Canon. It can also be transformed into a professional studio to support the various needs of photographers, videographers or content creators on photo and video production.
THE CLUB is a cozy zone for communications and services. It facilitates dialogue and interactions, by offering a relaxing environment to encourage the visitors, included but not limited to photography lovers, online content creators and Canon's members, to network casually in addition to getting the pre-sales and after-sales support they need.
Be Empowered with Innovative Imaging Solutions and Technologies
Mr. Shunichi Morinaga, President and CEO of Canon Hongkong, said, "The global pandemic has drastically changed our lives and how business runs. Under the new normal that brings unprecedented challenges, both visual creators and business users have surging needs for high-quality video solution. Therefore, at the new Canon Image Square, we offer a place more than a traditional showroom. It is infused with new elements that meet the increasing demands for live-streaming, virtual meeting and online seminar. Meanwhile, everything in the hub are well thought out to facilitate the creativity bloom and ensure seamless user experience is in place across O2O (online-to-offline). The new location is built to optimize the customer journey as a physical touchpoint with service excellence."
"We also integrate Canon's cutting edge technology into business service. By implementing our video analytics solution to the store operation, we can actively respond to customers' needs and provide timely services. The commercial application of imaging technology at Canon Image Square is a demonstration to other retailers looking for more satisfying customer experience. Through offering efficient and high-quality imaging solutions and services, we are devoted to empower Canon's users to seize opportunities amid challenges, now and in future," Mr. Morinaga added.
THE LIVE HOUSE – Imaging Solutions X Creative Power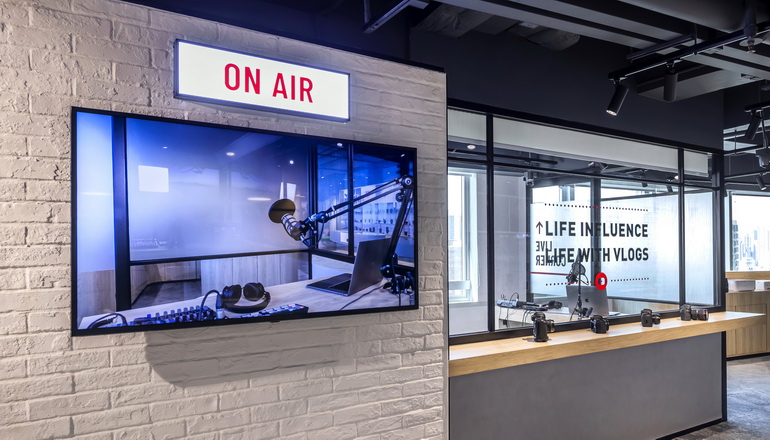 Self-Service Live-Streaming Space
Live streaming and video production have made unprecedented leaps. To respond to this trend, a dedicated LIVE CORNER for live-streaming or video production is built for public use by reservation[1]. It is fully equipped with Canon's advanced videography system, industry used live-streaming devices and lighting setups, supporting content creators, internet entrepreneurs or even visual creation newbies with high-quality imaging solution and service to realize their ideas at LIVE CORNER.
Flagship camcorders and Cinema EOS System are lined up in THE LIVE HOUSE's videography area to showcase the high-resolution picture quality and performance of EOS C70 – new generation RF Mount Cinema EOS System camera that meet the needs for professional film making and video production, sparking inspiration for more incredible video creation ideas.
Revolutionary Imaging Products to Unleash Creativity
The acclaimed EOS R Full-fame Mirrorless Camera System emphasizes on high speed, operational ease and best image quality. Coupled with the full line-up of excellent quality RF Lenses, the EOS R System are showcased at THE LIVE HOUSE for hands-on trial. The System empowers photographers with strong features so that users can focus on creation with the support of the advanced imaging system. Our knowledgeable representatives are here to assist customers to select the right camera and lens for various shooting genres.
Professional, Convenient and Efficient Self Printing
The Self Printing Corner with high privacy and equipped with various professional printers and art papers turns creativity into tangible photographic masterpieces. A wide range of photo papers that are ideal for different genres of images are available for selection to reveal details, textures and colors to their fullest. Even A1 size photos for exhibition purpose can be ready within hours. It not only satisfies the needs of photo enthusiast for timely and high-quality printing, but also helps business users handle printing needs of professional graphs and large-size posters under tight schedule.
THE SQUARE – The Creative Space for Inspirations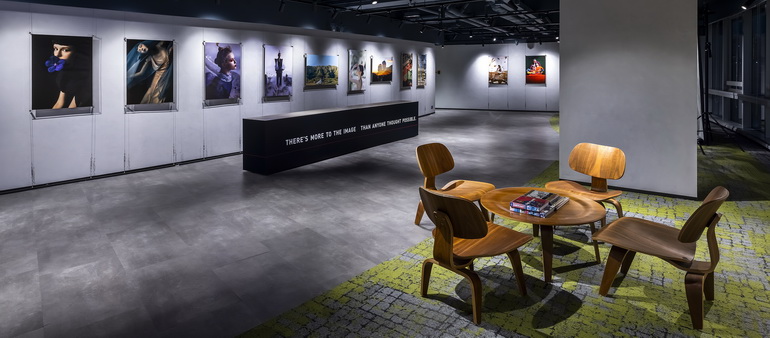 Creativity and Image Sharing Venue
THE SQUARE is a spacious multifunctional area. Photo exhibitions, workshops, photography and videography classes as well as virtual seminars co-organized by Canon and content creators of different categories will be held here. To tap into the opportunities of the new normal, the venue is also ready for scalable event to conduct live-streaming to expand the reach.
Professional Studio Service
This space can also be transformed into a professional studio for photo and video production, backing Canon's members[2] with one-stop support from venue, equipment to assistance. It is open for rental to photographers, videographers, small production houses or even novices wishing to take their imaging works to the next level, enabling them to conduct professional shooting with Canon's advanced imaging products and a range of lighting and studio equipment.
THE CLUB – The Zone for Ideas Exchange X Services

Integrated O2O Shopping Journey and Delightful Customer Services
The open space design of THE CLUB creates an inviting environment that facilitates interaction and ideas exchange. Whether it is picking up orders from Canon Online Store or seeking professional advice on product operation and settings, customers can be rest assured of a seamless, satisfying online-to-offline service journey.
From virtual to in-person, Canon is committed to providing high-quality pre-sales and after-sales services that meet the needs from all walks of life. From wide array of photography and videography courses, technical support, maintenance and repair, equipment rental services to production workflow advice, our friendly and experienced representatives at THE CLUB can always provide our visitors the best support available.
Leading in the New Normal
Living up to our motto of "Delighting You Always", Canon Image Square keeps up with the pace of the interactive era to continually spark creativity with our all-round imaging solutions and professional services, empowering customers to confront the new normal with confidence.
Canon Image Square:
Address: Unit 2003 & 2005-2009, Level 20, Tower I, Grand Century Place, 193 Prince Edward Road West, Mongkok, Kowloon
Opening Hours: Monday - Sunday 11:00am - 7:00pm (Close on Public Holidays)
Hotline: 3191 2333
[1]Service commencement date and details will be announced soon. Stay tuned.
[2]Including Club Canon members (via free registration), EOS-1 Club members, Canon Professional Services (CPS) members and Canon Creator Services (CCS) members.