Canon Hong Kong incorporate imaging expertise into
volunteer service "Funtography Workshop" for children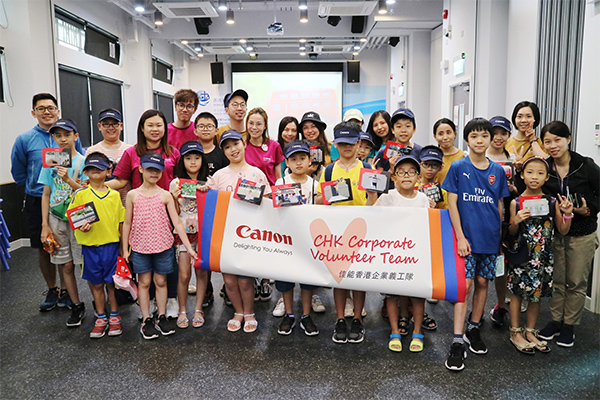 '
Apart from bringing convenience and enjoyment to life, Canon always believes that imaging products are also tools helping our next generation to unleash possibilities. Canon Hong Kong Corporate Volunteer Team developed the "Funtography workshop", aim to incorporate Canon's imaging expertise into our volunteer service. Through fun and interactive content named "Miniature Wonderland", participating children had a delightful afternoon, enjoyed creative fun through photo shoot and print.

Canon believed that every children has unbounded creativity. To stimulate children's ability, enjoyment is the key and it is then aim of "Funtography Workshop", mixture of photography, printing and creativity together. On 8 June, 13 CHK staff with family members and friends visited Kwun Tong Happy Teens Club to assist 17 children in creating Father's Day card using camera and printer. The activity started with basic photography skills class, each children then allocated one digital camera, taking portrait picture of themselves, print out and use as photo props to take more creative photos. In 3 hours' time, all children are encouraged to share their photos with each other, exchange concept of each photo and use the portrait picture to create a special Father's Day card.
About Canon Hongkong Corporate Volunteer Team
Canon Hong Kong Corporate Volunteer Team, established in January 2015, gathered enthusiastic employees who voluntarily devoted their leisure time into sending cares and happiness to different targets in the society through an array of social services. Throughout over 4 years, 75 active corporate volunteers and have served in 8 programmes each year on average, in which the beneficiaries include children with special education needs or disease, underprivileged families, elderly as well as the environment. Meanwhile, cohering to the CHK's CSR mission of "Empowering through Imaging" and by making use of the company's imaging expertise, the team will also proactively enrich the services by incorporating various photo shoot & print activities, so as to spread the fun of imaging.
Activity Highlights