Canon Officially Launches New Flagship Speedlite EL-1
Best Continuous Flash Performance in Class and Made for Professionals

HONG KONG, 25 FEB 2021 – Canon Hongkong today announces the new flagship Speedlite EL-1 is officially launched. It is the first-ever flash model to bear the iconic red line, a hallmark of professional 'L-series' lens with high quality, performance and durability of the brand. Designed to meet the needs of professional photographers, it features a class-leading continuous flash performance of 160 or more continuous flashes[1] with the use of the new highly durable xenon flash tube and new active cooling system that effectively suppress temperature increase, so that photographers do not need to worry about their shooting will be interrupted due to overheating. Powered by a new lithium-ion battery LP-EL with a new charging circuit design, the Speedlite EL-1 achieves super high-speed charging performance that allows firing at high frequency. It will empower event, wedding, sports photographers and photojournalists, to capture those crucial moments.
The new Battery Pack LP-EL supports a stunning 335 flashes at full power. Besides, Speedlite EL-1 newly supports second curtain sync when firing wirelessly through radio transmission[2] [3]. It also offers great flexibility in terms of output control, with the newly added 14-stops of manual flash output that provides micro flash output of as low as 1/8192[3] for subtle lighting control that helps achieve the most nuance of light difference than all current Speedlites can ever provide. Under the dim light condition where high ISO sensitivity shooting is necessary, the Speedlite EL-1 is able to illuminate the subject with extremely low flash output so as to deliver a natural flash effect.
High Performance and New Power System
Best Continuous Flash Performance in Class
With a powerful output, the Speedlite EL-1 has a competitive Guide Number of GN 60 (m/ISO 100), to illuminate even distant subjects. Leveraging a new high durability xenon tube and an active cooling system with a blower fan, Speedlite EL-1 achieves the highest continuous flash performance of any Canon Speedlite, up to 160 continuous full power flashes[1] in a burst without overheating.
0.9s Recharge Speed for High-speed Continuous Shooting
The Speedlite EL-1 achieves a consistently powerful flash ensuring photographers can capture the crucial moment effortlessly. Attributed to a new efficient charging circuit powered by the new lithium-ion Battery Pack LP-EL, high-speed flash charging only takes 0.1 to 0.9 seconds[5]. Powerful flash is offered during high-speed continuous shooting and it even ensures high-speed recycling even when the battery is low.
3 Times of Flash Offered VS Previous Models
The high capacity Battery Pack LP-EL also makes Speedlite EL-1 suitable for prolong shooting as it supports approximately 335 to 2345 flashes per charge[6], which is 3 times plus compared to previous models, such as Speedlite 600EX II-RT, which is powered by AA-type batteries. Thanks to the battery level indicator provided by the new Battery Pack LP-EL, users are able to gain better control over the timing to replace the flash's battery, essentially making onsite shooting workflow a smoother process.
Enhanced Flexibility and Control
The Speedlite EL-1 adopts a new xenon flash tube that provides improved durability as well as output accuracy and consistency. It offers a new 14-stop manual output with minimum 1/8192 micro flash[2]. This function is particularly suitable for low light portrait photography with the use of high ISO sensitivity where only a small amount of light is needed to balance the exposure of subject and the ambient. It is also the first Canon Speedlite equipped with two-colour LED modelling lamps which provide 5-level of brightness and color temperature adjustment, it allows photographers to simulate the lighting before shooting. It is also possible to connect the Speedlite EL-1 to up to 15 other flashes for studio levels of performance by the integrated 2.4GHz radio transmission wireless flash functions[7] with a transmission distance up to approx. 30m.
Speedlite EL-1 also newly supports second-curtain sync with the radio transmission wireless function[2] [3], and brings greater artistic expression to the application of off camera flash when it is used with other RT series Speedlites or another Speedlite EL-1. Using the Flash Exposure (FE) memory feature, the Speedlite EL-1 can store the last E-TTL flash shot settings, allowing the photographer to switch to Manual Flash mode to make minor adjustments on top for a quick, easy and consistent set up.
Intuitive Design, Simple Operation
Designed to match the performance of flagship and advanced cameras such as the EOS-1D X Mark III and EOS R5, the Speedlite EL-1 has a new user-friendly interface with a joystick and dial, enabling photographers to effortlessly navigate across the menu more intuitively and change settings quickly. The user interface is also enhanced by the use of large and high-resolution reflective memory LCD panel that is easy to read even under bright sunlight. The LCD panel features a "white text on a black background" display and a backlight so that it is easy to read, even in low light condition. More flexible bounce movement is possible with 120 degrees of tilt, making it simple to bounce the flash and soften the light. Alongside the supplied "Bounce Adapter SBA-EL" are two Colour Filters "SCF-ELOR1" and "SCF-ELOR2", which can be attached to Speedlite EL-1 to optimize color temperature to match tungsten environment and the White Balance will automatically be adjusted.
Reliable and Robust Build
Built to withstand challenging weather conditions such as heavy rain, the Speedlite EL-1 employs similar dust and water resistant sealing to Canon's EOS-1D series cameras[8]. Speedlite EL-1 also retains quick locking mechanism from professional Speedlite series, hot shoe and contact reliability is further enhanced - a dust-wipe mechanism can remove dust and dirt stuck to the hot shoe contact, while a variable contact pressure design can improve transmission reliability by varying the pressure at the contacts, enabling the camera and flash contacts to remain firmly in touch while preventing scratches on the hot shoe, making it easier to attach and remove the Speedlite. The Speedlite will also implement 2-line transmission for important signals. With the backup contacts, transmission accuracy is further guaranteed.
Suggested Retail Price
The new Speedlite EL-1 is now available for sale with a suggested retail price HK$8,980.
Model
Suggested Retail Price

Speedlite EL-1 bundled accessories:

Battery Pack LP-EL
Battery Charger LC-E6E
Stand for EL-1
Color Filter SCF-ELOR1 (Light Orange)
Color Filter SCF-ELOR2 (Dark Orange)
Bounce Adapter SBA-EL
Soft case

HK$8,980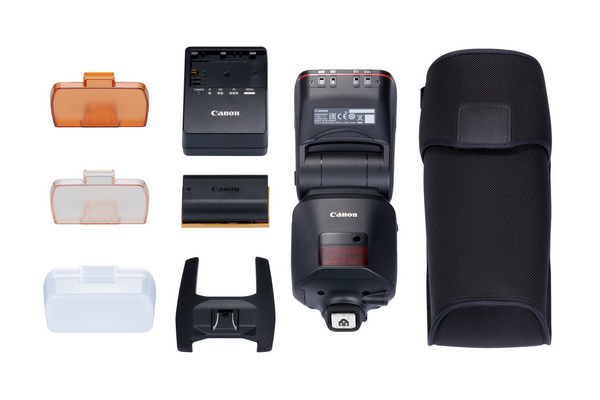 The accessories for Speedlite EL-1 and their suggested retail prices are as follows:
| | |
| --- | --- |
| Model | Suggested Retail Price |
| Battery Pack LP-EL | HK$1,080 |
| Color Filter Set SCF-EL | HK$180 |
| Bounce Adapter SBA-EL | HK$180 |
| Compact Battery Pack CP-E4N | HK$1,780 |
[1] The number of continuous flashes before reaching the flash firing restriction level 1 (due to temperature increase) at 1/1 full power and fan is ON. Based on Canon's measurement conditions.
[2] Requires Speedlite EL-1 or Speedlite Transmitter ST-E3-RT (Ver.2) as "sender" and Speedlite EL-1、600EX II-RT、600EX-RT and 430EX III-RT as "receivers".
[3] Compatible with EOS cameras that support wireless second-curtain flash sync, including EOS-1D X Mark III、EOS R5、EOS R6 and EOS M50 Mark II (Firmware update for camera is needed to support Speedlite EL-1), as of February 2021.
[4] Notes for wireless flash photography: when radio transmission wireless function is used, in order to accurately use a flash output smaller than 1/128, it is necessary to use the Speedlite EL-1 for both the sender and receiver. The minimum flash output for optical transmission wireless function and high-speed sync may become 1/128.
[5] 1/8192 to 1/1 power charging time required for firing.
[6] Number of flashes for 1/1 and 1/8192 output respectively.
[7] Compatible with Speedlite EL-1/600EX II-RT/600EX-RT/430EX III-RT/Macro Twin Lite MT-26EX-RT(as "Sender" only)/Speedlite Transmitter ST-E3-RT (as "Sender" only).
[8] With EOS-1D X Mark III/EOS-1D X Mark II/EOS-1D X/EOS-1D Mark IV/EOS-1Ds Mark III/EOS-1D Mark III. Not recommended to use in the rain.
About Canon Hongkong Company Limited
Canon Inc. (TSE:7751 / NYSE:CAJ) was founded in 1937 in Japan. Its predecessor, Precision Optical Instruments Laboratory, produced Japan's first 35 mm focal-plane-shutter camera "Kwanon" in 1934. Canon Inc. eventually expanded into the photocopying and printing industries, launching Japan's first plain-paper copier NP-1100 in 1970 and the world's first inkjet printer BJ-80 in 1985. Through the years, Canon Inc. has acquired in-depth experience in digital imaging product manufacturing, and research and development. It is a leader in the development of innovative products and holds the most technology patents in the imaging industry. Canon Inc. also makes a significant contribution to the promotion of photography. Today, Canon Inc. has a strong global presence and is one of the most important market players in the imaging, office and industrial product categories. As of 31 December 2019, Canon's global revenue was US$32.7 billion.
One of the company's first offices in Asia, Canon Hongkong Co., Ltd. (Canon HK) was established in 1971. It is responsible for the sales, marketing and after-sales services for all Canon product lines in Hong Kong and Macau. With the solely owned subsidiary Canon Business Solutions (Guangdong) Co., Ltd." established in 2018, the company can also provide intelligent total business solutions and professional services to companies in the Greater Bay Area. Canon HK adheres to Canon's corporate philosophy of "kyosei", which encourages the company and its staff to participate in social, charitable and environmental activities in the community. Canon HK implements internationally-recognized management systems and has achieved ISO 9001, ISO 14001, ISO 27001 (Canon Digital Production Center) and OHSAS 18001 certification. For more information about Canon Hongkong, please visit our website: https://hk.canon/.