Canon Officially Launches the New EOS R5
The High Resolution and High Speed 8K Full-Frame Mirrorless Camera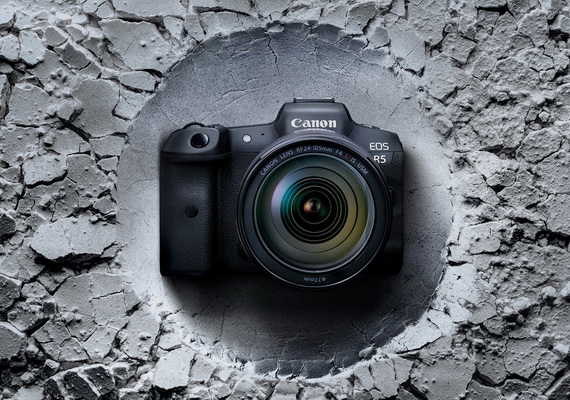 HONG KONG, 30 JULY 2020 — Canon Hongkong announces that the new EOS R5 is available for sale from now on. The EOS R5 is a high resolution and high speed 8K full-frame mirrorless camera designed for professional photo and video applications with key features such as the new 45MP full-frame CMOS sensor, revolutionary 8K video recording capability, advanced Dual Pixel CMOS AF II system and the world's best Image Stabilization [1] with up to 8-stop of shake compensation [2]. The addition of the EOS R5 to EOS R system further solidifies Canon's commitment to providing the equipment needed for professional photographers, videographers and advanced amateurs and brings their landscape, portrait, wedding, commercial photography and video production to the next level.

High Resolution and High Speed Imaging System with World's Best Image Stabilization [1]

EOS R5 features a newly developed 45.0-megapixel Canon full-frame CMOS image sensor with the highest resolution best ever in EOS cameras [3]. It can capture stunning photos with phenomenal image quality and details which are suitable for landscape photography, commercial photography and big prints. The latest DIGIC X digital image processor also provides extremely high imaging processing power with up to 6.1x image processing performance of EOS R.

EOS R5 is also capable to capture split-second of moments with the incredible continuous shooting speed of 20 FPS with completely silent electronic shutter [4] and 12 FPS with mechanical shutter [5] respectively. It can also shoot up to approx. 180 RAW images [6] per burst. It is ideal for dynamic action photography. The EOS R5 is also Canon's first camera to incorporate In-Body Image Stabilization and provide the world's best image stabilization 1 with up to 8-stop shake compensation 2. The In-Body Image Stabilizer provides 5-axis stabilization for photo and video shooting and coordinates with RF Lenses to enable more effective stabilization.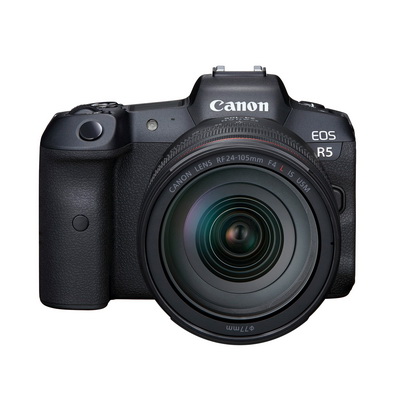 More features on Imaging System:
Standard ISO range 100-51200, expandable to ISO 50-102400
Supports HDR PQ shooting and 10-bit HEIF recording format with 4 times greater gradation and wide color range compared to JPEG
Supports 1.6x cropped (Approx. 17.3MP) shooting for both still photo and movie shooting when RF or EF lenses are used. When EF-S lenses are used, 1.6x cropped shooting will be enabled automatically
New image processing enables sharpening with greater sense of high-frequency resolution while keeping noise lower
Built-in "Digital Lens Optimizer" (DLO) and new "Clarity" setting to output high quality and ready-to-use JPEG images with renowned Canon colors
Supports Dual Pixel RAW for "Image Microadjustment", "Bokeh Shift" and "Ghosting Reduction" in DPP. New image post-adjustments are added to Dual Pixel RAW processing including "Portrait Relighting" which adjust lighting to simulate a change in the direction/intensity of the light source and "Background Clarity" which adjust the background clarity without changing the main subject clarity
Built-in Interval Timer, Bulb Timer, Multiple Exposure and HDR Shooting
"Focus Bracketing[7]"function is added to automatically shoot a series of photos with different focus positions for focus stacking in post-production
The Most Advanced EOS Autofocus Technology
EOS R5 is equipped with the new "Dual Pixel CMOS AF II" technology which provides up to 100% AF coverage area[8] and incredible 1,053 AF zones[9] for unprecedented freedom and high precision in AF operation. The new "EOS iTR AF X" [10] with advanced AF algorithm developed using Deep Learning technology, provides outstanding subject recognition and tracking capability. EOS R5 supports Head detection AF to precisely track human heads wearing sunglasses, a helmet or even taking a photo from behind. The new Animal detection AF also allows users to track animal subjects (such as dogs, cats and birds) by detecting the body, face or eye to make animal photography easy regardless of the animal's size, posture, or orientation of the face.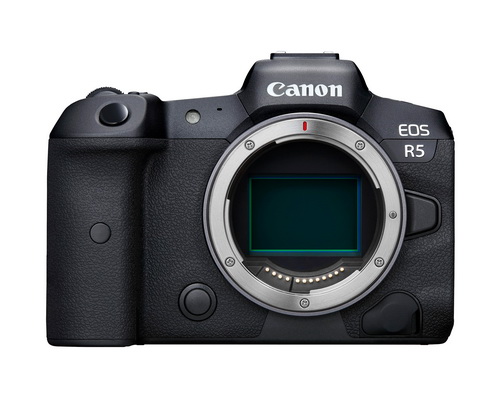 Additional features provided by new "Dual Pixel CMOS AF II" technology:
AF Coverage area up to 90% (H) x 100% (V) for Manual AF Selection
Minimum focusing brightness of EV -6 [11] for AF in nearly complete darkness environmentSpot-AF is added and total 8 AF Area Selection modes are provided
Ultra-fast AF speed of 0.05 sec [12] with improved AF responsiveness by faster search speed (supports 120 fps drive) and faster search direction detection
Supports AF even the lens' maximum aperture is f/22 (e.g. when Extender RF 2x is installed on RF 800mm f/11 IS STM)
​​​​
Additional features provided by new "EOS iTR AF X"[10] :
People recognition now detects subject's head, eye and face
Eye detection AF is also improved to detect subject's eye even at an oblique angle
​​​​​​​Features the same AF Tracking Algorithm and AF Configuration Tools as found in Flagship EOS-1D X Mark III
​​​​​​​Subject tracking operates up to 60 fps to enhance the tracking AF responsiveness
​​​​​​​User can customize a button to activate "Eye Detection AF" from any AF mode (such as Single-point AF)
​​​​​​​
​​​​​​​
​​​​​​​World's First 8K Full-frame Mirrorless Camera [13]
​​​​​​​EOS R5 is the world's first 8K full-frame mirrorless camera[13], offering revolutionary video recording performance up to 8K DCI 12-bit 30p[14] RAW internally. With 4x resolution of 4K, videographers can deliver stories with stunning quality and true-to-life resolution. For 4K video users, EOS R5 is also capable to provide class-leading 4K DCI/ UHD 120p[15] high frame rate and 60p video recording. For users who requires the absolute image quality, a 4K HQ mode is available to provide extra fine quality of 4K DCI/UHD 30p video by 8K oversampling process [16]. 10-bit Canon Log and 10-bit HDR PQ (Rec. ITU-R BT.2100(PQ)) H.265 are also available for those who required color grading in post-production.
​​​​​​​
​​​​​​​More Features on Movie Shooting:
​​​​​​​Simultaneous recording of 4K DCI proxy video to SD Card is available when recording 8K DCI RAW movie
​​​​​​​Approx. Super 35mm crop 4K DCI/UHD ALL-I or IPB movie up to 60p[17] utilizing 5K oversampling[18] are also provided
​​​​​​​Supports 24.00fps for 8K DCI, uncropped 4K DCI and cropped 4K DCI Movie

​​​​​​​Movie Servo AF is available in all movie formats
​​​​​​​"DAF Focus Guide" and "Peaking" functions are available to facilitate Manual Focus
​​​​​​​Zebra display is newly added to assist exposure adjustment before or during movie recording
​​​​​​​New [Movie rec. size] setting screen enables separate selection of the movie size, frame rate and compression method
​​​​​​​Built-in 8K UHD, 4K UHD and Full HD time-lapse movie (ALL-I) with HDR PQ support
​​​​​​​8K movie can be utilized as 30 FPS ultra-high-speed continuous shooting and 35.4-megapixel high resolution images can be extracted from 8K footage
​​​​​​​Headphone jack and external microphone jack are available
​​​​​​​Supports uncompressed 4K YCbCr 4:2:2 10-bit BT.2020 (up to 60p) HDMI output to external recorder via HDMI Type D (micro) Terminal; 4K HDR (Rec. ITU-R BT.2100(PQ)) HDMI output is also supported
​​​​​​​
​​​​​​​​​​​​​​
​​​​​​​Excellent Operability and Reliability
​​​​​​​EOS R5 features a high precision 0.5-inch 5.76M-dot (UXGA) OLED electronic viewfinder with approx. 100% coverage and 0.76x magnification, displaying a bright image and extensive shooting information in the electronic viewfinder. It also has a shorter display delay during continuous shooting and nearly instant EVF/monitor display switching to ensure a smooth operation during shooting. EOS R5 also features a 3.2-inch 2.1M-dot side-opening Vari-angle Clear View II LCD touch monitor to provide extensive flexibility to compose and shoot from any angle. When LCD Monitor is opened, viewfinder sensor can be disabled to prevent inadvertent display switching between EVF and LCD Monitor during operation. Designed to allow operating camera functions easily while looking through electronic viewfinder, Multi-Controller and Quick Control Dial as found in EOS 5D Mark IV are added to EOS R5 for faster AF point switching and setting adjustment. The camera responsiveness has also been greatly improved with super-fast 0.4 sec start-up time [19].
​​​​
More Features on Operability:
EVF offers a new "Smooth" option to enable up to 120 fps display frame rate for smoother image when tracking moving subjects
Four Color tone adjustments are available for both EVF (with additional fine adjustment) and LCD

Features a 128 x 128 dot-matrix reflective memory LCD top panel to provide essential shooting information
Option to display image review in LCD Monitor only is available to provide smooth EVF operation

Dual card slots accommodating CFexpress 1.0 Type B card and SD/SDHC/SDXC card (UHS-II)
Depth of View Preview button is added
Newly added Voice memo function for recording and appending voice memo to still photo after shooting as found in EOS-1D X Mark III
​​​​​​​Compatible with the new high-capacity battery LP-E6NH ; recharging battery and supplying power via USB is also supported [20]
​​​​​​​N3-type terminal is provided for remote accessories and Remote Control RC-6 is supported
​​​​​​​Built-in USB Type C (USB 3.2 Gen 2) terminal with high speed data transmission up to 10Gbps
​​​​​​​Selectable shutter curtain status (open or close) when camera power is turned off; user can choose to keep it open for complete silent operations
​​​​​​​High precision shutter unit with 500,000-cycle durability [21]
​​​​​​​Weights only 650g (Body Only) / 738g (With Battery and memory cards)
​​​​​​​Rigid and lightweight magnesium-alloy body with high level of dust and water resistance design [22]​​​​​​​

​​​​​​​More Features on Wireless:
​​​​​​​Build-in Wi-Fi functions include smartphone connection, EOS Utility connection, FTP transfer
​​​​​​​Built-in Bluetooth® low energy technology for easy Smartphone connection, GPS information acquisition [23] and Wireless Remote Control BR-E1
​​​​​​​Compatible with the new optional Wireless File Transmitter WFT-R10 for high-speed image data transmission through 802.11ac (5GHz) 2x2 MIMO standards
​​​​​​​
​​​​​​​​​​​​​​
​​​​​​​​​​​​​​
Suggested Retail Price
​​​​​​​The new EOS R5 body full-frame mirrorless camera and lens kit set are now available for sale. The suggested retail prices are as follows:
| | |
| --- | --- |
| Model | Suggested Retail Price |
| EOS R5 Body | HK$30,880 |
| EOS R5 w/ RF24-105mm f/4L USM Kit Set | HK$38,980 |

​​​​​​​Accessories for EOS R5 and their suggested retail prices are as follows:
​
| | |
| --- | --- |
| Model | Suggested Retail Price (HKD) |
| Battery Grip BG-R10 | $2,580 |
| Wireless File Transmitter WFT-R10A | $9,380 |
| Mount Adapter EF-EOS R | $880 |
| Control Ring Mount Adapter EF-EOS R | $1,680 |
| Drop-In Filter Mount Adapter EF-EOS R With C-PL Kit | $2,480 |
| Drop-In Filter Mount Adapter EF-EOS R With V-ND Kit | $3,280 |
| GPS Receiver GP-E2 | $2,180 |
| Directional Stereo Microphone DM-E1 | $2,400 |
| Stereo Microphone DM-E100 | $980 |
| Remote Controller RC-6 | $190 |
| Wireless Remote Controller BR-E1 | $310 |
| Remote Switch RS-80N3 | $430 |
| Timer Remote Controller TC-80N3 | $1,320 |
| Battery Pack LP-E6NH | $880 |
| Battery Pack LP-E6N | $660 |
| Battery Charger LC-E6E | $490 |
| AC Adapter AC-E6N | $680 |
| DC Coupler DR-E6 | $430 |
| USB Power Adapter PD-E1 | $1,580 |
| Interface Cable IFC-100U | $320 |
| Interface Cable IFC-400U | $420 |

​​​​​​​
​​​​​
​​​​​​​
​​​​​​
​​​​​​​
[1] Among all interchangeable lens digital cameras. As of July 9th, 2020 (researched by Canon).
[2] Based on the CIPA standard, yaw/pitch direction, 8.0 stops with RF 24-105mm f/4L IS USM at a focal distance of 105mm. Depending on the time of purchase, the lens firmware needs to be updated. EOS R5's IS performance is the same as that of EOS R6.
[3] Among all Canon's interchangeable lens digital cameras. As of July 9th 2020 (researched by Canon). According to the Canon standard. Checked in ISO12233 compliance CIPA resolution chart.
[4] When using electronic shutter, the camera shoots with 20FPS under any of the continuous drive mode setting.
​​​​​​​[5] When using RF lenses and some EF lenses. See Canon's website for a list of compatible lenses. Burst shooting speed using mechanical shutter varies in up to 3 stages, depending on the battery type, remaining battery charge, number of batteries, lens in use, temperature, setting of the built-in Wi-Fi (On/Off), and whether or not you are using a battery grip and WFT unit, DC coupler or USB power adapter. In addition to the above factors, the maximum burst shooting speed may decrease due to shutter speed, aperture, flash usage, flicker reduction processing, subject conditions, brightness (especially in a dark place)
​​​​​​​[6] Using a 325GB CFexpress card based on Canon testing standards. With mechanical shutter or electronic first-curtain shutter, shooting at 12 FPS.
[7] Recommended lenses: RF 35mm f/1.8 Macro IS STM, RF 50mm f/1.2L USM, RF 24-105mm f/4L IS USM, RF 28-70mm f/2L USM, EF 16-35mm f/4L IS USM, EF 24-70mm f/4L IS USM, EF 100mm f/2.8L Macro IS USM, EF 180mm f/3.5L Macro USM, EF-S 35mm f/2.8 Macro IS STM, EF-S 60mm f/2.8 Macro USM.
[8] When using with compatible lenses only. Compatible lenses include most RF lenses and most of the current EF lenses. When [Face + Tracking AF] is selected. Performance may vary depending on conditions. Lens compatibility information will be available on Canon website later.
​​​​​​​[9] When [Face + Tracking AF] is selected.
​​​​​​​[10] iTR: intelligent Tracking and Recognition​​​​​​
​​​​​​​[11] During still photo shooting, with an f/1.2 lens, Center AF point, One-Shot AF, at 23°C, ISO 100 (excepts RF 85mm f/1.2L USM DS).​​​​​​​
​​​​​​​[12] Based on the results of AF speed tests in accordance with CIPA guidelines (according to Canon survey). Results may vary depending on shooting conditions and lens in use. Relies on internal measurement method. Test conditions: Brightness at time of distance measurement: EV12 (regular temperature, ISO 100); Shooting mode: M; Lens in use: RF 24-105mm f/4L IS USM, with a focal distance of 24mm; Live-view mode: On (with manual shutter button operation); AF mode: Live single-point AF (central); AF operation: One-shot AF.​​​​​​​​​​​​​​
​​​​​​[13] Among all interchangeable lens digital cameras. As of July 9th, 2020 (researched by Canon).
​​​​​​​[14] 8K movie recording (RAW, DCI, UHD) has restriction on possible recording time due to camera internal temperature rise. Max possible recording time is approx. 20min. (at room temperature).
​​​​​​​[15] High Frame Rate Movie is not possible with "Movie Cropping". Maximum recording time is 7 min 29 sec. Sound is not recorded.
​​​​​​​[16] 4K HQ mode is available to non-cropped 4K DCI 29.97p/25.00p/24.00p/23.98p and non-cropped 4K UHD 29.97p/25.00p/23.98p movie formats​​​​​​​
​​​​​[17] Cropped 4K 60p movie recording (DCI, UHD) has restriction on possible recording time due to camera internal temperature rise. Max possible recording time is approx. 25min. (at room temperature).
​​​​​​​[18] Cropped 4K DCI movie by 5.1k oversampling; cropped 4K UHD movie by 4.8K oversampling.
​​​​​[19] Based on CIPA testing standards.
​​​​​​[20] Battery charging is compatible with Battery Pack LP-E6NH and LP-E6N only. Charging is not possible when LP-E6 is loaded. Batteries cannot be charged unless the battery level is below 94%. USB Power Adapter PD-E1 is recommended for battery charging and power supply.
​​​​​​​[21] Based on Canon testing standards. Shutter durability may vary depending on usage and environmental conditions.
​​​​​​​[22] Although the camera features dust- and-water-resistance design, this cannot completely prevent dust or water droplets from entering the camera. It is not recommended for use under rain.
​​​​​​[23] Pairing of the camera and smart device is required for the first time. In some cases, an iOS smart device may require operation from the device side. Both camera and smart device have to be within a certain distance when the Camera Connect App is active. In remote shooting and Image viewing mode, it will switch from Bluetooth to Wi-Fi connection. For Android, Android 5.0 (or later) and Bluetooth 4.0 (or later) are required. For iOS, Bluetooth 4.0 (or later) is required (iPhone 4s or later, iPad 3rd generation or later, iPod touch 5th generation or later). Some devices that fulfil the mentioned requirements may not be able to connect via Bluetooth, however Image transfer and other remote operations will still be possible through Wi-Fi connectivity.
​​​​​​​


About Canon Hongkong Company Limited
Canon Inc. (TSE:7751 / NYSE:CAJ) was founded in 1937 in Japan. Its predecessor, Precision Optical Instruments Laboratory, produced Japan's first 35 mm focal-plane-shutter camera "Kwanon" in 1934. Canon Inc. eventually expanded into the photocopying and printing industries, launching Japan's first plain-paper copier NP-1100 in 1970 and the world's first inkjet printer BJ-80 in 1985. Through the years, Canon Inc. has acquired in-depth experience in digital imaging product manufacturing, and research and development. It is a leader in the development of innovative products and holds the most technology patents in the imaging industry. Canon Inc. also makes a significant contribution to the promotion of photography. Today, Canon Inc. has a strong global presence and is one of the most important market players in the imaging, office and industrial product categories. As of 31 December 2019, Canon's global revenue was US$32.7 billion.
​​​​​​​
​​​​​​​One of the company's first offices in Asia, Canon Hongkong Co., Ltd. (Canon HK) was established in 1971. It is responsible for the sales, marketing and after-sales services for all Canon product lines in Hong Kong and Macau. With the solely owned subsidiary Canon Business Solutions (Guangdong) Co., Ltd." established in 2018, the company can also provide intelligent total business solutions and professional services to companies in the Greater Bay Area. Canon HK adheres to Canon's corporate philosophy of "kyosei", which encourages the company and its staff to participate in social, charitable and environmental activities in the community. Canon HK implements internationally-recognized management systems and has achieved ISO 9001, ISO 14001, ISO 27001 (Canon Digital Production Center) and OHSAS 18001 certification.For more information about Canon Hongkong, please visit our website: https://hk.canon/.