Canon's Sustainability Efforts Rewarded with
Top 5% Gold Rating from France-based International Agency EcoVadis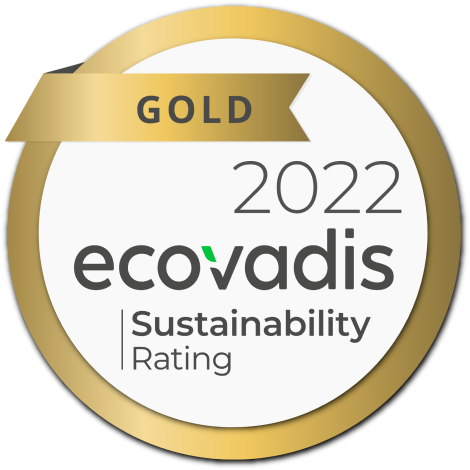 HONG KONG, June 30, 2022 – Canon announced today that the company has been awarded the Gold rating for its sustainability efforts by France-based international environmental organization EcoVadis. The award places Canon within the top 5% of companies globally.
EcoVadis assesses various criteria across the four themes of "Environment," "Labor & Human Rights," "Ethics " and "Sustainable Procurement." As worldwide scrutiny of corporate sustainability efforts increases, companies around the world now take into consideration the EcoVadis rating of potential clients and partners.
The 2022 survey evaluated over 90,000 companies from 200 industries spanning 160 countries, with the Canon Group receiving especially high marks in the areas of "Environment" and "Sustainable Procurement." What's more, this is the seventh year in which the Canon Group has received the Gold rating.
Going forward, Canon will strive to help achieve a sustainable society through all of its corporate activities.
Canon's initiatives for sustainability
Canon has been leading efforts to address environmental and social issues.
Canon has been working to reduce CO2 emissions throughout the product lifecycle encompassing the supply chain with the aim of achieving net zero emissions by 2050. This improvement is attributable to our having undertaken various environmental activities that include developing smaller and lighter products, streamlining logistics operations engaging in energy-saving initiatives at production sites, developing products that are energy-saving during use, and recycling products.
Moreover, Canon is committed to strengthening its initiatives to protect the dignity and rights of people and fulfilling its corporate social responsibility within the supply chain and honoring its RBA Code of Conduct1 as a member of the Responsible Business Alliance (RBA), an industry coalition dedicated to ensuring socially responsible global supply chains.
For more information, please refer to the Sustainability page of Canon's global website, as well as the Canon Sustainability Report 2022: https://global.canon/en/csr/report/
1 Establishes standards to ensure that working conditions and supply chains are safe, that workers are treated with respect and dignity, and that business operations are environmentally responsible and conducted ethically.
---
About Canon Hongkong Company Limited
Canon Inc. (TSE:7751 / NYSE:CAJ) was founded in 1937 in Japan. Its predecessor, Precision Optical Instruments Laboratory, produced Japan's first 35 mm focal-plane-shutter camera "Kwanon" in 1934. From there, Canon Inc. expanded into the photocopying and printing industries, launching Japan's first plain-paper copier NP-1100 in 1970 and the world's first inkjet printer BJ-80 in 1985. Through the years, Canon Inc. has acquired in-depth experience in digital imaging product manufacturing, research and development. Pioneering in innovative products development, Canon Inc. hold the most technology patents in the imaging industry. Canon Inc. also makes significant contribution to promote photography. Today, Canon Inc. has a strong global presence, representing one of the most important market players in the imaging, office and industrial product categories. As of 31 December 2021, Canon's global revenue was US$30.55 billion.
In 1971, Canon Hongkong Co., Ltd. (Canon Hong Kong) was established as one of the first Canon offices in Asia. Canon Hong Kong is a Total Imaging Solution provider, providing professional pre-sales, marketing and after-sales services for all Canon products and solutions in Hong Kong and Macau. With the solely owned subsidiary Canon Business Solutions (Guangdong) Co., Ltd. established in 2018, the company continues to deliver intelligent total business solutions and professional services to Greater Bay Area. Canon Hong Kong adheres to Canon's corporate philosophy of "Kyosei", encouraging the company and staff to engage social, charitable and environmental activities for the community. Implementing internationally-recognized management system, Canon Hong Kong has achieved ISO 9001, ISO 14001, ISO 45001 and ISO 27001 (Canon Digital Production Center) certifications.
For more information about Canon Hong Kong, please visit our website: https://hk.canon.