Canon's EOS R3 wins highest-level Grand Award at DFA Design for Asia Awards 2022, the first full-frame mirrorless camera to receive the prize in the history of the DFA Awards

Hong Kong, November 1, 2022—Canon Inc. announced today that the company's EOS R3 was recognized for design excellence by the Hong Kong Design Centre, winning the Grand Award at the DFA Design for Asia Awards 2022.
The EOS R3 is a full-frame mirrorless camera that delivers the high performance and reliability demanded by professional and enthusiast users. In addition to high-speed continuous shooting and high image quality, the EOS R3 features autofocus (AF) with superb subject tracking, high speed, high precision and wide detection area, thus providing a comfortable shooting experience. What's more, it is the first Canon digital camera to feature Eye control AF[1] for stills shooting, which allows users to operate the AF system by moving their eyes, thus making it easier to switch between subjects.
Boasting a smooth design, the EOS R3 is equipped with an integrated vertical grip and an approximately 4.15 million dot high-resolution vari-angle LCD screen. The camera also features intuitive operability, including well-placed operation buttons that enable users to hold it any way they like, all while still being able to use operate the camera using their thumb in the same way, in order to get just the right shot. With the adoption of a magnesium-alloy coating, the EOS R3 realizes both high durability and light weight, making it ideal for a wide variety of use cases such as sports, animal and nature photography.
Canon has participated in the DFA Design for Asia Awards since 2013, having thus far won awards for such products as its Cinema EOS System professional cinematography equipment, video camcorders, cameras and interchangeable lenses. This year marks Canon's 9th time receiving a prize, and the first time winning the Grand Award. Encouraged by this latest industry recognition, Canon will continue striving to create products that combine the highest levels of performance and design excellence.
About the DFA Design for Asia Awards
Launched in 2003 and organized by the Hong Kong Design Centre, the DFA Design for Asia Awards as one of the five programmes of "DFA Awards", has honored product designs that focus on sustainability and higher quality of life for people in the Asian market, which comprises half of the global population. The awards aim to increase the presence of such designs among the international business community as well as consumers throughout the region.

[1]Calibration before use is recommended. Eye-control AF may not be useable based on factors including: when wearing sunglasses, mirror sunglasses, hard contact lenses or bifocal glasses, certain individual physiological differences in users' eyes including narrow eye shape, long eyelashes and thicker eyelids, and conditions relating to usage environment.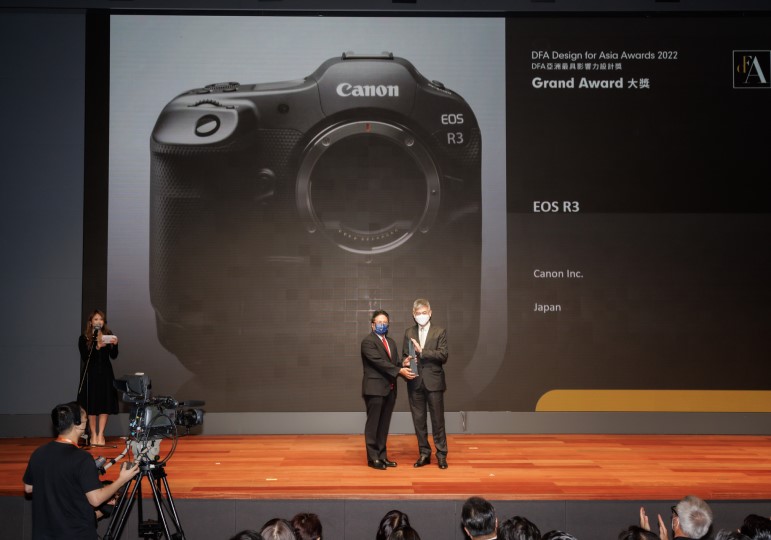 About Canon Hongkong Company Limited
Canon Inc. (TSE:7751 / NYSE:CAJ) was founded in 1937 in Japan. Its predecessor, Precision Optical Instruments Laboratory, produced Japan's first 35 mm focal-plane-shutter camera "Kwanon" in 1934. From there, Canon Inc. expanded into the photocopying and printing industries, launching Japan's first plain-paper copier NP-1100 in 1970 and the world's first inkjet printer BJ-80 in 1985. Through the years, Canon Inc. has acquired in-depth experience in digital imaging product manufacturing, research and development. Pioneering in innovative products development, Canon Inc. hold the most technology patents in the imaging industry. Canon Inc. also makes significant contribution to promote photography. Today, Canon Inc. has a strong global presence, representing one of the most important market players in the imaging, office and industrial product categories. As of 31 December 2021, Canon's global revenue was US$30.55 billion.
In 1971, Canon Hongkong Co., Ltd. (Canon Hong Kong) was established as one of the first Canon offices in Asia. Canon Hong Kong is a Total Imaging Solution provider, providing professional pre-sales, marketing and after-sales services for all Canon products and solutions in Hong Kong and Macau. With the solely owned subsidiary Canon Business Solutions (Guangdong) Co., Ltd. established in 2018, the company continues to deliver intelligent total business solutions and professional services to Greater Bay Area. Canon Hong Kong adheres to Canon's corporate philosophy of "Kyosei", encouraging the company and staff to engage social, charitable and environmental activities for the community. Implementing internationally-recognized management system, Canon Hong Kong has achieved ISO 9001, ISO 14001, ISO 45001 and ISO 27001 (Canon Digital Production Center) certifications. For more information about Canon Hong Kong, please visit our website: https://hk.canon.