Canon's Cinema EOS System Celebrated 10-year Anniversary
HONG KONG, 4th November 2021 — Canon announces today that the company is celebrating the tenth anniversary of its Cinema EOS System of professional digital cinema camera and lens products for the film and visual production industries. Since its debut, the company's line of products has received an abundance of support from professional filmmakers around the world.
In 2011, both film-analog and digital equipment were being used side-by-side in the cinema production industry. Digitalization was continuing its spread and digital cameras equipped with Super 35mm equivalent large-format sensors were becoming the mainstay of the industry. Amid this environment, Canon leveraged its visual technologies, including the optical technologies cultivated since its founding, and launched its Cinema EOS System, thus formally marking its entry into the cinema production industry.
When developing such equipment as cameras and lenses for the cinema production market, it's essential to have assistance from professionals in the field who use the equipment. From the release of its first digital cinema cameras (EOS C300 / EOS C300 PL) and lenses (CN-E14.5-60mm T 2.6 L S / CN-E14.5-60mm T 2.6 L SP) in January 2012, Canon has always sought out feedback about performance, ease-of-use and recording styles from experts on the front lines of cinema production. The company has always strived to develop products with designs and intuitive ergonomics that enable the shooting styles and visual expression demanded by professionals.
Ever since, Canon has continued to expand the boundaries of visual expression and pursue the development of devices with ever-evolving technology. The company's first Cinema EOS camera, the EOS C300, which is equipped with a CMOS sensor that realizes video reproduction comparable to 35mm film, was awarded a Technology and Engineering Emmy® award from The National Academy of Television Arts & Sciences (NATAS) in 2012. What's more, the company has been honored for its cinema lenses, having received another Technology and Engineering Emmy® award in 2017 for its 4K cinema lenses that have earned high praise from the market for its excellent optical performance.
Canon's Cinema EOS System is widely used in the modern cinema production industry, including in film and television production. The EOS C300 Mark II (released in September 2015) digital cinema camera and eight cinema lenses were used in the filming of the 2018 Academy Award-winning documentary Free Solo. The System was also honored at the Sundance Film Festival in January 2020, where the winner of the World Cinema Documentary Special Jury Award for Cinematography, ACASĂ, MY HOME, was filmed with the EOS C300 and EOS C100 Mark II (released in December 2014).
The Cinema EOS System product lineup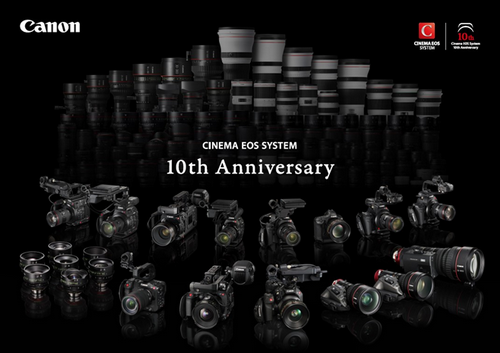 Launched in 2011, Canon's Cinema EOS System leverages the company's strengths—including the ability to develop and manufacture in-house such key devices as CMOS sensors, visual processing platform, and interchangeable lenses. Today, the System's expansive lineup comprises 13 digital cinema cameras and 30 cinema lenses[1]. In addition to digital cinema cameras and lenses, the System is compatible with the company's EOS Series RF and EF lenses, thus helping to support a diverse range of visual expression for creators everywhere.
[1] As of November 4, 2021. Cinema lens count excludes the EF-EOS R 0.71X mount adapter.
About Canon Hongkong Company Limited
Canon Inc. (TSE:7751 / NYSE:CAJ) was founded in 1937 in Japan. Its predecessor, Precision Optical Instruments Laboratory, produced Japan's first 35 mm focal-plane-shutter camera "Kwanon" in 1934. Canon Inc. eventually expanded into the photocopying and printing industries, launching Japan's first plain-paper copier NP-1100 in 1970 and the world's first inkjet printer BJ-80 in 1985. Through the years, Canon Inc. has acquired in-depth experience in digital imaging product manufacturing, and research and development. It is a leader in the development of innovative products and holds the most technology patents in the imaging industry. Canon Inc. also makes a significant contribution to the promotion of photography. Today, Canon Inc. has a strong global presence and is one of the most important market players in the imaging, office and industrial product categories. As of 31 December 2020, Canon's global revenue was US$30.38 billion.
One of the company's first offices in Asia, Canon Hongkong Co., Ltd. (Canon HK) was established in 1971. It is a Total Imaging Solution provider, to provide professional pre-sales, marketing and after-sales services for all Canon products and solutions in Hong Kong and Macau. With the solely owned subsidiary Canon Business Solutions (Guangdong) Co., Ltd. established in 2018, the company also provides intelligent total business solutions and professional services to companies in the Greater Bay Area. Canon HK adheres to Canon's corporate philosophy of "kyosei", which encourages the company and its staff to participate in social, charitable and environmental activities in the community. Canon HK implements internationally-recognized management systems and has achieved ISO 9001, ISO 14001, ISO 45001 and ISO 27001 (Canon Digital Production Center) certifications.
For more information about Canon Hongkong, please visit our website: https://hk.canon/.