Canon New EOS M50 Digital Camera
Combining New-Generation DIGIC 8 Digital Imaging Processor, Eye Detection AF,
UHD 4K Movie Shooting, Side-Opening Vari-Angle Monitor in a Compact Body
to Meet the Needs of High-Quality VLOG Shooting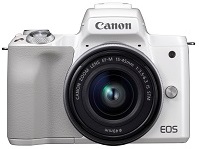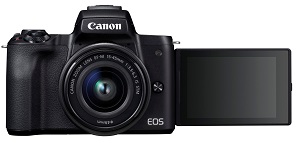 Canon today announces the new EOS M50 digital interchangeable lens camera which will be made available for sale on 26th March. Infusing a host of brand new technologies first seen in EOS including the new-generation DIGIC 8 digital imaging processor, an improved "Dual Pixel CMOS AF" with substantial enhancement in AF area, number of AF points and performance, a new Eye Detection AF that ensures precise focus for portraits, a new Silent Mode for completely silent shooting and next-generation CR3 RAW format into a compact body featuring a side-opening vari-angle LCD monitor and a built-in electronic viewfinder for flexible control, coupled with the support of UHD 4K movie shooting for the first time in an EOS M camera, EOS M50 takes both photo and video shooting experience to the next level. In addition, Wi-Fi/NFC/Bluetooth wireless connectivity and various wireless operations including the newly added "Transfer images to smartphones when shooting" function make EOS M50 perfect for high-quality VLOG (Video-Blog) shooting, enabling users to capture creative, attention-grabbing and high-quality images effortlessly when vlogging on the move.
New DIGIC 8 Digital Imaging Processor to unleash greater, more responsive shooting power
EOS M50 incorporates a Canon-developed 24.1-megapixel APS-C type CMOS Sensor matched with the new-generation DIGIC 8 digital imaging processor to offer vivid and delicate images. Thanks to DIGIC 8, Auto Lighting Optimizer (ALO) and Highlight Tone Priority performance are improved, realizing images with enriched gradation in bright areas and reduced highlight blowout. The camera also supports all the latest lens correction functions including Peripheral Illumination correction, Distortion correction, Chromatic Aberration correction and Diffraction correction, and all supported lens correction data are incorporated1 . In-camera Digital Lens Optimizer (DLO) in par with high-end EOS DSLR cameras which improves JPEG image quality by correcting the influence from lens aberrations, diffraction and low-pass filter is also included for the first time in an EOS M camera.

Furthermore, DIGIC 8 opens up a series of new functions for the camera including UHD 4K movie shooting, an improved "Dual Pixel CMOS AF" and powerful image functions. Supporting a wide standard ISO range of ISO 100-25600 and expandable to ISO 51200 (H), as well as high-speed continuous shooting of up to approximately 10FPS (One-Shot AF) or 7.4FPS (SERVO AF), the camera offers low-noise image shooting and responsive performance to meet the needs of shooting in different scenarios and subjects, from traveling, pets, sports to nightscape.
Improved "Dual Pixel CMOS AF" and New Eye Detection AF for precise portraits
By employing a revolutionary CMOS sensor on which all effective pixels are able to perform both image capturing and phase-difference AF, Canon's proprietary "Dual Pixel CMOS AF" (DAF) technology has been highly praised for its fast and accurate focusing performance. Thanks to the new and powerful DIGIC 8, the DAF performance of EOS M50 is taken to new height with significant improvement on precision, speed and control. When used with compatible lenses2 , AF area is substantially expanded from the previous 80% (Vertical) x 80% (Horizontal) to approximately 100% (Vertical) x 88% (Horizontal), while the number of AF points in [Face+Tracking AF] has also been increased from 49 points on EOS M5 to maximum 99 points3 or 143 points2, bringing greater framing flexibility. The new Eye Detection AF 4 added for the first time in the series can ensure precise focus on the subject's eye. When used with a large aperture EF lens, sharp and impressive portraits can be taken with ease. The camera also features an improved AF metering range down to EV-2, ensuring easy focusing even in low-light environment.

Another enhancement brought by the incorporation of DIGIC 8 is the camera's Servo AF tracking precision. In addition to 2-Dimension information, the camera now also utilizes the depth information between the tracking subject and background to achieve even better AF tracking performance for similar moving subjects or subjects with similar colors to the background.
First EOS M with Side-opening Vari-angle LCD monitor and UHD 4K Movie Shooting for handy vlogging
EOS M50 is the first EOS M camera to feature a side-opening LCD monitor. The 3-inch 1.04M-dot vari-angle LCD monitor with touchscreen function brings even higher levels of framing flexibility and control. Not only convenient for self-portraits or high angle shooting, the monitor also makes it easy to shoot from a low angle with a vertical camera. With a touch on the LCD monitor, users can select the subject to focus and shoot, adjust settings from the menu or zoom in or out to view an image during playback. In addition to the built-in stereo microphone, the camera also features an external microphone jack that supports Directional Stereo Microphone DM-E1 for easy creation of high-quality vlogs with both fabulous sound and visual. The side-opening design of the monitor will not block the installation of the external microphone on the top of the camera.

In addition to Full HD 50p/59.94p movie, a format commonly used in vlogging, EOS M50 also supports UHD 4K movie shooting5 in 3840 x 2160 resolution and at frame rates of 25p or 23.98p. Recording at 120Mbps bit-rate in MP4 format, a 1-minute 4K movie is only about 900MB in size, with longest recording time being 29 minutes 59 seconds or until the capacity of the memory card is reached. The support of "4K Frame Grab" function which extracts a selected frame in-camera as a 8.3-megapixel JPEG image from 4K footage6 can ensure easy capture of important moments in both movies and high-quality images. To meet the needs of shooting with different subjects and topics, EOS M50 also features HD 100p/119.9p "High Frame Rate" movie7for easy creation of impressive slow-motion movies that capture dynamic movement or exciting action at 0.25x speed. The ability for full manual control of focus and exposure guarantees desired movie results. 4K and Full HD Time-lapse movie function 8 is also added, enabling easy capture of stunning day-to-night cityscape time-lapse movies in ultra-high 4K resolution through selection of pre-set scenes or simple manual settings. Furthermore, EOS M50 incorporates a "Combination IS" 9 that enables digital 5-axis IS for enhanced movie shooting stability. Through collaboration of the in-lens 2-axis IS technology and the in-body digital 5-axis IS technology, this can ensure steady and smooth movies in scenes where camera shake is obvious, such as shooting while walking. When shooting with other lenses with or without a IS unit, users can also benefit from the digital 5-axis IS and create movies that are clear and steady.
Built-in Wi-Fi/NFC/Bluetooth Connectivity and New Wireless Image Backup Solutions for easy remote shooting, image sharing and management
EOS M50 offers multiple wireless connection options and new wireless image backup solutions for easy shooting, image sharing and management. The camera features built-in Wi-Fi/NFC for wireless remote image and movie shooting as well as image browsing and transfer on smartphones via "Camera Connect" app, facilitating easy image sharing to social networking sites such as Facebook, Instagram or YouTube. A Wi-Fi button can be found on the body, providing one-press access to the Wi-Fi menu for convenient and streamlined connection. A key function namely "Transfer images to smartphones when shooting" is also newly added. With this the camera will automatically send images to a smartphone via Wi-Fi in parallel when shooting, facilitating easy image browsing or sharing with friends during the course of shooting or after that. All new images shot can also be backed up to the computer automatically and wirelessly when at home through the new "Automatic sending images to computer" function and new "Image Transfer Utility 2" computer software 10 . "Image Transfer Utility 2" also supports automatic transfer of images from computer to cloud storage for more comprehensive and convenient image management experience. EOS M50 is also the first EOS M camera that supports every feature of EOS Utility, including remote Live View shooting and image download through easy Wi-Fi or USB cable connection to the computer.

In addition, EOS M50 supports Bluetooth® low energy technology for more convenient and continuous connection between the camera and compatible smartphones11 at low power consumption. As long as the Bluetooth connection is enabled, users can wake up the camera anytime from their smartphones to browse and transfer images (via Wi-Fi) even the camera turns off automatically. Bluetooth® low energy technology also supports wireless remote shooting with smartphone or Wireless Remote Controller BR-E1 12 from any direction within 5m from the camera. Furthermore, shooting location can also be appended to images by acquiring GPS information from smartphone via Bluetooth connection13 . This makes it easy to geotag images, create travel blog, as well as checking in to a location when uploading images to social platforms.
New Silent Mode and powerful shooting functions for easy creation of versatile, high-quality images
Benefited from the ultra-fast data processing speed of the new-generation DIGIC 8, EOS M50 offers a range of powerful shooting functions to help unleash creativity and ensure perfect images under different situations. Creative Assist is now added to the "Scene Intelligent Auto Mode" with a new user interface for easier access and creation of artistic images. Creative Assist can also be applied to RAW images during playback so you can enjoy different imaging expressions every time an image is browsed. Moreover, the camera supports 11 Special Scene modes including the new Silent mode 14which is useful for completely silent shooting without shutter sound, perfect for shooting in concerts, museums or baby's rooms. The in-camera Self-Portrait and Smooth Skin modes help achieve beautiful selfies effortlessly. Up to 10 filters are available in Creative Filter mode, including Fish-eye effect, Toy camera effect and various HDR filters, to make everyday shooting more fun and playful.

EOS M50 is also the first EOS digital camera to feature Dual Sensing IS. The effect of image stabilization during still image shooting can be further increased by approximately 0.5 step15 thanks to the new algorithm which detects the amount of shake from the CMOS sensor's image information on the body side and utilizes this information together with the shake detection data from the lens' IS unit to improve the IS performance.
Next-generation CR3 and C-RAW formats supported for enhanced shooting performance and new User Interface tailored for beginners
Along with the inclusion of DIGIC 8, EOS M50 is the first EOS digital camera to incorporate a brand new CR3 RAW format and new C-RAW compact format. The standard CR3 RAW format is similar to the current CR2 RAW format except that the data storage method is enhanced following the evolution of the image processing system. The C-RAW format, with file size approximately 40% smaller than normal RAW, gives a boost to the camera's continuous shooting performance and increases the number of RAW images captured in one continuous shooting. This format also supports in-camera RAW processing and Digital Lens Optimizer which are not possible with the conventional M-RAW or S-RAW, making it more convenient to get the desired images right from the camera.

The various features on EOS M50 also ensure maximized enjoyment of photography for different levels of users. In addition to the 3-inch 1.04M-dot vari-angle LCD monitor, its built-in 0.39" 2.36M-dot high-resolution OLED electronic viewfinder with approximately 100% coverage empowers users to shoot with confidence even in bright or dark environment with detailed and bright display throughout the entire visible area that exhibits a wide variety of color gamut and high contrast. When shooting with the viewfinder with "Touch and Drag AF" function enabled, you can enjoy an easier and more intuitive focusing experience by dragging the focusing position with your finger on the LCD monitor while confirming the focusing position in the viewfinder in real time. A MF Peaking function is also included to facilitate manual focusing by indicating the area in focus with a colored edges, ensuring faster and more precise focusing performance especially useful for macro and portrait shots.

The built-in dual-axis electronic level which can be shown on the viewfinder or LCD monitor can facilitate horizontal leveling to guarantee perfect composition for architectural and landscape shots. The camera also supports the "Feature Assistant" graphical user Interface as found in entry-level EOS DSLR models which can help beginners understand various camera functions. It is also the first Canon digital camera to support HDMI HDR output of RAW image playback on HDR compatible TV 16, enabling RAW images to be played back with a wider dynamic range.

Excellent expandability with comprehensive lens system for creation of versatile imaging expression
EOS M50 is highly expandable and compatible, supporting a range of lenses and accessories for expanded creativity. Users can choose from a wide range of dedicated lightweight and high-performance EF-M lenses including prime lens, wide-angle, standard and telephoto lenses to meet different needs. In addition, by attaching Mount Adapter EF-EOS M, the camera is compatible with over 70 EF/EF-S lenses, including the specialized macro and fisheye lenses for more varieties of expression. Functions like autofocus and image stabilization of the lenses will also be retained. This gives users greater flexibility to pair the camera with a right lens according to the shooting situations.

1Lens data for lenses launched after EOS M50 can be registered to the camera with EOS Utility
2 With compatible lenses only. Compatible EF-M lenses are EF-M 18-150mm f/3.5-6.3 IS STM, EF-M 55-200mm f/4.5-6.3 IS STM and EF-M 28mm f/3.5 Macro IS STM (As of 26 Feb 2018). For EF and EF-S lenses, please refer to the list of supported lenses on Canon website after launched
3Automatically activate when the following lenses are attached: EF-M 11-22mm f/4-5.6 IS STM, EF-M 15-45mm f/3.5-6.3 IS STM, EF-M 22mm f/2 STM (As of 26 Feb 2018) and all EF/EF-S lenses (except TS-E lenses and MP-E lenses)
4Eye Detection AF operates during One-shot and Face+Tracking AF only. It is not available during Servo AF and movie shooting
5Contrast detection AF will be used when shooing at 4K format. 4K shooting takes place by cropping pixels from the center of the image sensor
6Frame Grab from Full HD / HD movies is not possible. As movie frames are saved as still images, image quality is not equivalent to normal still images. Aspect ratio is 16:9
7AF is fixed when recording starts. Maximum recording time is 7 min 29 sec
8Maximum 900 exposures, maximum 30 seconds (NTSC) or 36 seconds (PAL) timelapse movie can be shot. The minimum settable shutter speed is 1/30 sec. (for NTSC) or 1/25 sec. (for PAL)
9Supported Lens: EF-M 18-150mm f/3.5-6.3 IS STM and EF-M 15-45mm f/3.5-6.3 IS STM (As of 26 Feb 2018, firmware update required). The movie shot will have a narrower field of view when Digital IS is activated
10Both the camera and computer must be connected to the same Wi-Fi network. Pairing of the camera and the software is required for the first time. When sending images automatically, the camera must be turned on, and the computer must also be turned on and logged in. To automatically transfer new/non-transferred images only, proper setting is necessary
11Pairing of the camera and smart device is required for the first time. In some cases, an iOS smart device may require operation from the device side. Both camera and smartphone have to be within a certain distance when the Camera Connect App is active. In remote shooting and image viewing mode, it will switch from Bluetooth to Wi-Fi connection. For Android, Android 5.0 (or later) and Bluetooth 4.0 (or later) are required. For iOS, Bluetooth 4.0 (or later) is required (iPhone 4s or later, iPad 3rd generation or later, iPod touch 5th generation or later). Some devices that fulfill the mentioned requirements may not be able to connect via Bluetooth, however Image transfer and other remote operations will still be possible through Wi-Fi connectivity
12Pairing between the camera and a compatible smartphone (or Wireless Remote Controller BR-E1) beforehand is required. Both camera and the compatible smartphone (or BR-E1) have to be within a certain distance
13The camera and smartphone need to be connected via Bluetooth. While Wi-Fi connection is established, GPS data cannot be renewed
14Flash photography, continuous shooting and noise reduction during long exposure are not available in Silent Mode
15With the following compatible lenses: EF-M 15-45mm f/3.5-6.3 IS STM, EF-M 55-200mm f/4.5-6.3 IS STM and EF-M 18-150mm f/3.5-6.3 IS STM (As of 26 Feb 2018). Firmware update of the lenses is required
16Requires a HDR compatible TV and HDMI connection. Only RAW images are displayed in HDR. Movie and JPEG playback is possible on HDR compatible TV, but they are not displayed in HDR

The new Canon EOS M50 digital interchangeable lens camera, various kit sets and accessories will be available for sale on 26th March, 2018 and suggested retail prices are as follows:
| | |
| --- | --- |
| Model | Suggested Retail Price |
| EOS M50 Digital Camera (Black/White) | HK$5,080 |
| EOS M50 Digital Camera (Black/White) with EF-M 15-45mm f/3.5-6.3 IS STM Lens Kit Set | HK$5,980 |
| EOS M50 Digital Camera (Black/White) with EF-M 15-45mm f/3.5-6.3 IS STM and EF-M 55-200mm f/4.5-6.3 IS STM Dual Lens Kit Set | HK$8,080 |
| Directional Stereo Microphone DM-E1 | HK$2,400 |
| Directional Stereo Microphone DM-E1 | HK$310 |
| Mount Adapter EF-EOS M | HK$980 |
| Battery Pack LP-E12 | HK$560 |
| Battery Charger LC-E12E | HK$480 |
About Canon Hongkong Company Limited
Canon Inc. (TSE:7751 / NYSE:CAJ) was founded in 1937 in Japan. Its predecessor, Precision Optical Instruments Laboratory, produced Japan's first 35 mm focal-plane-shutter camera "Kwanon" in 1934. Canon Inc. eventually expanded into the photocopying and printing industries, launching Japan's first plain-paper copier NP-1100 in 1970 and the world's first inkjet printer BJ-80 in 1985. Through the years, Canon Inc. has acquired in-depth experience in digital imaging product manufacturing, and research and development. It is a leader in the development of innovative products and holds the most technology patents in the imaging industry. Canon Inc. also makes a significant contribution to the promotion of photography. Today, Canon Inc. has a strong global presence and is one of the most important market players in the imaging, office and industrial product categories. As of 31 December 2017, Canon's global revenue was US$36.1 billion.

One of the company's first offices in Asia, Canon Hongkong Co., Ltd. (CHK) was established in 1971. It is responsible for the sales, marketing and after-sales services for all Canon product lines in Hong Kong and Macau. CHK adheres to Canon's corporate philosophy of "kyosei", which encourages the company and its staff to participate in social, charitable and environmental activities in the community. CHK implements internationally-recognized management systems and has achieved ISO 9001, ISO 14001, ISO 27001 (Canon Digital Production Center) and OHSAS 18001 certification. For more information about Canon Hongkong, please visit our website: www.canon.com.hk.
Download Images