Canon Hongkong Extended Accreditation as Hong Kong Authorized Economic Operator Enhancing Supply Chain Management as Trusted Partner of Hong Kong Customs and Excise Department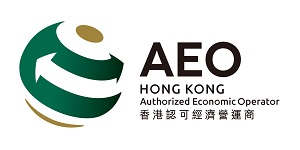 HONG KONG, 10 July 2018 - Canon, as one of the largest manufacturers of electronic products around the world, has been making its best effort in the management of product supply chain, in a hope of efficiently and securely importing quality products to markets, so as to impress our users with the best imaging experience.
Canon Hongkong (CHK) announces its accreditation as Hong Kong Authorized Economic Operator (HKAEO) in recognition of its trusted partner status with Hong Kong Customs and Excise Department (HKC&ED) since June 2015. With the high level of compliance with the strict standards in the assessment, CHK was accredited as HKAEO (Tier 2) of HKC&ED, which qualified the security & safety criteria including crisis management & incident recovery and measurement, analysis & improvement.
On June 2018, CHK has been extended the recognition for another 3 year, as one of the 45 HKAEOs, CHK enjoys a series of Customs facilitation such as reduced Customs inspection and prioritized Customs clearance, and is recognized as a secure trader with the industry "kitemark". In additions, CHK also entitles privileged benefits of reciprocal clearance facilitation by economies (e.g. Mainland China, India, Korea and Singapore Customs) which are under Mutual Recognition Arrangement (MRA) with HKC&ED.
The HKAEO accreditation recognizes CHK's great effort in pursuing trade security. CHK strongly believes the Customs facilitations will definitely further enhance the Company's efficiency in supply chain management, which will turn into even more stable and reliable supports for frontline sales.

About Hong Kong Authorized Economic Operator (HKAEO) Programme
Administered by HKC&ED, HKAEO Programme was formally launched in April 2012 under an open, free and voluntary certification regime. In full compliance with the World Customs Organization's SAFE Framework of Standards to Secure and Facilitate Global Trade, the Programme aims to enhance international supply chain security and improve the competitiveness and marketability of HKAEOs in overseas market. All local stakeholders enhancing in the international supply chain activities, which have met pre-determined security standards will be accredited as HKAEOs, and enjoy appropriate Customs facilitations

About Canon Hongkong Company Limited
Canon Inc. (TSE:7751 / NYSE:CAJ) was founded in 1937 in Japan. Its predecessor, Precision Optical Instruments Laboratory, produced Japan's first 35 mm focal-plane-shutter camera "Kwanon" in 1934. Canon Inc. eventually expanded into the photocopying and printing industries, launching Japan's first plain-paper copier NP-1100 in 1970 and the world's first inkjet printer BJ-80 in 1985. Through the years, Canon Inc. has acquired in-depth experience in digital imaging product manufacturing, and research and development. It i s a leader in the development of innovative products and holds the most technology patents in the imaging industry. Canon Inc. also makes a significant contribution to the promotion of photography. Today, Canon Inc. has a strong global presence and is one of the most important market players in the imaging, office and industrial product categories. As of 31 December 2017, Canon's global revenue was US$36.1 billion.
One of the company's first offices in Asia, Canon Hongkong Co., Ltd. (CHK) was established in 1971. It is responsible for the sales, marketing and after-sales services for all Canon product lines in Hong Kong and Macau. CHK adheres to Canon's corporate philosophy of "kyosei", which encourages the company and its staff to participate in social, charitable and environmental activities in the community. CHK implements internationally-recognized management systems and has achieved ISO 9001, ISO 14001, ISO 27001 (Canon Digital Production Center) and OHSAS 18001 certification. For more information about Canon Hongkong, please visit our website https://hk.canon.